Race Report: Grand Prix of France
Monday, June 16, 2008 | 12:01 PM

Since 1968,

Thor

has maintained its position as a top motocross apparel brand. From trails, deserts, to the most famous racetracks in the world,

Thor

supports racing on the track and off with its sponsorship of race reports.

Tweet

Following their team's defeat in the Euro 2008 soccer tournament, there was plenty of reason for the 30,000 gathered French spectators at the stuffy and cloudy St Jean d'Angely to make good use of their Tricolor flags. The bevy of celebration and cheering that greeted Kawasaki's Sebastien Pourcel on the podium as he seized both motos of his home Grand Prix was a fitting sight for many parties.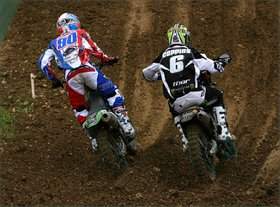 Seb Pourcel (90) and Josh Coppins
The seventh round of fifteen in the FIM World Championship was notable for double victories by Pourcel in MX1 and KTM's AMA recruit for 2009,
Tommy Searle
, in MX2, but it was also important for squeezing the MX1 standings and closing the title chase.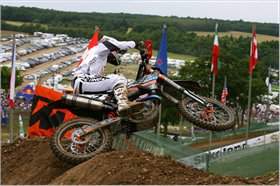 Jonathan Barragan
Yamaha Monster Motocross Team's Josh Coppins almost got rid of his bad luck (green fencing in his rear wheel while leading Moto 1 eroded the rear brake and robbed him of victory, allowing Pourcel to close and pass with four laps to run) but was a welcome sight on the podium for only the second time in 2008. British Grand Prix winner Jonathan Barragan profited from the mistakes of those around him (world champion Ramon crashing from first in Moto 1, teammate De Dycker spectacularly ejecting in the same moto, and series leader David Philippaerts having a crash in either sprint, one his own fault the other a torpedo move by Clement Desalle on his rear wheel, the collision snapping the right footpeg clean off) to walk the rostrum for the third time in 2008.
Philippaerts, who injured his left hand in the first-race spill and needed painkillers, was magnificent in his charge from fourteenth to sixth in the second moto, but the tangle immediately after passing Desalle brought him his first DNF of the year and erased his points lead in a swoop.
Pourcel was the star of the show, and while he got lucky with the ailing Coppins providing a big target in Moto 1, he kept Ramon and the New Zealander firmly at bay later in the day. The Frenchman may still be a little inconsistent but is rapidly emerging as a title threat.
The upshot of the day's activities in MX1 is that only 31 points separate the top five riders in the standings and Philippaerts has a gap of just six from Ramon in second.
On Sunday morning, Youthstream and the French Federation announced that France would entertain a Grand Prix until 2015 and also stage the 2011 Motocross of Nations after the visit to the U.S. the year prior. The news was a bonus for Gallic motocross, and Giuseppe Luongo was correct to identify the young French talent filtering into the world championship (four of them, Boissiere, Frossard, Boog and Aubin, fought for second place in the first MX2 moto) and especially via the European series – home of aspiring juniors and gaining in credibility each year.
The promotional flyer for Saint Jean d'Angely rightfully hails the venue as one of the best-established permanent venues in Europe, but many agree that the track is looking worn. While some say it's a course "with character" and free of some of the molding that occurs at GP venues nowadays, others felt that the quantity of stones that seeped through the soil also increased the peril. "I found it dangerous," said world champion Antonio Cairoli. "There were so many stones that I was actually quite afraid sometimes."
Those that did get a close-up view of the St. Jean masonry paid for their abandon of caution. Molson Kawasaki – the factory arm of the green army in MX2 – was badly hit in particular, with Gautier Paulin set to miss a number of weeks with a broken collarbone and Stephen Sword also carted off to hospital with a suspected broken shoulder. Billy Mackenzie (shoulder), Matteo Bonini (hand and neck), David Philippaerts (hand), and Ken de Dycker (arm) were also keeping the medical staff busy. Not that there were a greater number of accidents over the weekend, just that the surface permitted less "lenience."
Another rumored casualty, although not through injury, could be Mike Brown. The veteran is having a hard time with results this season and admits, with a young family growing up in the U.S. without him, his time alone in Europe could be limited. The MX2 British Champion was eleventh overall and his tenth in Moto 2 was one of the better results of his campaign so far. Steve Boniface acquitted himself reasonably well on Yves Demaria's Yamaha. A good start was rewarded with fifth spot in the second race and eighth overall.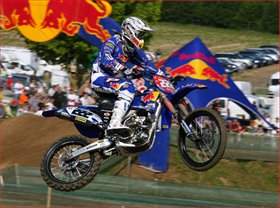 Antonio Cairoli
Cairoli had a nightmare MX2 Grand Prix in what was very much a weekend to forget for Italy. A crash with
Tyla Rattray
and punctured fuel tank (courtesy of the KTM's handlebar) ruled him out of the points in Moto 1, even if he did get emergency repairs in the pits and rejoin the race two laps down. He was unable to break into the top twenty. Two mistakes in Moto 2 - one crucially after he had passed leader Searle while looking to break away - banished him to a lonely third position behind the English teenager and Rattray in second.
For once the trio pushing for the title did not guzzle all the champagne. Rattray had flown back to sixth from last after the first-corner altercation with Cairoli, obtaining his fifth consecutive runner-up result. Anthony Boissiere – winner of a moto here in 2005 but long in the wilderness with injury problems and team changes - filled the last step and gave the rostrum an all-orange flavor. Another KTM rider, Shaun Simpson, should have had the third trophy after two fantastic starts. The Brit even led the opening moto for several laps until Searle took over, but his fall from an easy second meant led to a fourteenth to compliment his fourth in race two.
Searle now heads the series for the first time in his career by just four points over Rattray. The leader just 48 hours earlier, Cairoli left Francy 20 points adrift.
Ashley Fiolek was poised to make an overdue impression on the third round of five in the Women's World Championship, but a fall in Moto 1 left Stephanie Laier relatively free to record four consecutive moto wins and her second GP victory in succession on the KTM. The German was dominant while Yamaha Van Beers' Katherine Prumm took third and second, despite a sprained wrist, to place runner-up again and secure the red plate as series leader over a disappointed Livia Lancelot, who finished third in front of her fans. The Kawasaki rider cut short an entertaining battle with rival Prumm in Moto 2 when a mistake dropped her down to fourth behind a rejuvenated Fiolek.
Round eight and the second phase of the Grand Prix series will take place in two weeks' time with the trip to eastern Germany and the fast layout of Teutschenthal.

Share this article:
Did you like this article?
Check out THE MOTOCROSS OF 40 NATIONS
in our Latest issue of Racer X available now.

The 2013 FIM Motocross of Nations at Teutschenthal, Germany, hosted teams from a record forty countries. Here's how it played out for each of them. Page 90.