Kawasaki/Racer X Race Report
Monday, April 7, 2008 | 8:28 AM

Since 1968,

Thor

has maintained its position as a top motocross apparel brand. From trails, deserts, to the most famous racetracks in the world,

Thor

supports racing on the track and off with its sponsorship of race reports.

Tweet

Eastwood and Pettit win 2 stroke opener…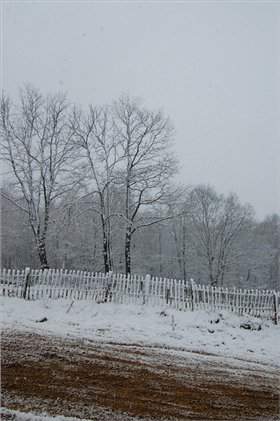 It was like the race was held in Narnia...
The DEP Pipes 2 Stroke Championships kicked off at Canada Heights on Sunday - like the Maxxis British Championships a fortnight ago, the perfectly-prepped track, right next door to Brands Hatch, was gathering a growing layer of snow as the sun came up on race day, but unlike the Maxxis, this time the snow didn't stop. Just to add a bit of drama, technical issues led to a problem with the timing system during qualifying that meant that races would be scored manually as the lapscorers were brought into action - ironically, on a day where every bike was absolutely plastered with Kentish mud. As the snow kept falling, a much-abbreviated programme got underway.
Jonathan Pettit lead the way in the 125 A group right from the start - the former GP rider rode smart and cleared his own lines to avoid the muck and ruts that were causing everyone else such problems. Behind Pettit, former British champion Greg Hanson and his young protégé Jack Brunnel were riding strong in second and third after reigning 125 champion David Willet had an off that dropped him down the field, but the irrepressible Willet mounted a fight back that saw him climb all the way back to second, and marked him out as the only man with the pace to match Pettit on the day. Jim Davies showed impressive speed on his debut for TM, but an encounter with the chestnut fencing recovering from an average start dropped him down the pack, collecting about ten other riders in the process. With visibility poor and without transponders to fall back on, Brunnel would provisionally finish third, ahead of the excellent Darren Redman, who came from a long way outside the top ten, and the veteran Hanson, who had already had a bike seize on him in practice.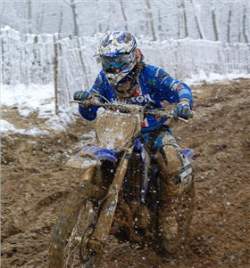 Former British 125 champion Greg Hanson was very quick on his DEP debut, despite mechanical issues in qualifying.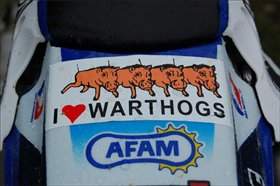 Warthog love - not just an American phenomena...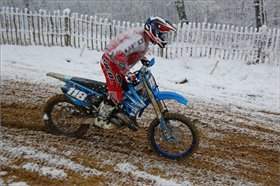 Former GP rider Jonathan Pettit stood on the pegs and used brains instead of brawn to win at Canada Heights.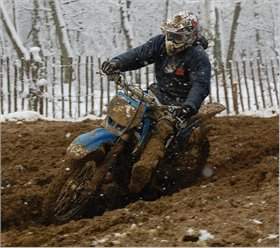 Jim Davies was quick on his TM debut
In the Open A class, it was all about Willet and reigning champion Mark Eastwood - Ironman Willet, in his second class of the day, left the start behind Eastwood but put on a charge that carried him into the lead. Eastwood, as cunning and clever a rider who ever threw a leg over a motocross bike, played the smartest of watching briefs, staying in touch well enough so that Willet could feel the pressure, but far enough back that he stayed out of the dirt from Willet's back wheel - then, as the last lap flag came out, Eastwood put on a perfectly timed charge on his home circuit, catching Willet just as the number two Yamaha caught a bunch of back markers. Eastwoowd's casual flash of the front mudguard to Willet as he tried to forge a way through the lappers was enough for the Ironman, in his second race of the hour, to get cross rutted and fall - with calm composure, Eastwood cruised the rest of the lap to a well fashioned win. It would prove to be the last race of the day, however, as conditions had just got too bad for racing to continue. It's a real shame for the organisers, as the slightest bit of luck with the weather would have seen the track in brilliant condition - roll on round two at Landrake, though, as this growing series has an atmosphere and life all of its own.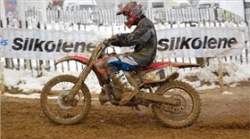 Mark Eastwood took victory in the 250s with a well-thought ride.
Share this article:
Did you like this article?
Check out MONSTERBALL
in our Latest issue of Racer X available now.

Playing soccer on 250cc motorcycles might sound like a strange form of riding, but in Russia they do it with great passion—and for very little reward. Page 112.