by
Bad Billy
Bench Racing Ammo: Situational Analysis
Thursday, September 6, 2007 | 10:51 AM
Tweet
In this article…
Riders
Races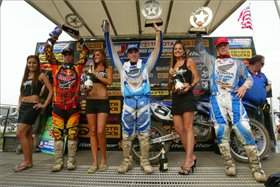 Who will be on top of the podium by the end of the weekend?
photo: TFS
If you've been a fan of motocross within the past 10 years, this weekend you're seeing something that hasn't happened in a very long time: the AMA Motocross championship is coming down to the final race of the season! And it's not just between two riders; in fact, there are only 15 points separating the top four riders, who are all on different brands. With a total of 50 points up for grabs at each race, for this installment of Motosport Outlet Bench Racing Ammo, we're going to analyze a few possible scenarios that will affect the outcome of this championship.
First off, here are the current point standings after 11 of 12 races:
1.
Grant Langston
(Yam) – 394
2.
Andrew Short
(Hon) – 386 (-8)
3.
Tim Ferry
(Kaw) – 381 (-13)
4.
Mike Alessi
(KTM) – 279 (-15)
And here's how the point scales breaks down per moto:
1 – 25
2 – 22
3 – 20
4 – 18
5 – 16
6 – 15
7 – 14
8 – 13
9 – 12
10 – 11
11 – 10
12 – 9
13 – 8
14 – 7
15 – 6
16 – 5
17 – 4
18 – 3
19 – 2
20 - 1
It would take forever to go over every possible scenario, so we're just going to try to figure out what each guy has to have happen to win the championship—assuming they go 1-1. And that assumption is a stretch, as the last rider to go 1-1 was
Ricky Carmichael
at
Millville
.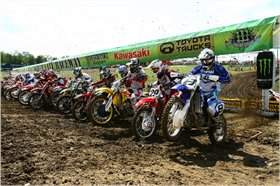 photo: Matt Ware
For Team Honda's
Andrew Short
to win the championship with a 1-1,
Grant Langston
would have to finish 3-3 (40) or worse. If Langston finishes 2-3, he would earn 42 points, and he and Short would actually tie in overall points (436), but Langston would win the championship based on overall wins (Langston has two).
Assuming
Tim Ferry
goes 1-1, he would end the series with a total of 431 points. Langston would need to finish 4-4 (36) or worse. Short finishing 2-2 wouldn't be a factor, as Ferry only trails Andrew by five points, and he would gain six on him with a 1-1.
Finally, for Red Bull KTM to get their first AMA Motocross championship,
Mike Alessi
would need a 1-1, giving him 429, and
Grant Langston
would need a 4-5, or worse, which would give him a final tally of 428. Alessi would also need Short to finish 2-3 or worse.
We all know the chances of a 1-1 are very slim, but it could happen. So when you're packing up for this weekend, throw in a calculator with your sunscreen, because you're going to need it to figure this one out!
Share this article:
Did you like this article?
Check out 10,000 MILES FROM HOME
in our Latest issue of Racer X available now.

Australian Dean Ferris hopes to follow in the footsteps of some of his legendary countrymen. Now contesting the FIM Grand Prix series, he made a huge impression at the Motocross of Nations. Page 138.