by
Bryan Stealey
Yamaha's Monday Wake-up Call
Monday, September 3, 2007 | 5:00 AM
Tweet
In this article…
Riders
Races
AMA Toyota Motocross Championship presented by FMF
Freestone County Raceway - Wortham, TX
September 1-2, 2007
Motocross Moto 1
1. 29 Andrew T Short Smithville, TX Honda CRF450R
2. 8 Grant Langston Murrieta, CA Yamaha YZ450F
3. 800 Mike A Alessi Victorville, CA KTM 450SX
4. 15 Timmy M Ferry Largo, FL Kawasaki KX450F
5. 9 Ivan Tedesco Montgomery, TX Suzuki RM-Z450
6. 26 Michael Byrne Newnan, GA Suzuki RM-Z450
7. 902 Cody Bryan Cooper New Zealand, Honda CRF450R
8. 36 Joshua Summey Stanley, NC Honda CRF450R
9. 14 Kevin W Windham Centreville, MS Honda CRF450R
10. 34 Troy K Adams Homosassa, FL Suzuki RM-Z450
11. 801 Jeff Alessi Victorville, CA KTM 450SX
12. 23 Kyle Lewis Henderson, NV Honda CRF450R
13. 31 Jason W Thomas Melrose, FL Honda CRF450R
14. 273 Gavin L Gracyk Blissfield, OH Honda CRF450R
15. 65 Ryan Mills Clintondale, NY Kawasaki KX450F
16. 32 Ryan D Clark Waddell, AZ Honda CRF450R
17. 745 Kevin D Rookstool Klamath Falls, OR Honda CRF450R
18. 357 Cale A Wallace Walnut, CA Honda CRF450R
19. 281 Justin M Sipes Vine Grove, KY Kawasaki KX450F
20. 74 Kyle Partridge Las Vegas, NV Honda CRF450R
Motocross Moto 2
1. 8 Grant Langston Murrieta, CA Yamaha YZ450F
2. 800 Mike A Alessi Victorville, CA KTM 450SX
3. 15 Timmy M Ferry Largo, FL Kawasaki KX450F
4. 58 Joshua R Hill Yoncalla, OR Yamaha YZ450F
5. 29 Andrew T Short Smithville, TX Honda CRF450R
6. 902 Cody Bryan Cooper New Zealand, Honda CRF450R
7. 14 Kevin W Windham Centreville, MS Honda CRF450R
8. 9 Ivan Tedesco Montgomery, TX Suzuki RM-Z450
9. 501 Kyle D Keylon Brooksville, FL Honda CRF450R
10. 26 Michael Byrne Newnan, GA Suzuki RM-Z450
11. 273 Gavin L Gracyk Blissfield, OH Honda CRF450R
12. 32 Ryan D Clark Waddell, AZ Honda CRF450R
13. 23 Kyle Lewis Henderson, NV Honda CRF450R
14. 66 Shaun J Skinner Stuart, FL Honda CRF450R
15. 177 Chris Blose Phoenix, AZ Honda CRF450R
16. 99 Kyle J Mace Hesperia, CA Kawasaki KX450F
17. 96 Christopher R Whitcraft Pickerington, OH Honda CRF450R
18. 79 Jacob Marsack Allenton, MI Honda CRF450R
19. 98 James M Povolny Woodbury, MN Kawasaki KX450F
20. 77 Doug Dehaan Thorndale, ON Honda CRF450R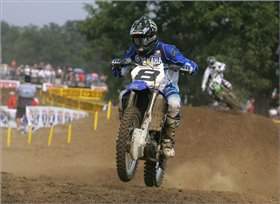 Team Yamaha's Grant Langston went 2-1 for his second consecutive overall win in AMA Motocross competition.

photo: Steve Bruhn

Motocross Overall
Pos. Pts. Moto 1 Moto 2 No. Rider name
1. 47 22 (2) 25 (1) 8 G. Langston
2. 42 20 (3) 22 (2) 800 M. Alessi
3. 41 25 (1) 16 (5) 29 A. Short
4. 38 18 (4) 20 (3) 15 T. Ferry
5. 29 14 (7) 15 (6) 902 C. Cooper
6. 29 16 (5) 13 (8) 9 I. Tedesco
7. 26 12 (9) 14 (7) 14 K. Windham
8. 26 15 (6) 11 (10) 26 M. Byrne
9. 18 0 (37) 18 (4) 58 J. Hill
10. 17 7 (14) 10 (11) 273 G. Gracyk
11. 17 9 (12) 8 (13) 23 K. Lewis
12. 14 5 (16) 9 (12) 32 R. Clark
13. 13 13 (8) 0 (32) 36 J. Summey
14. 12 0 (21) 12 (9) 501 K. Keylon
15. 11 11 (10) 0 (27) 34 T. Adams
16. 10 10 (11) 0 (23) 801 J. Alessi
17. 8 8 (13) 0 (40) 31 J. Thomas
18. 7 0 (36) 7 (14) 66 S. Skinner
19. 6 0 (30) 6 (15) 177 C. Blose
20. 6 6 (15) 0 (35) 65 R. Mills
21. 5 0 (34) 5 (16) 99 K. Mace
22. 4 DNS 4 (17) 96 C. Whitcraft
23. 4 4 (17) 0 (30) 745 K. Rookstool
24. 3 0 (35) 3 (18) 79 J. Marsack
25. 3 3 (18) 0 (36) 357 C. Wallace
26. 2 0 (33) 2 (19) 98 J. Povolny
27. 2 2 (19) 0 (33) 281 J. Sipes
28. 1 0 (29) 1 (20) 77 D. Dehaan
29. 1 1 (20) 0 (31) 74 K. Partridge
Motocross Points
1. 394 G. Langston
2. 386 A. Short
3. 381 T. Ferry
4. 379 M. Alessi
5. 322 K. Windham
6. 291 R. Carmichael
7. 290 J. Stewart
8. 218 M. Byrne
9. 207 D. Vuillemin
10. 198 I. Tedesco
11. 196 G. Gracyk
12. 186 D. Millsaps
13. 162 J. Summey
14. 124 J. Thomas
15. 112 K. Lewis
16. 108 J. Alessi
17. 103 T. Adams
18. 100 R. Clark
19. 69 A. Balbi
20. 66 S. Skinner
21. 41 Y. Atsuta
22. 41 J. Dowd
23. 40 K. Keylon
24. 40 R. Mills
25. 38 C. Reed
26. 34 A. Chatfield
27. 29 C. Cooper
28. 29 N. Wey
29. 27 C. Siebler
30. 27 J. Sipes
31. 24 C. Blose
32. 23 B. Garrison
33. 21 C. Whitcraft
34. 20 K. Mace
35. 18 J. Hill
36. 15 M. Lapaglia
37. 12 K. Summers
38. 11 D. Dehaan
39. 9 A. Narita
40. 7 R. Dietrich
41. 7 T. Hadsell
42. 6 K. Partridge
43. 6 B. Johnson
44. 5 C. Wallace
45. 4 S. Simon
46. 4 K. Rookstool
47. 4 T. Lorusso
48. 4 B. Carsten
49. 3 J. Marsack
50. 3 C. Charbonneau
51. 3 J. Povolny
52. 3 J. Morrison
53. 3 C. Green
54. 3 Y. Fukudome
55. 2 T. Medaglia
56. 2 J. Hazel
57. 1 M. Sleeter
58. 1 V. Mckiddie
LItes Moto 1
1. 1 Ryan D Villopoto Poulsbo, WA Kawasaki KX250F
2. 981 Austin L Stroupe Lincolnton, NC Kawasaki KX250F
3. 60 Broc D Hepler Kittanning, PA Yamaha YZ250F
4. 123 Brett Metcalfe Murrieta, CA Kawasaki KX250F
5. 140 Trey G Canard Elk City, OK Honda CRF250R
6. 101 Ben Townley Tallahassee, FL Kawasaki KX250F
7. 33 Matthew C Goerke Lake Helen, FL Yamaha YZ250F
8. 48 Kyle P Chisholm Seminole, FL Kawasaki KX250F
9. 75 Broc Oneal Tickle Cary, NC Yamaha YZ250F
10. 52 Thomas K Hahn Decatur, TX Honda CRF250R
11. 577 Martin Davalos Cairo, GA KTM 250SXF
12. 108 Joaquim Rodrigues Temecula, CA KTM 250SXF
13. 30 Andrew Mcfarlane Newport Beach, CA Suzuki RM-Z250
14. 622 Kyle B Cunningham Springtown, TX Yamaha YZ250F
15. 24 Joshua M Grant Riverside, CA Honda CRF250R
16. 715 Phillip J Nicoletti Cochecton, NY Honda CRF250R
17. 73 Jake T Weimer Rupert, ID Honda CRF250R
18. 50 Billy R Laninovich Lake Elsinore, CA Honda CRF250R
19. 532 Ricky L Renner Mulberry, FL Honda CRF250R
20. 266 Wil A Hahn Decatur, TX Yamaha YZ250F
Lites Moto 2
1. 1 Ryan D Villopoto Poulsbo, WA Kawasaki KX250F
2. 101 Ben Townley Tallahassee, FL Kawasaki KX250F
3. 60 Broc D Hepler Kittanning, PA Yamaha YZ250F
4. 577 Martin Davalos Cairo, GA KTM 250SXF
5. 140 Trey G Canard Elk City, OK Honda CRF250R
6. 123 Brett Metcalfe Murrieta, CA Kawasaki KX250F
7. 52 Thomas K Hahn Decatur, TX Honda CRF250R
8. 75 Broc Oneal Tickle Cary, NC Yamaha YZ250F
9. 48 Kyle P Chisholm Seminole, FL Kawasaki KX250F
10. 73 Jake T Weimer Rupert, ID Honda CRF250R
11. 903 Jake Moss Corona, CA Yamaha YZ250F
12. 108 Joaquim Rodrigues Temecula, CA KTM 250SXF
13. 266 Wil A Hahn Decatur, TX Yamaha YZ250F
14. 141 Steve Boniface Corona, CA Kawasaki KX250F
15. 630 Matthew J Lemoine Pilot Point, TX Yamaha YZ250F
16. 532 Ricky L Renner Mulberry, FL Honda CRF250R
17. 341 Nico A Izzi Saint Clair, MI Suzuki RM-Z250
18. 50 Billy R Laninovich Lake Elsinore, CA Honda CRF250R
19. 309 Spencer R Dally Taylors Falls, MN Honda CRF250R
20. 84 Michael L Willard Thornville, OH KTM 250SXF
Lites overall
Pos. Pts. Moto 1 Moto 2 No. Rider name
1. 50 25 (1) 25 (1) 1 R. Villopoto
2. 40 20 (3) 20 (3) 60 B. Hepler
3. 37 15 (6) 22 (2) 101 B. Townley
4. 33 18 (4) 15 (6) 123 B. Metcalfe
5. 32 16 (5) 16 (5) 140 T. Canard
6. 28 10 (11) 18 (4) 577 M. Davalos
7. 25 11 (10) 14 (7) 52 T. Hahn
8. 25 12 (9) 13 (8) 75 B. Tickle
9. 25 13 (8) 12 (9) 48 K. Chisholm
10. 22 22 (2) 0 (32) 981 A. Stroupe
11. 18 9 (12) 9 (12) 108 J. Rodrigues
12. 15 4 (17) 11 (10) 73 J. Weimer
13. 14 14 (7) 0 (29) 33 M. Goerke
14. 10 0 (35) 10 (11) 903 J. Moss
15. 9 1 (20) 8 (13) 266 W. Hahn
16. 8 8 (13) 0 (31) 30 A. Mcfarlane
17. 7 0 (39) 7 (14) 141 S. Boniface
18. 7 2 (19) 5 (16) 532 R. Renner
19. 7 7 (14) 0 (30) 622 K. Cunningham
20. 6 0 (38) 6 (15) 630 M. Lemoine
21. 6 3 (18) 3 (18) 50 B. Laninovich
22. 6 6 (15) DNS 24 J. Grant
23. 5 5 (16) 0 (40) 715 P. Nicoletti
24. 4 0 (37) 4 (17) 341 N. Izzi
25. 2 0 (27) 2 (19) 309 S. Dally
26. 1 0 (24) 1 (20) 84 M. Willard
Lites Points
1. 497 R. Villopoto
2. 478 B. Townley
3. 346 J. Grant
4. 277 J. Lawrence
5. 267 R. Dungey
6. 226 J. Weimer
7. 202 B. Metcalfe
8. 202 T. Hahn
9. 189 B. Tickle
10. 176 K. Chisholm
11. 174 M. Davalos
12. 158 B. Hepler
13. 153 M. Goerke
14. 148 A. Mcfarlane
15. 135 J. Hill
16. 110 R. Kiniry
17. 108 J. Rodrigues
18. 93 C. Gosselaar
19. 82 S. Boniface
20. 82 M. Lemoine
21. 71 T. Canard
22. 61 B. Laninovich
23. 59 R. Sipes
24. 57 D. Sani
25. 53 A. Stroupe
26. 53 N. Izzi
27. 53 D. Klatt
28. 48 K. Cunningham
29. 44 R. Morais
30. 35 K. Smith
31. 32 R. Renner
32. 29 B. Jesseman
33. 22 M. Boni
34. 20 B. Ainsworth
35. 19 T. Hibbert
36. 18 Z. Osborne
37. 15 R. Marshall
38. 13 M. Willard
39. 11 J. Moss
40. 9 W. Hahn
41. 8 C. Dube
42. 6 T. Medaglia
43. 5 P. Nicoletti
44. 4 M. Pugrab
45. 3 J. Albertson
46. 3 T. Tiffany
47. 2 S. Dally
48. 2 T. Sherman
49. 2 S. Sewell
50. 1 T. Bright
51. 1 M. Lapaglia
---
MXGP World Championships
Grand Prix of the Netherlands, Lierop circuit
September 1-2, 2007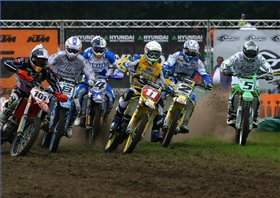 The final round of the MXGP World Championships gets underway in the Netherlands.

Photo courtesy of Suzuki


MX1 Race 1
1 Kevin Strijbos Suzuki BEL 40'12.396
2 Steve Ramon Suzuki BEL 0'11.238
3 Marc De Reuver Yamaha NED 0'19.430
4 Ken De Dycker Honda BEL 0'39.931
5 Billy MacKenzie Kawasaki GBR 0'52.146
6 Manuel Priem TM BEL 0'58.104
7 Maximilian Nagl KTM GER 1'6.551
8 David Philippaerts KTM ITA 1'14.334
9 Sébastien Pourcel Kawasaki FRA 1'16.102
10 James Noble Honda GBR 1'20.447
11 Marvin Van Daele Honda BEL 1'27.959
12 Aigar Leok Yamaha EST 2'1.069
13 Lauris Freibergs Yamaha LVA 2'3.478
14 Pierre A. Renet Honda FRA 2'6.061
15 Mike Brown Honda USA 2'8.744
16 Danny Theybers Suzuki BEL 2'10.626
17 Clement Desalle Suzuki BEL 2'12.368
18 Cedric Melotte Aprilia BEL 2'16.361
19 Mark Jones Kawasaki GBR -1 Laps
20 Alessio Chiodi Aprilia ITA -1 Laps
21 Patrick Roos Yamaha NED -1 Laps
22 Kornel Nemeth Suzuki HUN -1 Laps
23 William Saris Yamaha NED -1 Laps
24 Cyrille Coulon Honda FRA -2 Laps
25 Timotei Potisek Honda FRA -5 Laps
26 Tanel Leok Kawasaki EST -9 Laps
27 Alex Salvini Yamaha ITA -12 Laps
28 Jonathan Barragan KTM ESP -12 Laps
29 Julien Bill Honda CHE -14 Laps
30 Marko Kovalainen Honda FIN -16 Laps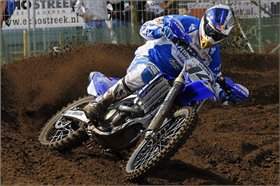 Marc De Reuver looked strong, finishing 3-1.

Photo courtesy of Yamaha


MX1 Race 2
1 Marc De Reuver Yamaha NED 41'27.025
2 Kevin Strijbos Suzuki BEL 0'5.705
3 Steve Ramon Suzuki BEL 0'49.502
4 Ken De Dycker Honda BEL 1'2.256
5 Billy MacKenzie Kawasaki GBR 1'5.169
6 Manuel Priem TM BEL 1'27.380
7 Tanel Leok Kawasaki EST 1'28.693
8 Marvin Van Daele Honda BEL 1'29.439
9 Maximilian Nagl KTM GER 2'6.241
10 Mike Brown Honda USA 2'12.382
11 Aigar Leok Yamaha EST 2'33.824
12 Cedric Melotte Aprilia BEL -1 Laps
13 James Noble Honda GBR -1 Laps
14 Kornel Nemeth Suzuki HUN -1 Laps
15 Lauris Freibergs Yamaha LVA -1 Laps
16 Alex Salvini Yamaha ITA -1 Laps
17 Danny Theybers Suzuki BEL -1 Laps
18 Mark Jones Kawasaki GBR -1 Laps
19 Dennis Schroter Suzuki GER -2 Laps
20 Alessio Chiodi Aprilia ITA -2 Laps
21 Julien Bill Honda CHE -2 Laps
22 Cyrille Coulon Honda FRA -2 Laps
23 Pierre A. Renet Honda FRA -6 Laps
24 Patrick Roos Yamaha NED -11 Laps
25 Timotei Potisek Honda FRA -11 Laps
26 Sébastien Pourcel Kawasaki FRA -12 Laps
27 William Saris Yamaha NED -12 Laps
28 Marko Kovalainen Honda FIN -12 Laps
29 Clement Desalle Suzuki BEL -14 Laps
30 David Philippaerts KTM ITA -17 Laps
MX1 Rider Standings
1 Steve Ramon Suzuki BEL 508
2 Kevin Strijbos Suzuki BEL 475
3 Joshua Coppins Yamaha NZL 452
4 Sébastien Pourcel Kawasaki FRA 439
5 Ken De Dycker Honda BEL 421
6 David Philippaerts KTM ITA 419
7 Mike Brown Honda USA 361
8 Tanel Leok Kawasaki EST 355
9 Billy MacKenzie Kawasaki GBR 351
10 Jonathan Barragan KTM ESP 347
11 James Noble Honda GBR 270
12 Kornel Nemeth Suzuki HUN 215
13 Manuel Priem TM BEL 204
14 Marc De Reuver Yamaha NED 201
15 Julien Bill Honda CHE 199
16 Marvin Van Daele Honda BEL 187
17 Pierre A. Renet Honda FRA 157
18 Maximilian Nagl KTM GER 133
19 Aigar Leok Yamaha EST 119
20 Clement Desalle Suzuki BEL 112
MX1 Manufacturer Standings
2 Yamaha 587
3 Kawasaki 557
4 KTM 540
5 Honda 539
6 TM 204
7 Aprilia 50
8 WRM 15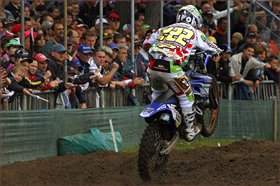 The fact that Antonio Cairoli had already won the MX2 Championship didn't slow him down a bit.

Photo courtesy of Yamaha


MX2 Race 1
1 Antonio Cairoli Yamaha ITA 39'35.785
2 Gareth Swanepoel Kawasaki RSA 0'4.990
3 Kenneth Gundersen Yamaha NOR 0'41.299
4 Tommy Searle KTM GBR 0'41.832
5 Matti Seistola Honda FIN 1'6.116
6 Marcus Schiffer KTM GER 1'10.838
7 Xavier Boog Yamaha FRA 1'11.968
8 Nicolas Aubin Yamaha FRA 1'12.825
9 Wyatt Avis KTM RSA 1'24.430
10 Jeremy Van Horebeek KTM BEL 1'25.923
11 Rob van Vijfeijken KTM NED 1'27.467
12 Rui Goncalves KTM POR 1'29.651
13 Davide Guarneri Yamaha ITA 1'38.336
14 Sean Hamblin Suzuki USA 1'40.971
15 Carl Nunn Yamaha GBR 1'42.041
16 Tom Church Kawasaki GBR 1'42.834
17 Manuel Monni Yamaha ITA 1'56.280
18 Anthony Boissière Kawasaki FRA 2'4.213
19 Rinus Van de Ven KTM NED 2'5.621
20 Shaun Simpson Kawasaki GBR 2'6.338
21 Dennis Verbruggen Yamaha BEL 2'15.641
22 Aigars Bobkovs KTM LVA -1 Laps
23 Matiss Karro Honda LVA -1 Laps
24 Mike Kras Suzuki NED -1 Laps
25 Stuwey Reynders KTM NED -1 Laps
26 Gert Krestinov KTM EST -1 Laps
27 Jeremy Tarroux KTM FRA -2 Laps
28 Erik Eggens Suzuki NED -6 Laps
29 Matteo Bonini Yamaha ITA -12 Laps
30 Shannon Terreblanche KTM RSA -13 Laps
MX2 Race 2
1 Antonio Cairoli Yamaha ITA 42'13.317
2 Erik Eggens Suzuki NED 0'5.024
3 Rui Goncalves KTM POR 0'7.934
4 Gareth Swanepoel Kawasaki RSA 0'8.714
5 Nicolas Aubin Yamaha FRA 0'29.402
6 Xavier Boog Yamaha FRA 1'10.620
7 Tommy Searle KTM GBR 1'16.746
8 Jeremy Van Horebeek KTM BEL 1'23.908
9 Anthony Boissière Kawasaki FRA 1'36.526
10 Carl Nunn Yamaha GBR 1'42.445
11 Marcus Schiffer KTM GER 2'1.393
12 Matteo Bonini Yamaha ITA 2'6.920
13 Rob van Vijfeijken KTM NED 2'17.371
14 Tom Church Kawasaki GBR -1 Laps
15 Manuel Monni Yamaha ITA -1 Laps
16 Gert Krestinov KTM EST -1 Laps
17 Shaun Simpson Kawasaki GBR -1 Laps
18 Rinus Van de Ven KTM NED -1 Laps
19 Mike Kras Suzuki NED -1 Laps
20 Jeremy Tarroux KTM FRA -1 Laps
21 Stuwey Reynders KTM NED -1 Laps
22 Shannon Terreblanche KTM RSA -2 Laps
23 Matiss Karro Honda LVA -4 Laps
24 Kenneth Gundersen Yamaha NOR -8 Laps
25 Sean Hamblin Suzuki USA -11 Laps
26 Davide Guarneri Yamaha ITA -14 Laps
27 Wyatt Avis KTM RSA -14 Laps
28 Dennis Verbruggen Yamaha BEL -14 Laps
29 Matti Seistola Honda FIN -15 Laps
30 Aigars Bobkovs KTM LVA -17 Laps
MX2 Rider Standings
1 Antonio Cairoli Yamaha ITA 660
2 Tommy Searle KTM GBR 510
3 Christophe Pourcel Kawasaki FRA 436
4 Tyla Rattray KTM RSA 371
5 Gareth Swanepoel Kawasaki RSA 364
6 Nicolas Aubin Yamaha FRA 358
7 Pascal Leuret Honda FRA 320
8 Matti Seistola Honda FIN 276
9 Marcus Schiffer KTM GER 260
10 Kenneth Gundersen Yamaha NOR 244
11 Rui Goncalves KTM POR 243
12 Davide Guarneri Yamaha ITA 226
13 Xavier Boog Yamaha FRA 219
14 Carl Nunn Yamaha GBR 198
15 Anthony Boissière Kawasaki FRA 192
16 Jeremy Van Horebeek KTM BEL 167
17 Jeremy Tarroux KTM FRA 160
18 Matteo Bonini Yamaha ITA 157
19 Manuel Monni Yamaha ITA 144
20 Tom Church Kawasaki GBR 140
22 Dennis Verbruggen Yamaha BEL 105
31 Carlos Campano Yamaha ESP 30
MX2 Manufacturer Standings
1 Yamaha 721
2 KTM 616
3 Kawasaki 546
4 Honda 435
5 Suzuki 259
---
WEC
Round 7, Slovakia
September 1-2, 2007
Race 1
1 Mika Ahola Honda FIN 49'43.570
2 Johnny Aubert Yamaha FRA 0'21.120
3 Samuli Aro KTM FIN 0'29.610
4 Stefan Merriman Aprilia AUS 0'39.400
5 Fabien Planet KTM FRA 0'47.570
6 Nicolas Deparrois Husqvarna FRA 1'52.960
7 Fabrizio Dini Yamaha ITA 1'55.230
8 Xavier Galindo KTM ESP 1'56.450
9 Patrick Caps GasGas BEL 2'50.440
10 Rodrig Thain Suzuki FRA 2'56.840
11 Nicolas Paganon Aprilia FRA 3'2.500
12 David Cadek KTM CZE 3'3.980
13 Daniel Persson HusaBerg SWE 3'17.000
14 Jari Juha Mattila Beta FIN 4'17.090
15 Felipe Zanol Yamaha ESP 5'28.600
16 Zlatko Novosad GasGas SVK 6'7.370
17 Vladimir Rokyta KTM CZE 16'5.660
Race 2
1 Johnny Aubert Yamaha FRA 57'17.370
2 Mika Ahola Honda FIN 0'48.130
3 Stefan Merriman Aprilia AUS 1'25.210
4 Samuli Aro KTM FIN 1'48.470
5 Fabrizio Dini Yamaha ITA 2'1.300
6 Fabien Planet KTM FRA 2'11.460
7 Nicolas Deparrois Husqvarna FRA 2'37.040
8 Xavier Galindo KTM ESP 2'40.420
9 Jari Juha Mattila Beta FIN 2'57.840
10 Rodrig Thain Suzuki FRA 3'21.480
11 Nicolas Paganon Aprilia FRA 3'29.970
12 Patrick Caps GasGas BEL 3'40.350
13 Daniel Persson HusaBerg SWE 3'59.020
14 Felipe Zanol Yamaha ESP 5'54.850
15 Zlatko Novosad GasGas SVK 8'17.860
16 Vladimir Rokyta KTM CZE 43'50.750
Rider Standings
1 Mika Ahola Honda FIN 327
2 Samuli Aro KTM FIN 292
3 Johnny Aubert Yamaha FRA 274
4 Fabien Planet KTM FRA 227
5 Stefan Merriman Aprilia AUS 226
6 Fabrizio Dini Yamaha ITA 160
7 Xavier Galindo KTM ESP 160
8 Nicolas Deparrois Husqvarna FRA 149
9 Valtteri Salonen HusaBerg FIN 147
10 Jari Juha Mattila Beta FIN 121
11 Nicolas Paganon Aprilia FRA 110
12 Rodrig Thain Suzuki FRA 101
13 Nathan Kanney Husqvarna USA 84
14 Patrick Caps GasGas BEL 72
15 Thierry Klutz Sherco BEL 51
Manufacturer Standings
1 Honda 327
2 KTM 296
3 Yamaha 286
4 Aprilia 234
5 Husqvarna 169
6 HusaBerg 163
7 Beta 121
8 Suzuki 111
9 GasGas 81
10 Sherco 51
11 BMW 25
12 Kawasaki 15
13 TM 9
14 Christini 8
---
GEICO Mountain Ridge GNCC
Somerset, PA
September 2, 2007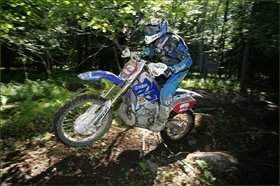 Barry Hawk races to an overall win in Pennsylvania.

Jason Hooper photo


Top Twenty Overall
1 Barry Hawk, Jr Smithfield, PA YAM 02:48:17 XC1
2 Jimmy Jarrett Beloit, OH SUZ 02:52:52 XC
3 Garrett Edmisten Vero Beach, FL KAW 02:53:24 XC1
4 Joshua Strang Australia, SUZ 02:53:41 XC1
5 Dustin Gibson Cmbrlnd Frnce, TN KTM 02:53:43 XC2
6 Justin Williamson Sanford, FL KTM 02:54:16 XC2
7 Glenn Kearney Australia, SUZ 02:55:04 XC1
8 Scott Watkins Leetonia, OH KAW 02:55:17 XC2
9 Jerod Stoner Lewisberry, PA KTM 02:56:50 250 A
10 Josh Weisenfels Fort Smith, AR YAM 02:58:24 XC2
11 Paul Whibley New Zealand, HON 03:00:07 XC1
12 Joseph Scherer Renfrew, PA YAM 03:00:09 250 A
13 Jesse Robinson Connellys Spg, NC KAW 03:00:17 XC1
14 Robbie Jenks New Straitsville, OH KTM 03:02:10 XC1
15 Cory Buttrick Logan, OH KTM 03:06:44 250 A
16 Christopher Bach Crown Point, IN KTM 03:07:01 250 A
17 Kailub Russell Kingston, OH KTM 03:08:03 200 A
18 Brian Lawson Adams, MA YAM 03:09:14 XC2
19 JT Bennett Allison Park, PA YAM 03:09:16 XC2
20 Jordan Ashburn Cookeville, TN KTM 03:09:56 250 B

2007 Can-Am GNCC Series Standings (After 9 of 13 rounds)
Overall
1. David Knight 179/4 wins
2. Barry Hawk, Jr 175/2 wins
3. Charlie Mullins 153/1 win
4. Garrett Edmisten 144
5. Glenn Kearney 130
6. Jimmy Jarrett 129
7. Paul Whibley 108/1 win
8. Joshua Strang 103
9. Jesse Robinson 98
10. Shane Watts 92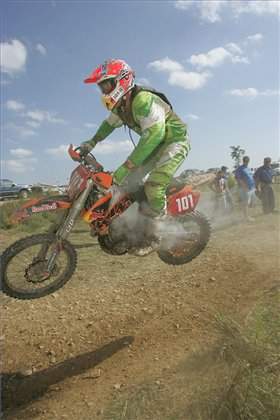 David Knight holds on to a slim lead in the Pro points.

Jason Hooper photo


XC2 Pro Lites
1. Rodney Smith (156/3 wins)
2. Justin Williamson (153/1 win)
3. Scotty Watkins (146/1 win)
4. Dustin Gibson (135/1 win)
5. Josh Weisenfels (131)
6. Thad DuVall (122/1 win)
7. John Barber (117)
8. Brian Lawson (92)
9. John Bennett (79)
10. PA Allen (71)
ATV Overall
1 Chris M Borich SUNBURY, PA HON 01:56:25
2 Chris Bithell IRWIN, PA HON 01:56:30
3 Bill Ballance Smith Grove, KY YAM 01:57:35
4 Adam McGill West Union, WV HON 01:58:26
5 Matt J Smiley Kunkletown, PA HON 02:01:19
6 Bryan Cook Casar, NC HON 02:01:21
7 Brandon Sommers Millersburg, OH YAM 02:01:28
8 Duane Johnson Trenton, MO HON 02:01:49
9 Brent Sturdivant Montrose, WV HON 02:01:58
10 Taylor Kiser Alva, FL YAM 02:02:14
11 Santo Derisi Casar, NC HON 02:02:51
12 Jarrod McClure Kaska, PA HON 02:02:57
13 Craig Reed Crawford, TN HON 02:03:02
14 Kevin Yoho Hopedale, OH YAM 02:03:28
15 Donald Ockerman Marshall, IL HON 02:03:31
16 Tyler Lenig Shamokin, PA YAM 02:05:08
17 Kyle Martin Winona, MO HON 02:05:25
18 Mark Notman Hubbard, OH HON 02:06:0
19 William Yokley Tompkinsville, KY KAW 02:06:11
20 Todd Demaree Varsialles, IN HON 02:06:36
Can-Am Grand National Cross Country Series Standings
(After 9 of 13 rounds)
1. Chris Borich 240/5 wins
2. Bill Ballance 237/4 wins
3. Chris Bithell 166
4. Matt Smiley 133
5. Taylor Kiser 132
6. Adam McGill 127
7. Bryan Cook 110
8. Chris Jenks 100
8. Brandon Sommers 97
10. William Yokley 90

---
AMA Supermoto Championship
Music City Motorplex - Nashville, TN
September 1, 2007
Supermoto Results
1. 6 Mark Burkhart Pataskala, OH Yamaha YZ450F
2. 1 Jeff Ward Newport Beach, CA Honda CRF450R
3. 11 Christopher S. Fillmore Oxford, MI Kawasaki KX450F
4. 294 Jason B. Conlon Mount Airy, MD Honda CRF450R
5. 121 Xavier Bellerophon Fort De France, France Husqvarna SMR450
6. 7 Troy Herfoss Goulburn, Australia KTM 450SX Racing
7. 43 Micky M. Dymond Placentia, CA Honda CRF450R
8. 73 Steve Drew Buckeye, AZ Yamaha WR450F
9. 92 Casey A. Yarrow Fairfield, CA Yamaha YZ450F
10. 700 David Felipe Gaviria Hollywood, FL Honda CRF450R
11. 46 Carey Hart Las Vegas, NV Honda CRF450X
12. 782 Chase M. Guthrie Mentone, IN Kawasaki KX450F
13. 986 Jason M. McDonald Waterford, MI KTM 450EXC-G Racing
14. 355 Robbie Horton Augusta, GA Kawasaki KX450F
15. 15 Cassidy J. Anderson Provo, UT Honda CRF450R
16. 45 Benjamin T. Carlson West Bend, WI Aprilia RXV450
17. 40 Danny Casey Pacifica, CA Yamaha YZ450F
18. 54 Darryl Atkins San Clemente, CA Aprilia RXV450
Supermoto Points
1. 133 M. Burkhart
2. 133 J. Ward
3. 104 M. Dymond
4. 98 T. Herfoss
5. 86 S. Drew
6. 83 C. Fillmore
7. 67 J. Conlon
8. 58 C. Anderson
9. 57 R. Horton
10. 55 B. Carlson
11. 41 X. Bellerophon
12. 38 C. Yarrow
13. 35 D. Casey
14. 34 C. Hart
15. 26 J. McDonald
16. 24 D. Baffeleuf
17. 24 D. Gaviria
18. 23 G. Trachy
19. 22 A. Chareyre
20. 19 T. Evans
21. 19 C. Guthrie
22. 15 M. Burton
23. 14 D. Atkins
24. 11 K. Saai
25. 10 V. Guisande
26. 8 P. Torres
27. 7 L. Pegram
28. 7 A. Dickson
29. 6 N. Daniels
30. 5 C. Fischer
31. 5 J. Patterson
32. 5 J. Roberts
33. 5 D. Arnold
34. 4 B. Brower
35. 4 G. Horner
36. 4 K. Ficenec
37. 3 T. Knapp
38. 3 K. Jones
39. 3 E. Ray
40. 2 M. Cheza
41. 2 J. Shields
Lites Results
1. 101 David Pingree Temecula, CA Honda CRF250R
2. 2 Brandon Currie Anaheim, CA Yamaha YZ250F
3. 33 Adam Cini San Diego, CA Husqvarna TC250
4. 516 Matt S. Abbott Conyers, GA Kawasaki KX250F
5. 90 Jamie W. Siever Belle Plaine, KS Yamaha YZ250F
6. 138 Steve Marty Reno, NV KTM 250SX-F
7. 39 Matt W. Burton Ottumwa, IA KTM 250SX-F
8. 995 Andrew D. Hyder Pataskala, OH Yamaha YZ250F
9. 660 Robbie Smith Guthrie, OK Yamaha YZ250F
10. 624 Frankie C. Garcia Gonzales, CA Honda CRF250R
11. 491 Chad Cose Fremont, CA KTM 250SX-F
12. 552 Drake Eric McElroy Sparks, NV Honda CRF250R
13. 44 Christopher Hansen Cedarburg, WI Honda CRF250R
14. 222 Timm Kiener Lake Orion, MI Yamaha YZ250F
15. 27 Dalton C. Dimick Fort Collins, CO Kawasaki KX250F
16. 362 Kyle W. Jones Peoria, AZ KTM 250SX-F
17. 810 Daryl J. Toole Sapulpa, OK Yamaha YZ250F
18. 287 Ryan T. Kerr Johnstown, OH KTM 250SX-F
19. 21 John M. Lewis Brandamore, PA KTM 250SX-F
20. 70 Roger Hensley Rosamond, CA Honda CRF250R
Lites Points
1. 144 D. Pingree
2. 138 B. Currie
3. 107 A. Cini
4. 85 D. Dimick
5. 83 M. Abbott
6. 82 J. Siever
7. 63 A. Hyder
8. 49 T. Lee
9. 47 C. Cose
10. 41 S. Marty
11. 39 P. Allison
12. 38 M. Burton
13. 36 T. Kiener
14. 29 C. Hansen
15. 25 D. McElroy
16. 24 S. Hatch
17. 23 F. Garcia
18. 22 J. Hite
19. 21 C. Jones
20. 20 J. Lewis
21. 20 E. Sorby
22. 20 J. Hansen
23. 14 M. Pursley
24. 14 R. Kerr
25. 12 R. Smith
26. 12 M. Corbino
27. 11 C. Welsh
28. 11 D. Toole
29. 8 A. Hickmann
30. 8 L. Scherb
31. 7 T. Teegarden
32. 6 R. Jones
33. 5 K. Jones
34. 5 R. Hensley
35. 5 T. Meyer
36. 4 S. Butterman
Unlimited Results
1. 1 Benjamin T. Carlson West Bend, WI Aprilia RXV550
2. 8 Kurt Nicoll Temecula, CA KTM 560SMR
3. 21 John M. Lewis Brandamore, PA KTM 560SMR
4. 54 Darryl Atkins San Clemente, CA Aprilia RXV550
5. 502 Robert P. Loire Salem, WI Husaberg FS650c
6. 64 Travis C. Marks Torrance, CA KTM 560SMR
7. 16 Alexandre Thiebault La Tour De Salvagny, France Husqvarna SM610
8. 10 Josh W. Chisum Bakersfield, CA KTM 560SMR
9. 98 Jason W. Baldwin Asheboro, NC KTM 560SMR
10. 154 Monte Frank Oklahoma City, OK KTM 560SMR
11. 718 Cory M. Gabbert Mandan, ND KTM 560SMR
12. 89 Donald J Wanat Woodinville, WA KTM 560SMR
13. 114 Brandon Stooksbury Knoxville, TN KTM 560SMR
14. 182 Corey H. Hormes Gettysburg, PA KTM 560SMR
15. 49 Rick S. Crist Mansfield, OH KTM 560SMR
16. 999 Chad E. Phipps Mulvane, KS KTM 560SMR
17. 132 Ryan D. Davis Mulvane, KS KTM 560SMR
18. 28 Olivier Annequin St Georges Sur Eu, France Husaberg FE650e
19. 33 Adam Cini San Diego, CA Husqvarna SMR510
20. 137 Tim Boblin Waukesha, WI KTM 560SMR
Unlimited Points
1. 147 B. Carlson
2. 111 K. Nicoll
3. 98 D. Atkins
4. 98 R. Loire
5. 93 J. Chisum
6. 86 T. Marks
7. 80 B. Capper
8. 57 C. Gabbert
9. 56 D. Wanat
10. 54 J. Lewis
11. 38 G. Trachy
12. 38 M. Frank
13. 38 B. Stooksbury
14. 36 C. Hormes
15. 34 X. Bellerophon
16. 32 M. Bergman
17. 21 D. Baffeleuf
18. 19 C. Kemp
19. 18 A. Cini
20. 17 C. Walsdorf
21. 14 A. Thiebault
22. 13 R. Crist
23. 13 T. Boblin
24. 12 J. Baldwin
25. 12 J. Skeeters
26. 11 G. Gustin
27. 10 O. Annequin
28. 9 D. Flashberger
29. 9 A. McElyea
30. 8 R. Pugh
31. 6 N. Daniels
32. 5 C. Phipps
33. 4 R. Davis
34. 3 T. Sledge
35. 1 D. Jannette
36. 1 A. Hickmann
For road racing results visit www.roadracerx.com.

If you are a race promoter and would like to see results from your event on Yamaha's Monday Wake-Up Call, please contact Gregg Lowley at [email protected].
Share this article:
Did you like this article?
Check out 10,000 MILES FROM HOME
in our Latest issue of Racer X available now.

Australian Dean Ferris hopes to follow in the footsteps of some of his legendary countrymen. Now contesting the FIM Grand Prix series, he made a huge impression at the Motocross of Nations. Page 138.