Kawasaki/Racer X Race Report
Sunday, August 26, 2007 | 6:17 PM

Since 1968,

Thor

has maintained its position as a top motocross apparel brand. From trails, deserts, to the most famous racetracks in the world,

Thor

supports racing on the track and off with its sponsorship of race reports.

Tweet
In this article…
Riders
Races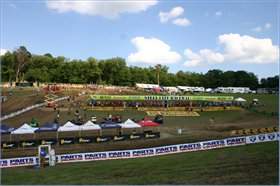 Blue skies greeted the Steel City faithful at the final round of the Monster Energy Triple Crown of MX.
photo: Billy Ursic
It was another epic day of racing during round 10 of the Toyota AMA Motocross Nationals presented by FMF at
Steel City
Raceway. It didn't start out that way, though. Heavy rains during the week had the Delmont, PA, facility heavily saturated. After a full day of practice on Saturday things were looking up, until the heavens opened up once again on the eve of the race. The Racer Productions track crew had their hands full in the morning and practice was a muddy mess. But the crew kept working and once the sun broke through mid morning everything began to come together, and when the gate dropped for the first moto, the track was coming together nicely, producing one of the best days of racing all summer. When the flag dropped on the final moto of both classes, the faces of Monster Energy Pro Circuit Kawasaki's
Ryan Villopoto
and Yamaha's
Grant Langston
bore big smiles.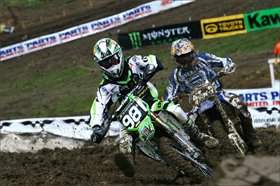 Austin Stroupe was impressive in his first professional outing, going 2-12 for fourth overall.
photo: Matt Ware
The conditions were soft and wet when the first moto of the lites class cleared the starting gate and shifted into the first turn. Once there, around a dozen riders went down in a gigantic pile up, which most notably claimed Ben Townley,
Ryan Villopoto
and
Trey Canard
. While the mechanics untangled the colorful pile of men and machines, hometown hero
Broc Hepler
put up the sails on his Factory Yamaha and was gone. Not even a small crash after the finish line section stood in his way of opening up another big lead and manhandling the talent-laden pack of Lites riders. Behind him, Villopoto and Townley were on a mission slicing through the pack. Unfortunately for Townley, he would crash several more times which deterred his charge. Ryan, on the other hand, was a house of fire, putting up lap times faster than the leader even while mired in heavy traffic. When the checkered flag flew it was Hepler taking a popular win—his fifth-straight
Steel City
moto victory--while Villopoto and his brand new teammate
Austin Stroupe
drag racing across the line. It was an outstanding debut for the North Carolina rookie, as the #981 ran inside the top three the entire moto, passing
Tommy Hahn
for second in his first moto as a professional. RV1, on the other hand, was now enjoying a new five-point lead in the standing as Townley could only make it up to sixth.
All eyes were on Timmy Ferry and Andrew Short when they pushed up to line for moto one of the Motocross class as they took to their gates tied in series points. But when the pack rounded the first corner it was Red Bull KTM's Mike Alessi flying around the outside and grabbing the Moto Tees holeshot. Within two laps a three-rider battle broke out between the surging Grant Langston and SoBe No Fear/Samsung Honda's Kevin Windham and Alessi. Mike tried to sprint, but Windham stayed glued to his rear fender and charged past around ten minutes in. Then as Langston began to apply pressure to Alessi, the KTM rider dropped the hammer and flew right past Kevin and sprinted hard. With Alessi putting in very fast laps out front, a war broke out between Grant and Kevin. The two veterans touched in the air on one of the huge infield table tops with Windham getting the short end of the stick and flying over the berm in the proceeding corner. He wasn't happy about it either and cut across the next section of the track in front of Langston shaking his fist at him, but letting him go ahead. It wasn't over between them as Grant would slide out less than a lap later and have to fight past once again. At the end it was Alessi taking the first AMA Motocross moto win of his career.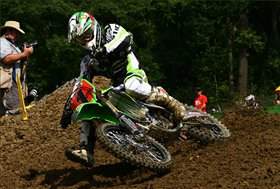 Ryan Villopoto is now in the driver's seat with a six-point lead over Townley.
photo: Matt Ware
It was a clean start the second time around for the Lites class with the big red number one of Villopoto grabbing a huge holeshot and wasting no time in opening up a sizable lead. His lap time at the end of the first full circuit was an astonishing 2.039 (Stay tuned for Sign of the Lap Times this Tuesday) which had all of the mechanics huddled around the scoring monitor raising their eye brows. Townley again suffered trouble early, going down and losing valuable track position. Meanwhile,
Broc Hepler
was riding steadily in second place and in position for the overall when he collided with a lapped rider and went down. Unfortunately it would get worse for Hepler and he would end up pulling out of the moto. Townley put on a hard charge but fell short, finishing second to his friendly rival. Villopoto heads to Texas with a six-point lead in the standings.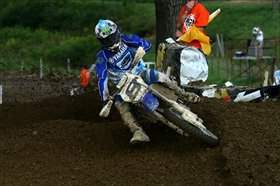 Grant Langston got his first AMA Motocross win and took over the series points lead today.
photo: Matt Ware
As for the final AMA Motocross moto of the day, everyone knew it was going to be a battle and boy were they right! Alessi, Langston, and Windham put on a 30-minute plus two lap display of heart and determination that the series hasn't seen out of three 450cc riders in a long time. This time it was Windham getting the early advantage with Langston and Alessi closely in tow. But first they had to fight their way past a pesky and holeshotting
Gavin Gracyk
, on his MDK/Cycra-supported Honda. As the moto wore on Windham was staying strong in the lead while Alessi was getting aggressive and looking for a way around Langston's YZF. Langston bobbled and Alessi got by and immediately went to work on the steadfast Windham. Lap after lap Mike showed him a wheel, but he could not get by and they pulled slightly ahead of Langston, who looked as if he may have been out of steam. Apparently he had a lot more in the tank because he threw on an unbelievable charge, displacing Alessi and Windham in the waning moments of the moto. While he made his way to the lead, you could still throw a blanket over the trio as they took the white flag. With t-shirts waving along the fence lines they charged toward the checkered flag with Langston getting the moto win and the overall. Alessi and Windham nearly locked bars in the final corner and crossed the line almost side-by-side with Kevin getting the photo finish.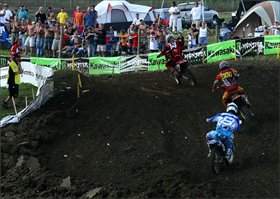 Windham, Alessi and Langston were thisclose for most of the second moto.
photo: Matt Ware
While all of this was going on, Monster Energy Kawasaki's
Timmy Ferry
was putting the finishing touches on a frustrating day, finishing the moto seventh and fifth overall. Factory Honda's
Andrew Short
put in a consistent day and his 5-4 finishes kept him very much alive in the championship. And get a load of this folks: With two rounds remaining in the outdoor nationals, there are ten points separating the top four!
It's not over yet. In fact, it's getting really, really good.
Results
Motocross (Moto Finish)
1. Grant Langston, Clermont, Fla., Yamaha, 2-1
2. Mike Alessi, Victorville, Calif., KTM, 1-3
3. Kevin Windham, Centreville, Miss., Honda, 3-2
4. Andrew Short, Smithville, Texas, Honda, 5-4
5. Timmy Ferry, Largo, Fla., Kawasaki, 4-7
6. Ivan Tedesco, Montgomery, Texas, Suzuki, 6-5
7. Gavin Gracyk, Blissfield, Ohio, Honda, 8-6
8. Michael Byrne, Newnan, Ga., Suzuki, 7-11
9. Yoshitaka Atsuta, Japan, Honda, 11-8
10. Josh Summey, Stanley, N.C., Honda, 12-9

Motocross Class Point Standings
1. Grant Langston, Clermont, Fla., Yamaha, 347
2. Andrew Short, Smithville, Texas, Honda, 345
3. Timmy Ferry, Largo, Fla., Kawasaki, 343
4. Mike Alessi, Victorville, Calif., KTM, 337
5. Kevin Windham, Centreville, Miss., Honda, 296
6. Ricky Carmichael, Tallahassee, Fla., Suzuki, 291
7. James Stewart, Haines City, Fla., Kawasaki, 290
8. David Vuillemin, Murrieta, Calif., Honda, 207
9. Michael Byrne, Newnan, Ga., Suzuki, 192
10. Davi Millsaps, Cairo, Ga., Honda, 186

Motocross Lites (Moto Finish)
1. Ryan Villopoto, Poulsbo, Wash., Kawasaki, 3-1
2. Ben Townley, Tallahassee, Fla., Kawasaki, 6-2
3. Brett Metcalfe, Murrieta, Calif., Kawasaki, 8-3
4. Austin Stroupe, Lincolnton, N.C., Kawasaki, 2-12
5. Nico Izzi, Saint Clair, Mich., Suzuki, 7-7
6. Josh Grant, Riverside, Calif., Honda, 5-9
7. Martin Davalos, Cairo, Ga., KTM, 13-4
8. Broc Hepler, Kittanning, Pa., Yamaha, 1-31
9. Jake Weimer, Rupert, Idaho, Honda, 9-10
10. Trey Canard, Elk City, Okla., Honda, 16-5

Motocross Lites Point Standings
1. Ryan Villopoto, Poulsbo, Wa., Kawasaki, 447
2. Ben Townley, Tallahassee, Fla., Kawasaki, 441
3. Josh Grant, Riverside, Calif., Honda, 340
4. Jason Lawrence, Murrieta, Ga., Yamaha, 277
5. Ryan Dungey, Belle Plaine, Minn., Suzuki, 267
6. Jake Weimer, Rupert, Idaho, Honda, 211
7. Thomas Hahn, Decatur, Texas, Honda, 177
8. Brett Metcalfe, Murrieta, Calif., Kawasaki, 169
9. Broc Tickle, Cary, N.C., Yamaha, 164
10. Kyle Chisholm, Seminole, Fla., Kawasaki, 151


Share this article:
Did you like this article?
Check out THE MOTOCROSS OF 40 NATIONS
in our Latest issue of Racer X available now.

The 2013 FIM Motocross of Nations at Teutschenthal, Germany, hosted teams from a record forty countries. Here's how it played out for each of them. Page 90.