by
Bryan Stealey
Yamaha's Monday Wake-Up Call
Monday, July 9, 2007 | 5:55 AM
Tweet
FIM World Supermoto
GP of Germany: Sankt Wendel
July 8, 2007
S1 Race 1
1. 101 van den Bosch, Thierry FRA FFM Aprilia
2. 3 Chareyre, Adrien FRA FFM Husqvarna
3. 84 Berthome, Kevin FRA FFM Honda
4. 2 Giraudo, Jerome FRA FFM Aprilia
5. 38 Balducci, Fabio ITA FSM TM
6. 5 Chambon, Boris FRA FFM Kawasaki
7. 12 Hiemer, Bernd GER DMSB KTM
8. 64 Bidart, Sylvain FRA FFM Honda
9. 121 Beltrami, Massimo ITA FMI Honda
10. 112 Chareyre, Thomas FRA FFM Husqvarna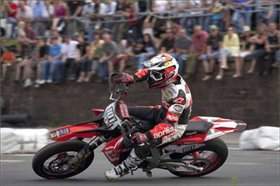 Thierry van den Bosch wins again!
Courtesy of Youthstream


S1 Race 2
1. 112 Chareyre, Thomas FRA FFM Husqvarna
2. 12 Hiemer, Bernd GER DMSB KTM
3. 3 Chareyre, Adrien FRA FFM Husqvarna
4. 101 van den Bosch, Thierry FRA FFM Aprilia
5. 38 Balducci, Fabio ITA FSM TM
6. 84 Berthome, Kevin FRA FFM Honda
7. 30 Lazzarini, Ivan ITA FMI Yamaha
8. 121 Beltrami, Massimo ITA FMI Honda
9. 5 Chambon, Boris FRA FFM Kawasaki
10. 2 Giraudo, Jerome FRA FFM Aprilia
S1 Overall Points
1. 101 van den Bosch, T. FRA 213
2. 3 Chareyre, A. FRA 213
3. 112 Chareyre, T. FRA 180
4. 2 Giraudo, J. FRA 159
5. 84 Berthome, K. FRA 156
6. 12 Hiemer, Bernd GER 145
7. 64 Bidart, S. FRA 128
8. 121 Beltrami, M. ITA 119
9. 30 Lazzarini, I. ITA 101
10. 38 Balducci, F. ITA 95
11. 5 Chambon, Boris FRA 93
12. 69 Ravaglia, C. ITA 93
13. 19 Rolland, A. FRA 90
14. 45 Esterbauer, R. AUT 47
15. 110 Manzo, Massimo ITA 44
16. 34 Emery, Maxime FRA 42
17. 200 Bussei, G. ITA 40
18. 16 Gaspardone, P. ITA 32
19. 33 Grau, Angel ESP 29
20. 24 Cavazzana, R. ITA 24
S2 Race 1
1. 3 Delepine, Gerald BEL FMB Husqvarna
2. 32 Jorge, Nestor ESP RFME Aprilia
3. 57 Pignotti, Attilio ITA FMI KTM
4. 9 Winstanley, Matthew GBR ACU KTM
5. 88 Mariani, Lorenzo ITA FMI TM
6. 5 Goetz, Marcel SUI FMS KTM
7. 125 Verderosa, Massimo ITA FMI Honda
8. 69 Gozzini, Davide ITA FMI TM
9. 10 Testu, Maxime FRA FFM Husaberg
10. 61 Welink, Manolito GER DMSB Aprilia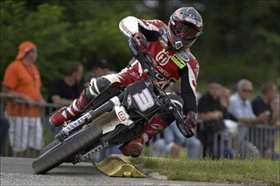 GP winner Gerald Delepine won in Sankt Wendel for the first time
Courtesy of Youthstream


S2 Race 2
1. 10 Testu, Maxime FRA FFM Husaberg
2. 3 Delepine, Gerald BEL FMB Husqvarna
3. 57 Pignotti, Attilio ITA FMI KTM
4. 69 Gozzini, Davide ITA FMI TM
5. 9 Winstanley, Matthew GBR ACU KTM
6. 88 Mariani, Lorenzo ITA FMI TM
7. 8 Girolami, Simone ITA FMI Husaberg
8. 110 Manzo, Massimo ITA FMI Husqvarna
9. 13 Jasinski, Jochen GER DMSB Husaberg
10. 81 Minutilli, Luca ITA FMI Aprilia
S2 Overall
1. 57 Pignotti, A. ITA 196
2. 3 Delepine, G. BEL 193
3. 69 Gozzini, D. ITA 162
4. 4 Iddon, C. GBR 156
5. 32 Jorge, Nestor ESP 133
6. 9 Winstanley, M. GBR 133
7. 88 Mariani, L. ITA 128
8. 5 Goetz, Marcel SUI 110
9. 96 Hlad, Ales SLO 104
10. 7 Baraccani, R. ITA 100
11. 81 Minutilli, L. ITA 96
12. 10 Testu, Maxime FRA 82
13. 125 Verderosa, M. ITA 76
14. 8 Girolami, S. ITA 69
15. 12 Rispoli, G. ITA 49
16. 97 Goguet, Adrien FRA 44
17. 23 Occhini, A. ITA 33
18. 111 Cullino, C. ITA 30
19. 119 Poulain, D. FRA 27
20. 14 Pes, Lorenzo ITA 26
---
Dutch Open Supermoto
July 8, 2007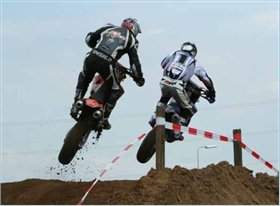 Remy van Rees (Left) and #1 Marcel van Drunen in a battle.
Courtesy of Steven van Kempen/KEMCO


Moto 1
1 Marc Fraikin Belgie KTM Luckytime Racing
2 Marcel van Drunen Eindhoven Yamaha
3 Remy van Rees Alphen ad R. KTM
4 Theo Bouchee Geldrop KTM
5 Peter Nijs Belgie Suzuki
6 Amel Advokaat Noordeloos KTM
7 Matthew Pope Engeland KTM
8 Ron vd Horst Zevenhoven KTM
9 Robert Simpson Engeland KTM
10 Michel Simens Belgie Honda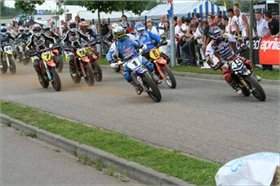 2nd moto start with #7 Van Rees, #9 Van der Horst, #1 Van Drunen, #6Bouchee and #45 Fraikin.
Courtesy of Steven van Kempen/KEMCO


Moto 2
1 Remy van Rees Alphen ad R. KTM
2 Marcel van Drunen Eindhoven Yamaha
3 Marc Fraikin Belgie KTM
4 Theo Bouchee Geldrop KTM
5 Peter Nijs Suzuki
6 Amel Advokaat Noordeloos KTM
7 Tom van Teeffelen Wamel Suzuki
8 Ron vd Horst Zevenhoven KTM
9 Ruurd van Roozendaal Steggerda Honda
10 Michel Simens Belgie Honda
Overall Points
1 Marcel van Drunen Eindhoven Yamaha Yamaha Maxxis Team 461
2 Remy van Rees Alphen ad R. KTM Vos Racing Team 447
3 Theo Bouchee Geldrop KTM 379
4 Peter Nijs Belgie Suzuki Flat Out Racing 378
5 Amel Advokaat Noordeloos KTM Team WPM-E.N.E.-KTM 328
---
Monster Energy Motocross Nationals
Round 5 – Calgary, AB
July 8, 2007
MX1
1. Paul Carpenter (Kaw) 2-1
2. Colton Facciotti (Yam) 1-2
3. Josh Woods (Suz) 3-5
4. Marco Dube (KTM) 5-7
5. Jeff Gibson (Kaw) 13-4
6. Kyle Keast (Hon) 10-8
7. Mason Philips (KTM) 9-9
8. Chuck Mesley (Hon) 8-10
9. Blair Morgan (Yam) 19-3
10. Simon Homans (Yam) 7-14
MX2 West
1. Tucker Hibbert (Kaw) 1-5
2. Ben Evans (Hon) 3-3
3. Jimmy Nelson (Yam) 8-1
4. Kyle Beaton (Yam) 5-2
5. Gray Davenport (Kaw) 4-4
6. Eric Nye (KTM) 2-7
7. Kevin Urquhart (Hon) 6-6
8. Weston Potter (Hon) 7-8
9. Andrew Belin (Hon) 13-10
10. Brock Hoyer (Kaw) 12-11
---
Maxxis British Motocross Championships
Skelder Banks, North Yorkshire
July 8, 2007
MX2 Race 1
1 Gareth Swanepoel
2 Mike Brown
3 Carl Nunn
4 Jason Dougan
5 Shaun Simpson
6 Martin Barr
7 Carlos Campano
8 Tom Church
9 Tommy Searle
10 Stephen Sword
11 Jake Nichols
12 Lewis Gregory
13 Kristian Whatley
14 David Willett
15 Jamie Law
MX2 Race 2
1 Carl Nunn
2 Gareth Swanepoel
3 Mike Brown
4 Shaun Simpson
5 Martin Barr
6 Tom Church
7 Stephen Sword
8 Jason Dougan
9 Jake Nichols
10 Lewis Gregory
11 Carlos Campano
12 Ray Rowson
13 David Willett
14 Elliot Banks - Browne
15 Scott Probert
MX2 British championship standings:
1 Mike Brown 268
2 Gareth Swanepoel 267
3 Tommy Searle 266
---
Belgian MX Championships
Nismes circuit
July 8, 2007
Heat 1
1. STRIJBOS Kevin
2. RAMON Steve
3. POURCEL Sébastien
4. POURCEL Christophe
5.PRIEM Manuel
6. ARANDA Gregory
7. VAN DAELE Marvin
8. THEYBERS DANNY
9. VERBRUGGEN Dennis
10. CAPS Patrick
Heat 2
1.STRIJBOS Kevin
2. POURCEL Sébastien
3. RAMON Steve
4. PRIEM Manuel
5.POURCEL Christophe
6. ARANDA Gregory
7. VAN DAELE Marvin
8. VERBRUGGEN Dennis
9. THEYBERS Danny
10. VERHOEVEN Bas
Heat 3
1.STRIJBOS Kevin
2. POURCEL Sébastien
3. RAMON Steve
4. POURCEL Christophe
5. PRIEM Manuel
6. VAN DAELE Marvin
7. ARANDA Gregory
8. VERBRUGGEN Dennis
9. THEYBERS Danny
10. VERHOEVEN Bas
Overall Results
1. STRIJBOS Kevin (BEL-Suzuki) 75
2. POURCEL Sébastien (FRA-Kawasaki) 64 ptn
3. RAMON Steve (BEL-Suzuki) 62 ptn
4. POURCEL Christophe (FRA-Kawasaki) 52 ptn
5. PRIEM Manuel (BEL-TM) 50 ptn
6. ARANDA Gregory (FRA-Kawasaki) 44 ptn
7. VAN DAELE Marvin (BEL-Shineray) 43 ptn
8. VERBRUGGEN Dennis (BEL-Yamaha) 38 ptn
9. THEYBERS Danny (BEL-Honda) 37 ptn
10. CAPS Patrick (BEL-Gas Gas) 31 ptn
United Telecom Trophy Standings
1. RAMON Steve 325 ptn
2. POURCEL Christophe 2673. STRIJBOS Kevin 244
4. PRIEM Manuel 239
5. VAN DAELE Marvin 213
6. THEYBERS Danny 194
7. DE DIJCKER Ken 134
8. VERBRUGGEN Dennis 124
9. ARANDA Grégory 104
10. NORLEN Marcus 99 ptn
---
Fuente Alamo SX
Spain
July 7, 2007
1. DV
2. Manuel Rivas
3. Pascal Leuret
---
AMA Supermoto Series: Round 4
Detroit, MI
July 8, 2007
AMA Supermoto:
1. Mark Burkhart (Yam)
2. Cassidy Anderson (Hon)
3. Jeff Ward (Hon)
4. Troy Herfoss (KTM)
5. Micky Dymond (Hon)
6. Xavier Bellerophon (Husq)
7. Chris Fillmore (Kaw)
8. Benny Carlson (Apr)
9. Robbie Horton (Kaw)
10. Gary Trachy (Hon)
AMA Supermoto Unlimited:
1. Benny Carlson (Apr)
2. Darryl Atkins (Apr)
3. Kurt Nicoll (KTM)
4. Brian Capper (KTM)
5. Robert Loire (Hus)
6. Josh Chisum (KTM)
7. Travis Marks (KTM)
8. Cory Gabbert (KTM)
9. Donald Wanat (KTM)
10. Monte Frank (KTM)
AMA Supermoto Lites:
1. David Pingree (Hon)
2. Brandon Currie (Yam)
3. Eric Sorby (Hon)
4. Adam Cini (Husq)
5. Drake Eric McElroy (Hon)
6. Matt Abbott (Kaw)
7. Dalton Dimick (Kaw)
8. Jamie Siever (Yam)
9. Steve Hatch (KTM)
10. Andrew Hyder (Yam)
---
World Trials 2007
Grand Prix of Poland
July 8, 2007
1. Toni Bou (E-Montesa), 18 ;
2. Adam Raga (E-Gas Gas), 29 ;
3. Albert Cabestany (E-Sherco), 30 ;
4. Takahisa Fujinami (JPN-Montesa), 31 ;
5. Dougie Lampkin (GB-Montesa), 36 ;
6. Marc Freixa (E-Scorpa), 51 ;
7. James Dabill (GB-Montesa), 52 ;
8. Jeroni Fajardo (E-Beta), 53 ;
9. Tadeusz Blazusiak (POL-Gas Gas), 54 ;
10. Daniel Oliveras (E-Sherco), 69 ;
11. Jerome Bethune (E-Beta), 88 (5x0,6x1,3x2);
12. Daniel Gibert (E-Montesa), 88 (5x0,6x1,1x2);
13. Christophe Bruand (FR-Sherco), 94;
14. Daniele Maurino (IT-Beta), 100 ;
15. Tsuyoshi Ogawa (JPN-Montesa), 104
World Championship Points
1. Bou, 157
2. Raga, 13
3. Fujinami, 116
4. Lampkin, 99
5. Cabestany, 94
6. Fajardo, 74]
7. Dabill, 72
8. Freixa, 68
9. Oliveras, 41
10. Bruand, 29
11. Bethune, 27
12. Maurino, 19
13. Kuroyama, 17
14. Ogawa T, 16
15. Morris, 13

For road racing results visit www.roadracerx.com.

If you are a race promoter and would like to see results from your event on Yamaha's Monday Wake-Up Call, please contact Gregg Lowley at [email protected].
Share this article:
Did you like this article?
Check out REVELATIONS
in our Latest issue of Racer X available now.

When did you realize Ryan Villopoto was going to be … well, Ryan Villopoto? We dig into the rise of Racer X's 2013 Rider of the Year. Page 124.