by
Andy Bowyer
Rev-Up: Good Times
Thursday, June 28, 2007 | 1:27 PM
Dragon
is a leading mx goggle manufacturer with innovative new styles like the NFX frameless goggle with patented lens technology. To win a  pair of these premium NFX goggles, go to Dragon's
Facebook
or
Instagram
page and pick this week's 450 AMA Supercross winner.
Tweet
In this article…
Riders
Races
Hello, everyone, and welcome to the Rev Up. How many of you out there like to have a good time? Of course some folks' definition of a good time is different and has several levels of intensity; the bottom line of a good time is doing something that is above and beyond the norm in the experience category. Well, if you like to be outside, listen to music, and watch the best motocross racers in the world throw down, we have a serious good time heading our way this weekend! The Red Bud National is wild, guys. Taking place right around July 4th weekend, the Red Bud faithful show up ready to blow up. It's an awesome track that brings out the best in the riders and offers great racing.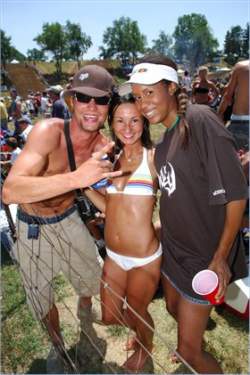 Good times at Red Bud!
photo: Steve Bruhn
The coolest thing about the place is its history for producing dramatic action. Something wild happens every year it seems. I raced the national there in 1996, which was the year James Dobb won the first moto, and then was so exhausted he could barely ride the second moto! That same year Jeff Emig came from behind to beat Jeremy McGrath. Emig, who won
Red Bud
five times throughout his career, was one of
Red Bud
's all-time favorite sons (along with Stanton and LaRocco) and I remember the place coming absolutely unglued as he was charging through the pack. Remember
Bubba
and Windham getting into it in 2005? Remember Reed throwing a chain that same year? The outdoor season is really starting to get into the meat of the schedule and it's time for the true title contenders to make a move. Let's really get it up in here and get Revved-the-hell-Up for a good time at
Red Bud
!
Lites
Okay, this is where I think we are going to see some early fireworks. The tiddler class at Red Bud has always been weird. I mentioned Dobb's moto win in 1996, then there was Ryan Mills winning a moto in '05. 2004 was one of the only nationals James Stewart raced in and lost all year. James went down in the first turn of the second moto and ended up with a destroyed bike, while YoT's Mike Brown won the overall. A few years before in 2001 saw Larry Ward win the last national of his career riding a Moto XXX YZ250F—the first national win for a four-stroke in Lites' competition.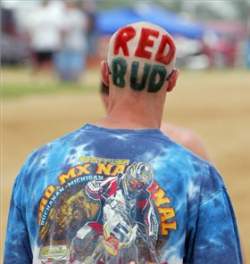 Red Bud faithful
photo: Steve Bruhn
Remember last year?
Ryan Villopoto
had just come off two dominating wins at
Budds Creek
and dismantled
Mike Alessi
in the first moto, only to watch Mike catch fire and ride away with the moto-two victory. Last year marked Ben Townley's return to the track and he posted 8-3 finishes. As the weekend draws near, RV and BT101 have been the class of the field, but not far behind them it has been a war between
Josh Grant
,
Ryan Dungey
, and
Jason Lawrence
. If Lawrence can get out of the gate he will be strong, but for some reason I have my eye on
Ryan Dungey
to make the biggest impression on the
Red Bud
fans and maybe get his first win. He's been riding the wheels of that RM-Z250 and you can see it in his riding that he wants to win badly. On the other hand, we may see a new face on the podium this weekend given the event's kooky history of break-out performances.
Motocross
Now, thinking along the lines of a good time, let me paint a picture for you: You've watched the opening ceremonies come and go. You saw the first drop of the gate and watched the Lites boys round the first corner and put on a show for 30-minutes plus two laps. You crack a Monster (or a Pabst) as you hear the announcer belting out the names of the Motocross class competitors. As you take a good long pull off your beverage you hear, "And let's hear it for Ricky Carmichael!" resonate from the loud speakers. You see #4 ride by standing up on the pegs checking out the lines on the track. Just behind him is the #7. Before long the boys are all back up on the starting line. There is a sudden and steady shift in the crowd as they begin to pack the fence line. The words coming out of the announcer are almost inaudible at this point because there are 40 450cc machines shaking the ground beneath your feet. Leticia pushes up the 30-second card and then, the moment she lets it fall sideways, thunder instantly changes into a high-pitched humming vibration that shakes the fillings in your molars. The gate slams down and all hell breaks loose. You see James Stewart and Ricky Carmichael round the first corner 4th gear pinned in a two-tire drift – now you are having an even better time!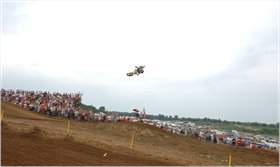 RC airs out LaRocco's Leap
photo: Carl Stone
I promise you that RC and James will get out 1-2 in at least one of their motos and we'll get to see them go at it. They've put on a hell of a show every time out thus far in the outdoor series. This week will be no exception.
This one is going to roll folks. I'm making the drive with the boys this time around and I can't wait to get there and see the crowd. I want to see RV and BT throw down, and Dungey,
J-Law
and Josh to challenge them. I want to see someone new yank the holeshot in that Lites class and run like the devil's chasing them. I want to have a good time.
Thanks for reading, see you next week.

Share this article:
Did you like this article?
Check out 10,000 MILES FROM HOME
in our Latest issue of Racer X available now.

Australian Dean Ferris hopes to follow in the footsteps of some of his legendary countrymen. Now contesting the FIM Grand Prix series, he made a huge impression at the Motocross of Nations. Page 138.