Kawasaki/Racer X Race Report
Tuesday, June 26, 2007 | 10:42 AM

Since 1968,

Thor

has maintained its position as a top motocross apparel brand. From trails, deserts, to the most famous racetracks in the world,

Thor

supports racing on the track and off with its sponsorship of race reports.

Tweet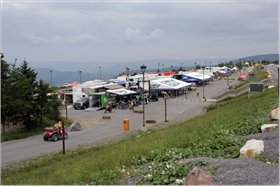 The Snowshoe resort provides an amazing view
At the start of the Moose Racing Snowshoe GNCC, word bellowed from the PA system: "Well, they say West Virginia is almost Heaven. From this high up, it seems like we're at least halfway there."

As the Can-Am Grand National Cross Country officials explained the track, the start procedure and the race itself, no one seemed stressed. The start would be totally different than any other seen in the series in over a decade, with riders lined up on the street in five-bike formations (think Blackwater 100, or Elsinore GP in On Any Sunday). On one side of the paved road you had the beautiful buildings that line the Snowshoe Village. On the other side of the road was a majestic view that comes only when you start a race at elevation 4848'. And even though this was new to many, everyone seemed to have their heads wrapped around the process. Besides, the start wouldn't mean much in this race. Just getting to the finish would be hard enough. They say West Virginia is almost Heaven, and they also say it's Wild and Wonderful. The Snowshoe GNCC sure was.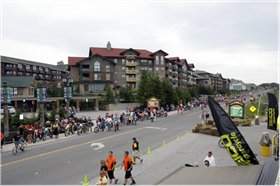 The Snowshoe Village
The race started at elevation 4848, then worked its way down ski slopes and trails until hitting the real rough stuff, a few miles of the nastiest bogs, rocks and roots you'll find anywhere. And what goes down must also come up, which means there's plenty of hill climbing to be done, too.

The action at this race wasn't watching the race for the win. That was obvious almost immediately when Red Bull KTM's David Knight pulled ahead quickly, then got lost on the trail and waited for the pack to catch back up, just so he could figure out where he was going and pull away again. Then the pack hit one of the bad hill climbs. Knight made it up and everyone else didn't, and soon a massive bottleneck had formed with the best riders in the series (sans Knighter) all jammed together. Knowing the A and B riders on the track would probably fare even worse, that hill climb was removed from the course. But there were still plenty of bad ones, and each time Knight made a hill that no one else could, or crawled over a big boulder pile without taking a foot off the peg, or plowed through seat-deep mud without getting stuck, his lead grew bigger and bigger.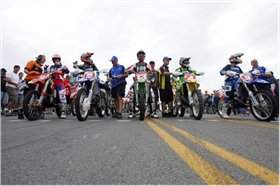 The starting line
Eventually his lead was big enough to match his massive 6'4" size, or the elevation of Snowshoe Mountain. No one was stopping Knight here, and no one should be expected to. There's little doubt that Knight is the world's best extreme enduro rider, and this race was going to become just another on his mantle.

A huge battle broke out for second amidst all the bottlenecks of broken and stuck bikes (again, think Blackwater 100). At one point, a rider from the second pro class—XC2 Lites—made his way into second place after starting on the fifth row. Thad DuVall, Am-Pro Yamaha's 17-year-old prodigy, had passed all but one pro rider on his WR250F and was flying. He wasn't at Knight's pace, but he was positioning himself to become the first rider to ever put a 250F on the overall GNCC podium.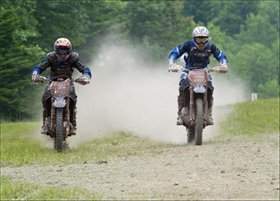 Am-Pro Yamaha teammates Barry Hawk (2) and Charlie Mullins (3) battled early in the race
All those struggles with the rest of the gang just pumped up all the fans down in those mud holes, grabbing bikes, pointing out lines and generally enjoying the rucus. Up on top of the mountain, Snowshoe looked completely different than any other off-road race, with cobblestone streets in the village, paved pits and parking, and even a Starbucks with Wi-fi right next to the podium. But down in the woods it was as down and dirty as ever.

Knight emerged the winner by nearly 10 minutes—it might have been the full 10 had Barry Hawk not sprinted in to the finish. Hawk was battling FMF Suzuki's Jimmy Jarrett for second and knew that Jarrett, who started in the second row, had adjusted time in his favor. Same for DuVall, who started in the fifth row and thus had a 25 second timed advantage in his favor. But Hawk made the right moves on the final lap to get away from them. Jarrett was third and DuVall fourth, first in the Lites class. Credit goes to Fairmont, West Virginia's Ryan Echols, who is as privateer as privateer gets. He finished second the Lites class behind DuVall, holding off factory Red Bull KTM's Justin Williamson and five-time GNCC Champion Rodney Smith, who is still of course with factory FMF Suzuki.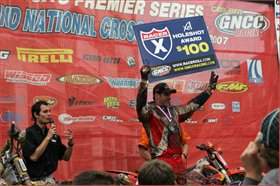 Red Bull KTM's David Knight also grabbed the Racer X Holeshot Award
The rest? They had their troubles. Charlie Mullins fried a clutch, and Garrett Edmisten punched a hole in his cases. Even Hawk was limping bad after a fall that ended with his back striking a rock. But maybe the toughest rider of the day was West Virginia's Kale Abergg, of the Four-Stroke A Lites class. He completed one lap of the course. His total time? Three hours, 30 minutes and 34 seconds, making him the last rider in.

All told, 1390 GNCC racers competed at Snowshoe, and the event was a hit from all angles—the top of the mountain and the bottom. Chances are the series will be back there in 2008, and you can bet that Knighter guy will be looking to add another trophy to his mantle.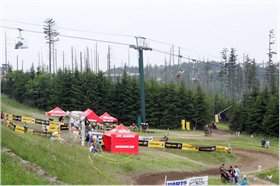 The ski lifts were in operation all weekend long for spectators
Share this article:
Did you like this article?
Check out MOTO GIFT GUIDE
in our Latest issue of Racer X available now.

Our annual gift guide has something (or maybe even a few somethings) for everyone on your holiday list. Page 146.