by
Bryan Stealey
Yamaha's Monday Wake-Up Call
Sunday, March 4, 2007 | 9:02 PM
Tweet
Ampd Mobile AMA Supercross Series
Edward Jones Dome - St. Louis, MO
March 3, 2007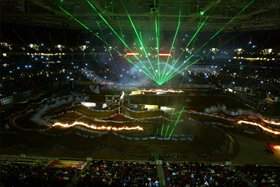 Lights ... camera ... SX!
TFS photo


Supercross Heat 1
1. 4 Ricky Carmichael Havana, FL Suzuki RMZ450
2. 22 Chad Reed Tampa, FL Yamaha YZ450F
3. 14 Kevin W Windham Centreville, MS Honda CRF450R
4. 26 Michael Byrne Newnan, GA Suzuki RMZ450
5. 11 Travis A Preston Hesperia, CA Honda CRF450R
6. 118 David D Millsaps Cairo, GA Honda CRF450R
7. 120 Kevin W Johnson Albuquerque, NM Yamaha YZ450F
8. 40 Jeff Gibson Blacklick, OH Kawasaki KX450F
9. 90 Cole T Siebler Emmett, ID Honda CRF450R
Supercross Heat 2
1. 7 James M Stewart Haines City, FL Kawasaki KX450F
2. 9 Ivan Tedesco Murrieta, CA Suzuki RMZ450
3. 15 Timmy M Ferry Largo, FL Kawasaki KX450F
4. 25 Nathan Ramsey Menifee, CA Yamaha YZ450F
5. 36 Joshua Summey Stanley, NC Honda CRF450R
6. 12 David Vuillemin Murrieta, CA Honda CRF450R
7. 917 Eric Sorby Lake Elsinore, CA Kawasaki KX450F
8. 37 Paul P Carpenter Ithaca, NY Kawasaki KX450F
9. 79 Jacob Marsack Allenton, MI Kawasaki KX450F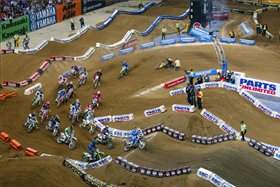 Chad Reed gets a great start and jumps out to an early lead.
TFS photo


Supercros LCQ
1. 32 Ryan D Clark Waddell, AZ Honda CRF450R
2. 23 Kyle Lewis Henderson, NV Honda CRF450R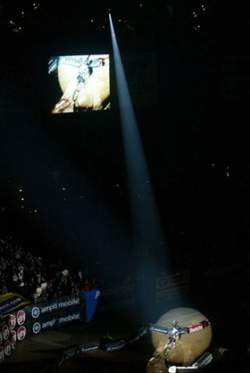 All eyes were on RC.
TFS photo


Supercross Results
1. 4 Ricky Carmichael Havana, FL Suzuki RMZ450
2. 7 James M Stewart Haines City, FL Kawasaki KX450F
3. 22 Chad Reed Tampa, FL Yamaha YZ450F
4. 14 Kevin W Windham Centreville, MS Honda CRF450R
5. 25 Nathan Ramsey Menifee, CA Yamaha YZ450F
6. 12 David Vuillemin Murrieta, CA Honda CRF450R
7. 37 Paul P Carpenter Ithaca, NY Kawasaki KX450F
8. 13 Heath D Voss Mico, TX Honda CRF450R
9. 917 Eric Sorby Lake Elsinore, CA Kawasaki KX450F
10. 90 Cole T Siebler Emmett, ID Honda CRF450R
11. 120 Kevin W Johnson Albuquerque, NM Yamaha YZ450F
12. 40 Jeff Gibson Blacklick, OH Kawasaki KX450F
13. 79 Jacob Marsack Allenton, MI Kawasaki KX450F
14. 23 Kyle Lewis Henderson, NV Honda CRF450R
15. 26 Michael Byrne Newnan, GA Suzuki RMZ450
16. 118 David D Millsaps Cairo, GA Honda CRF450R
17. 15 Timmy M Ferry Largo, FL Kawasaki KX450F
18. 32 Ryan D Clark Waddell, AZ Honda CRF450R
19. 9 Ivan Tedesco Murrieta, CA Suzuki RMZ450
20. 36 Joshua Summey Stanley, NC Honda CRF450R
21. 11 Travis A Preston Hesperia, CA Honda CRF450R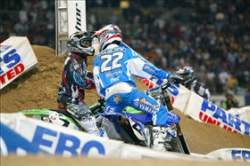 Stewart and Reed exchange words ...
TFS photo


Supercross Event Points
1. 4 Ricky Carmichael Havana, FL 25
2. 7 James M Stewart Haines City, FL 22
3. 22 Chad Reed Tampa, FL 20
4. 14 Kevin W Windham Centreville, MS 18
5. 25 Nathan Ramsey Menifee, CA 16
6. 12 David Vuillemin Murrieta, CA 15
7. 37 Paul P Carpenter Ithaca, NY 14
8. 13 Heath D Voss Mico, TX 13
9. 917 Eric Sorby Lake Elsinore, CA 12
10. 90 Cole T Siebler Emmett, ID 11
11. 120 Kevin W Johnson Albuquerque, NM 10
12. 40 Jeff Gibson Blacklick, OH 9
13. 79 Jacob Marsack Allenton, MI 8
14. 23 Kyle Lewis Henderson, NV 7
15. 26 Michael Byrne Newnan, GA 6
16. 118 David D Millsaps Cairo, GA 5
17. 15 Timmy M Ferry Largo, FL 4
18. 32 Ryan D Clark Waddell, AZ 3
19. 9 Ivan Tedesco Murrieta, CA 2
20. 36 Joshua Summey Stanley, NC 1
21. 11 Travis A Preston Hesperia, CA 1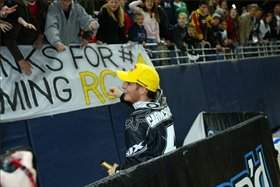 ... while RC gets to know his fans.
TFS photo


Supercross Standings
1. 210 J. Stewart
2. 191 C. Reed
3. 149 T. Ferry
4. 137 K. Windham
5. 116 R. Carmichael
6. 114 M. Byrne
7. 107 H. Voss
8. 103 I. Tedesco
9. 101 D. Vuillemin
10. 97 T. Preston
11. 84 P. Carpenter
12. 80 N. Wey
13. 73 J. Gibson
14. 67 N. Ramsey
15. 45 T. Evans
16. 39 E. Sorby
17. 37 M. Rivas
18. 34 J. Summey
19. 34 C. Siebler
20. 30. B. Johnson
21. 23 J. Marsack
22. 23 R. Clark
23. 18 J. Thomas
24. 18 K. Lewis
25. 14 K. Johnson
26. 13 J. Dement
27. 8 J. Dostal
28. 8 D. Millsaps
Lites Heat 1
1 62 Ryan M Dungey Belle Plaine, MN Suzuki RM-Z250
2 101 Ben Townley Tallahassee, FL Kawasaki KX250F
3 801 Jeff Alessi Victorville, CA KTM 250SXF
4 55 Ryan Sipes Vine Grove, KY Honda CRF250R
5 800 Mike A Alessi Victorville, CA KTM 250SXF
6 76 Tucker J Hibbert Centreville, MS Yamaha YZ250F
7 609 Matt Boni Geneva, FL Kawasaki KX250F
8 168 Zach M Osborne Abingdon, VA KTM 250SXF
9 75 Broc Oneal Tickle Cary, NC Yamaha YZ250F
Lites Heat 2
1 105 Darcy G Lange Hemet, CA Kawasaki KX250F
2 33 Matthew C Goerke Lake Helen, FL Yamaha YZ250F
3 114 Justin D Brayton Fort Dodge, IA Yamaha YZ250F
4 116 Ryan Morais Temecula, CA Yamaha YZ250F
5 50 Billy R Laninovich Lake Elsinore, CA Honda CRF250R
6 416 Teddy J Maier Fort Dodge, IA Honda CRF250R
7 335 Kyle S Tobin Climax, GA Yamaha YZ250F
8 47 Kelly D Smith Ludington, MI Suzuki RM-Z250
9 532 Ricky L Renner Mulberry, FL Honda CRF250R
Lites LCQ
1 633 Ronny Jackson Rosharon, TX Kawasaki KX250F
2 110 Thomas L Hofmaster Plano, TX Yamaha YZ250F
3 514 Eric Nye Corning, CA KTM 250SXF
4 281 Justin M Sipes Vine Grove, KY Kawasaki KX250F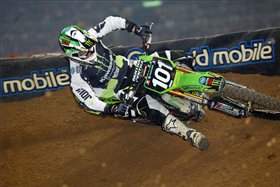 Ben Townley holds on for the Lites win.
TFS


Lites Results
1 101 Ben Townley Tallahassee, FL Kawasaki KX250F
2 116 Ryan Morais Temecula, CA Yamaha YZ250F
3 33 Matthew C Goerke Lake Helen, FL Yamaha YZ250F
4 800 Mike A Alessi Victorville, CA KTM 250SXF
5 75 Broc Oneal Tickle Cary, NC Yamaha YZ250F
6 105 Darcy G Lange Hemet, CA Kawasaki KX250F
7 801 Jeff Alessi Victorville, CA KTM 250SXF
8 55 Ryan Sipes Vine Grove, KY Honda CRF250R
9 168 Zach M Osborne Abingdon, VA KTM 250SXF
10 114 Justin D Brayton Fort Dodge, IA Yamaha YZ250F
11 76 Tucker J Hibbert Centreville, MS Yamaha YZ250F
12 532 Ricky L Renner Mulberry, FL Honda CRF250R
13 335 Kyle S Tobin Climax, GA Yamaha YZ250F
14 50 Billy R Laninovich Lake Elsinore, CA Honda CRF250R
15 281 Justin M Sipes Vine Grove, KY Kawasaki KX250F
16 110 Thomas L Hofmaster Plano, TX Yamaha YZ250F
17 416 Teddy J Maier Fort Dodge, IA Honda CRF250R
18 62 Ryan M Dungey Belle Plaine, MN Suzuki RM-Z250
19 609 Matt Boni Geneva, FL Kawasaki KX250F
20 633 Ronny Jackson Rosharon, TX Kawasaki KX250F
21 514 Eric Nye Corning, CA KTM 250SXF
22 47 Kelly D Smith Ludington, MI Suzuki RM-Z250
Lites Event Points
1 101 Ben Townley Tallahassee, FL 25
2 116 Ryan Morais Temecula, CA 22
3 33 Matthew C Goerke Lake Helen, FL 20
4 800 Mike A Alessi Victorville, CA 18
5 75 Broc Oneal Tickle Cary, NC 16
6 105 Darcy G Lange Hemet, CA 15
7 801 Jeff Alessi Victorville, CA 14
8 55 Ryan Sipes Vine Grove, KY 13
9 168 Zach M Osborne Abingdon, VA 12
10 114 Justin D Brayton Fort Dodge, IA 11
11 76 Tucker J Hibbert Centreville, MS 10
12 532 Ricky L Renner Mulberry, FL 9
13 335 Kyle S Tobin Climax, GA 8
14 50 Billy R Laninovich Lake Elsinore, CA 7
15 281 Justin M Sipes Vine Grove, KY 6
16 110 Thomas L Hofmaster Plano, TX 5
17 416 Teddy J Maier Fort Dodge, IA 4
18 62 Ryan M Dungey Belle Plaine, MN 3
19 609 Matt Boni Geneva, FL 2
20 633 Ronny Jackson Rosharon, TX 1
Lites Standings
1 40 R. Morais
2 40 M. Goerke
3 37 D. Lange
4 28 R. Dungey
5 26 J. Brayton
6 26 Z. Osborne
7 25 B. Townley
8 25 R. Sipes
9 22 J. Alessi
10 18 M. Alessi
11 16 B. Tickle
12 16 B. Jesseman
13 16 B. Laninovich
14 15 M. Boni
15 15 R. Renner
16 12 T. Hibbert
17 11 K. Smith
18 10 S. Collier
19 8 K. Tobin
20 7 R. Kiniry
21 6 J. Sipes
22 5 T. Hofmaster
23 5 Z. Ames
24 4 T. Maier
---
Italian MX Championship
Montevarchi, ITA
MX1 Moto 1
1. Joshua Coppins (NZL, Yamaha)
2. David Philippaerts (ITA, KTM)
3. Kornel Nemeth (HUN, Suzuki)
4. Marc De Reuver (NED, Yamaha)
5. Antoine Meo (FRA, Honda)
6. Cedric Melotte (BEL, Aprilia)
7. Cristian Beggi (ITA, WRM)
8. Alex Salvini (ITA, Yamaha)
9. Andrea Bartolini (ITA, Yamaha)
10. Manuel Priem (BEL, TM)
11. Saso Kragelj (SLO, Yamaha)
12. Tomas Traversini (ITA, KTM)
13. Stefano Dami (ITA, Suzuki)
14. Nenad Sipek (CRO, Yamaha)
15. Dimitriy Parshin (RUS, Suzuki)
16. Michi Staufer (AUT, KTM)
17. Loic Leonce (FRA, Yamaha)
18. Cristian Stevanini (ITA, Yamaha)
19. Heinz Straub (AUS, Yamaha)
20. Paolo Schneider (ITA, Honda)
MX1 Moto 2
1. Joshua Coppins (NZL, Yamaha)
2. David Philippaerts (ITA, KTM)
3. Kornel Nemeth (HUN, Suzuki)
4. Marc De Reuver (NED, Yamaha)
5. Cedric Melotte (BEL, Aprilia)
6. Manuel Priem (BEL, TM)
7. Antoine Meo (FRA, Honda)
8. Alex Salvini (ITA, Yamaha)
9. Cristian Beggi (ITA, WRM)
10. Andrea Bartolini (ITA, Yamaha)
11. Tomas Traversini (ITA, KTM)
12. Stefano Dami (ITA, Suzuki)
13. Saso Kragelj (SLO, Yamaha)
14. Dimitriy Parshin (RUS, Suzuki)
15. Daniele Bricca (ITA, KTM)
16. Cristian Stevanini (ITA, Yamaha)
17. Michi Staufer (AUT, KTM)
18. Alex Cinelli (ITA, Honda)
19. Heinz Straub (AUS, Yamaha)
20. Nenad Sipek (CRO, Yamaha)
MX1 Overall
1. Joshua Coppins (NZL, Yamaha), 50 Punkte
2. David Philippaerts (ITA, KTM), 44
3. Kornel Nemeth (HUN, Suzuki), 40
4. Marc De Reuver (NED, Yamaha), 36
5. Cedric Melotte (BEL, Aprilia), 31
6. Antoine Meo (FRA, Honda), 30
7. Manuel Priem (BEL, TM), 26
8. Cristian Beggi (ITA, WRM), 26
9. Alex Salvini (ITA, Yamaha), 26
10. Andrea Bartolini (ITA, Yamaha), 23
11. Tomas Traversini (ITA, KTM), 19
12. Saso Kragelj (SLO, Yamaha), 18
13. Stefano Dami (ITA, Suzuki), 17
14. Dimitriy Parshin (RUS, Suzuki), 13
15. Michi Staufer (AUT, KTM), 9
16. Cristian Stevanini (ITA, Yamaha), 8
17. Nenad Sipek (CRO, Yamaha), 7
18. Daniele Bricca (ITA, KTM), 6
19. Loic Leonce (FRA, Yamaha), 4
20. Heinz Straub (AUS, Yamaha), 4
21. Alex Cinelli (ITA, Honda), 3
22. David Cadek (CZE, Yamaha), 1
23. Paolo Schneider (ITA, Honda), 1
MX2 Moto 1
1. Antonio Cairoli (ITA, Yamaha)
2. Kenneth Gundersen (NOR, Yamaha)
3. Manuel Monni (ITA, Yamaha)
4. Davide Guarnieri (ITA, Yamaha)
5. Jeremy Tarroux (FRA, Yamaha)
6. Nicolas Aubin (FRA, Yamaha)
7. Deny Philippaerts (ITA, Honda)
8. Filip Neugebauer (CZE, Kawasaki)
9. Paulin Gautier (FRA, Honda)
10. Alessandro Lupino (ITA, Yamaha)
11. Matteo Bonini (ITA, Yamaha)
12. Marco Maddi (ITA, KTM)
13. Pol Panes (ESP, Honda)
14. Manuel Beconcini (ITA, Yamaha)
15. Fabio Ferrari (ITA, Kawasaki)
16. Angelo Pellegrini (ITA, KTM)
17. Petr Smitka (CZE, Yamaha)
18. Matthias Walkner (AUS, KTM)
19. Marco Animento (ITA, Suzuki)
20. Gianluca Martini (ITA, KTM)
MX2 Moto 2
1. Antonio Cairoli (ITA, Yamaha)
2. Kenneth Gundersen (NOR, Yamaha)
3. Davide Guarnieri (ITA, Yamaha)
4. Manuel Monni (ITA, Yamaha)
5. Nicolas Aubin (FRA, Yamaha)
6. Jeremy Tarroux (FRA, Yamaha)
7. Matteo Bonini (ITA, Yamaha)
8. Angelo Pellegrini (ITA, KTM)
9. Deny Philippaerts (ITA, Honda)
10. Filip Neugebauer (CZE, Kawasaki)
11. Pol Panes (ESP, Honda)
12. Matthias Walkner (AUS, KTM)
13. Alessandro Lupino (ITA, Yamaha)
14. Paulin Gautier (FRA, Honda)
15. Manuel Beconcini (ITA, Yamaha)
16. Marco Maddi (ITA, KTM)
17. Michele De Bortoli (ITA, KTM)
18. Fabio Ferrari (ITA, Kawasaki)
19. Tomas Paul (CZE, Yamaha)
20. Petr Smitka (CZE, Yamaha)
MX2 Overall
1. Antonio Cairoli (ITA, Yamaha), 50 Punkte
2. Kenneth Gundersen (NOR, Yamaha), 44
3. Davide Guarnieri (ITA, Yamaha), 38
4. Manuel Monni (ITA, Yamaha), 38
5. Nicolas Aubin (FRA, Yamaha), 31
6. Jeremy Tarroux (FRA, Yamaha), 31
7. Deny Philippaerts (ITA, Honda), 26
8. Matteo Bonini (ITA, Yamaha), 24
9. Filip Neugebauer (CZE, Kawasaki), 24
10. Paulin Gautier (FRA, Honda), 19
11. Alessandro Lupino (ITA, Yamaha), 19
12. Angelo Pellegrini (ITA, KTM), 18
13. Pol Panes (ESP, Honda), 18
14. Marco Maddi (ITA, KTM), 14
15. Manuel Beconcini (ITA, Yamaha), 13
16. Matthias Walkner (AUS, KTM), 12
17. Fabio Ferrari (ITA, Kawasaki), 9
18. Petr Smitka (CZE, Yamaha), 5
19. Michele De Bortoli (ITA, KTM), 4
20. Tomas Paul (CZE, Yamaha), 2
21. Marco Animento (ITA, Suzuki), 2
22. Gianluca Martini (ITA, KTM), 1
---
Hawkstone Park International
Hawkstone Park, England
March 4, 2007
Moto One MX1:
1. Kevin Strijbos
2. Ken de Dycker
3. Joshua Coppins
4. Max Nagl
5. Marc de Reuver
6. Gordon Crockard
7. Steve Ramon
8. Bas Verhoeven
9. Marvin van Daele
10. Jussi Vehvelainen
11. Marco Kovalainen
12. Mike Brown
13. Sven Breugelmans
14. Patrick Roos
15. Brad Anderson
Moto two MX1:
1. Kevin Strijbos
2. Ken de Dycker
3. Marc de Reuver
4. Josh Coppins
5. Max Nagl
6. Tanel Leok
7. Steve Ramon
8. Billy MacKenzie
9. James Noble
10. Marvin Van Daele
11. Gorden Crockard
12. Mike Brown
13. Lauris Freibergs
14. Patrick Roos
15. Jussi Vehvilainen
MX1 overall:
1. Kevin Strijbos 60
2. Ken De Dycker 54
3. Josh Coppins 48
4. Marc de Reuver 46
5. Max Nagl 44
6. Steve Ramon 34
7. Gordon Crockard 29
8. Marvin Van Daele
9. Tanel Leok 19
10. James Noble 18
Moto two MX2
1. Tyla Rattray
2. Erik Eggens
3. Martin Barr
4. Marcus Schiffer
5. Tom Church
6. Jason Dougan
7. Ray Rowson
8. Tommy Searle
9. Jake Nicholls
10. Shayne Carless
11. Ashley Greedy
12. Jim Murro
13. Carl Nunn
14. Shaun Simpson
15. Gareth Swanepoel
Moto one MX2:
1. Tyla Rattray
2. Erik Eggens
3. Tommy Searle
4. Tom Church
5. Carl Nunn
6. Shaun Simpson
7. Ray Rowsen
8. Martin Barr
9. Dennis Verbruggen
10. Dennis Dierckx
11. Wayne Smith
12. Jamie Law
13. Lewis Gregory
14. Shayne Carless
15. Jason Dougan
MX2 overall:
1. Tyla Rattray 60
2. Erik Eggens 54
3. Tom Church 46
4. Tommy Searle 40
5. Martin Barr 40
6. Ray Rowson 34
7. Carl Nunn 29
8. Shaun Simpson 26
9. Jason Dougan 25
10. Marcus Schiffer 21

For road racing results visit www.roadracerx.com.

If you are a race promoter and would like to see results from your event on Yamaha's Monday Wake-Up Call, please contact Gregg Lowley at [email protected].
Share this article:
Did you like this article?
Check out THE MOTOCROSS OF 40 NATIONS
in our Latest issue of Racer X available now.

The 2013 FIM Motocross of Nations at Teutschenthal, Germany, hosted teams from a record forty countries. Here's how it played out for each of them. Page 90.