Racer X Tested: RM-Z450 Project Bike
Wednesday, February 14, 2007 | 12:27 PM

Pivot Works

is the fast, easy and complete solution to rebuilding a dirt bike or ATV's chassis or suspension. Since 1999 Pivot Works has made OEM quality components for riders alike. With over 1,000 complete kits for nearly 4,000 applications makes Pivot Works the racers choice!

Tweet

At the end of last year, I was lucky enough to get a chance to ride all five brands of 450 at the

Racer X

test at Perris Raceway. As soon as I threw a leg over the Suzuki, I knew it was the bike for me in 2007. After talking to Assistant Editor David Pingree about my options as far as getting the bike set up, Ping suggested that I take the bike to his buddy Jay Clark at Hot Cams. Jay was receptive to the idea, and a few weeks later, I found myself with a totally tricked-out RM-Z450 courtesy of Hot Cams, Tokyo Mods, and MB1 Suspension. The bike also had aftermarket parts from FMF, Hinson, Applied, Works Connection, Fastway, Dunlop, CP Pistons, Cycra, Maxima, Uni Filter and FLU Designs.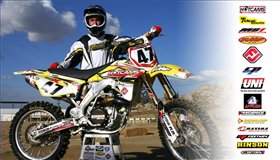 Langers with the Hot Cams, Tokyo Mods, MB1 RM-Z450
photo: Ping
When Jay first pulled the bike out of his truck, my initial reaction was simply ... Wow! The bike looked bitchin'! It had a real factory look to it, from the custom graphics to the Hinson clutch cover to the Applied triple clamps. I couldn't wait to ride it, and I hoped it rode as good as it looked.
I've been racing for a long time, but I have never really been one to mess with my bikes. The only thing I have ever had worked on is suspension—revalve and softer springs (as I weigh a buck-forty-five soaking wet) and maybe an aftermarket pipe. As far as engine mods, ignition tweaks, etc., I've never really felt the need, as bikes these days are solid right out of the crate. Having said that, I was very curious to see how I would get on with this bike, especially after having ridden it bone stock.
One of the main features of the Hot Cams bike is the Tokyo Mods 10-map performance igntion. The entire stock CDI unit is replaced with the Tokyo Mods system. The Tokyo Mods ignition has ten different curves instead of one. There is a dial located behind the front number plate with numbers 1 to 10, and each setting gives the bike a different power characteristic and can be switched back and forth depending on track conditions, personal preference, etc. There is a switch on the handlebar that has two settings: Power-Map #1 (Good Overall) is the default setting, which means if the switch was to get knocked off mid-race, the ignition would automatically go to this setting. When the switch is moved to the opposite position, you will then be on the setting that is currently on the dial. I started off with Power-Map #2 (Traction).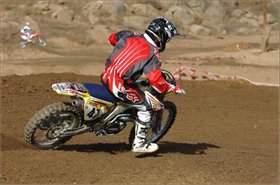 Langers felt that the modifications really helped the RM-Zs already great handling.
photo: Carl Stone
After just a few of laps on the rough Perris track, I started to adapt to the Hot Cams RM-Z. The track had lots of choppy bumps and ruts, and the front end of the bike felt a little harsh. So I pulled in and adjusted the compression clickers to make it softer and also slowed the rebound down a bit. This made the bike feel a lot better, and the MB1 suspension was definitely doing its job well.
The main thing that impressed me about the stock Suzuki initially was its ability to turn and its overall handling. The new suspension setup made these characteristics significantly better, and the engine modifications complemented the suspension set up. The stock engine-mount brackets had also been replaced with the Tokyo Mods engine brackets, which are designed to change the center of gravity of the bike and improve overall handling, which also contributed to the good handling of the bike. I left Perris very happy with the Hot Cams RMZ and couldn't wait to try it on a different track.
The next time I rode the bike was a few days later at Glen Helen on the national track. This is a completely different type of track to Perris. Where Perris is tight and choppy with little elevation change, Glen Helen is very fast in parts, very rough with bigger bumps, and has lots of elevation changes with fast uphills and fast downhills, not to mention a completely different type of dirt. Perris is tacky and loamy, Glen Helen (at least on practice days) is hard-pack in parts and sandy in others...and ALWAYS rough as hell.
I switched the ignition setting to Power-Map #3 (Smooth Power) to see how that would work on the Glen Helen circuit. I must say, I was very surprised to see how different the power of the bike was by switching the ignition map. The power came on a lot smoother off the bottom (hence the description of the Power-Map!) but the power kept coming—which I found suited my style much better. It was also good for the hard-pack sections of the track. I also made a few more tweaks to the suspension to dial it in more and was really starting to feel at home on the Hot Cams RM-Z.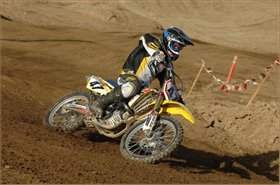 Racer X Assistant Editor Billy Ursic took a few laps on the Hot Cams, Tokyo Mods, MB1 RM-Z and was surprised at how much better it was than his stocker.
photo: Carl Stone
A week later it was back to Perris again, where
Racer X
Assistant Editor Billy Ursic got to try out the Hot Cams bike. Billy is a pro and has qualified for several nationals throughout his racing career.
"I currently have a bone stock RM-Z450 at home, and I couldn't believe the difference between the stocker and Langers' modified bike," Billy explained. "My first impression of the bike was how smooth the power was on the bike. Some 450s tend to just want to rip your arms off, but not this Suzuki. The power came on strong and kept going and going. I felt like I needed an airport runway to get this thing up to top speed!
"As for the suspension, it was my first time riding on MB1 stuff, but I was really surprised. It was set just right for me, as well. I'm a bit heavier than Langers, and I bottomed out only once. The suspension was working great on the choppy Perris Raceway.
"After riding the bike, I'm definitely going to use some of these modifications on my personal RM-Z450 because this stuff worked so good. This bike is probably the closest you can get to a full-on factory bike!"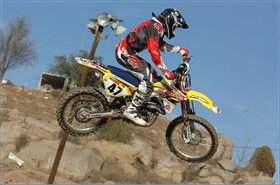 The MB1 suspension felt great.
photo: Carl Stone
The last stop for my
Racer X
test on the Hot Cams project bike was Competitive Edge in Hesperia, California. This is another national-style track with fast straightaways, elevation changes, and quite a few jumps. The dirt on this track is perfect: not many rocks and always prepped well. It was the day before a Golden State round, so a lot of people were riding out there, which made the track very rough. Comp Edge is my favorite track in SoCal, and riding the Hot Cams bike around the circuit made me like the track even more. By this point I really felt comfortable on the bike. I felt like my corner speed was improving and was feeling very confident. After playing around with some of the other Power-Map settings, I found that Power-Map #3 was the one that suited me best. A good intermediate or pro would benefit from the Tokyo Mods setup. The MB1 suspension soaks up braking bumps and acceleration bumps very well and is very forgiving if you over-jump anything. In ruts, the bike feels very stable and the power comes on smooth and strong.
If you are at the level with your racing where you are trying to get an edge over the competition, it is definitely worth looking into these companies and the modifications and parts that they offer. A beginner or novice would certainly benefit from the MB1 suspension setup as well.
I liked the RM-Z to begin with, but with the all modifications, I can honestly say that this is the best bike I've ridden, and I can't wait to race it.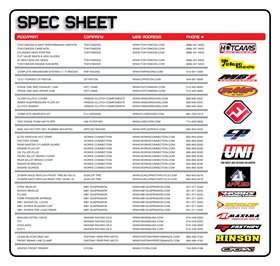 Spec Sheet
Click to enlarge
A big thanks to Jay Clark from Hot Cams, Ron Wood and Jonny Bates from Tokyo Mods, Marty from MB1 Suspension, Li;l D from FMF, Ping for setting this whole deal up, and all the other companies that helped out. Check the links below:
www.hotcamsinc.com

www.tokyomods.com

www.mb1suspension.com

www.fmfracing.com

www.cppiston.com

www.fludesigns.com

www.unifilter.com

www.appliedrace.com

www.worksconnection.com

www.dunlopmotorcycle.com

www.maximausa.com

www.hinsonracing.com

www.fastwayperformance.com

www.cycra.com

Share this article:
Did you like this article?
Check out KING CAIROLI
in our Latest issue of Racer X available now.

Americans know very little about seven-time FIM World Champion Tony Cairoli, but in Europe he's treated like royalty. Page 102.