by
Bryan Stealey
Yamaha's Monday Wake-Up Call
Sunday, January 7, 2007 | 5:18 PM
Tweet
Ampd Mobile AMA Supercross Series
Angel Stadium - Anaheim, CA
January 6, 2007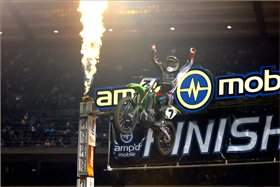 Stewart celebrates winning a main event that he felt he really earned.
TFS photo


450 Heat 1 Results
1. Ricky Carmichael Havana, FL Suzuki RM-Z450
2. Grant Langston Clermont, FL Yamaha YZ450F
3. Travis A Preston Hesperia, CA Honda CRF450R
4. Ivan Tedesco Murrieta, CA Suzuki RM-Z450
5. Kevin W Windham Centreville, MS Honda CRF450R
6. Heath D Voss Mico, TX Honda CRF450R
7. Eric Sorby Lake Elsinore, CA Kawasaki KX450F
8. Jiri Dostal Temecula, CA Honda CRF450R
9. Jeff Gibson Blacklick, OH Kawasaki KX450F
450 Heat 2 Results
1. James M Stewart Haines City, FL Kawasaki KX450F
2. Michael Byrne Newnan, GA Suzuki RM-Z450
3. Timmy M Ferry Largo, FL Kawasaki KX450F
4. David Vuillemin Menifee, CA Honda CRF450R
5. Nicholas A Wey Murrieta, CA Honda CRF450R
6. Jason W Thomas Melrose, FL Honda CRF450R
7. Tyler Evans Corona, CA Suzuki RM-Z450
8. Chad Reed Tampa, FL Yamaha YZ450F
9. Manuel Gomes Rivas Spain, Kawasaki KX450F

450 LCQ
1. Ryan D Clark Waddell, AZ Honda CRF450R
2. Kyle J Mace Hesperia, CA Kawasaki KX450F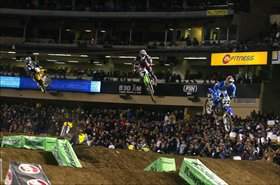 Reed's mechanic Paul Delaurier was yelling to Chad on the gate (where he got a bad gate pick) to get that start or the race was going to be miserable. He did it.
TFS photo


450 Results
1. James M Stewart Haines City, FL Kawasaki KX450F
2. Ricky Carmichael Havana, FL Suzuki RM-Z450
3. Chad Reed Tampa, FL Yamaha YZ450F
4. Travis A Preston Hesperia, CA Honda CRF450R
5. Timmy M Ferry Largo, FL Kawasaki KX450F
6. David Vuillemin Menifee, CA Honda CRF450R
7. Nicholas A Wey Murrieta, CA Honda CRF450R
8. Heath D Voss Mico, TX Honda CRF450R
9. Kevin W Windham Centreville, MS Honda CRF450R
10. Michael Byrne Newnan, GA Suzuki RM-Z450
11. Paul P Carpenter Ithaca, NY Kawasaki KX450F
12. Tyler Evans Corona, CA Suzuki RM-Z450
13. Jiri Dostal Temecula, CA Honda CRF450R
14. Ivan Tedesco Murrieta, CA Suzuki RM-Z450
15. Jeff Gibson Blacklick, OH Kawasaki KX450F
16. Eric Sorby Lake Elsinore, CA Kawasaki KX450F
17. Ryan D Clark Waddell, AZ Honda CRF450R
18. Manuel Gomes Rivas Spain, Kawasaki KX450F
19. Kyle J Mace Hesperia, CA Kawasaki KX450F
20. Grant Langston Clermont, FL Yamaha YZ450F
21. Jason W Thomas Melrose, FL Honda CRF450R

450 Event Points
1. James M Stewart Haines City, FL 25
2. Ricky Carmichael Havana, FL 22
3. Chad Reed Tampa, FL 20
4. Travis A Preston Hesperia, CA 18
5. Timmy M Ferry Largo, FL 16
6. David Vuillemin Menifee, CA 15
7. Nicholas A Wey Murrieta, CA 14
8. Heath D Voss Mico, TX 13
9. Kevin W Windham Centreville, MS 12
10. Michael Byrne Newnan, GA 11
11. Paul P Carpenter Ithaca, NY 10
12. Tyler Evans Corona, CA 9
13. Jiri Dostal Temecula, CA 8
14. Ivan Tedesco Murrieta, CA 7
15. Jeff Gibson Blacklick, OH 6
16. Eric Sorby Lake Elsinore, CA 5
17. Ryan D Clark Waddell, AZ 4
18. Manuel Gomes Rivas Spain, 3
19. Kyle J Mace Hesperia, CA 2
20. Grant Langston Clermont, FL 1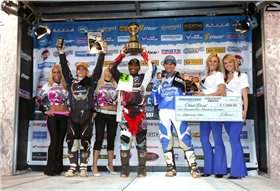 Another supercross podium with these three.
TFS photo


450 Overall Standings
1. J. Stewart 25
2. R. Carmichael 22
3. C. Reed 20
4. T. Preston 18
5. T. Ferry 16
6. D. Vuillemin 15
7. N. Wey 14
8. H. Voss 13
9. K. Windham 12
10. M. Byrne 11
11. P. Carpenter 10
12. T. Evans 9
13. J. Dostal 8
14. I. Tedesco 7
15. J. Gibson 6
16. E. Sorby 5
17. R. Clark 4
18. M. Rivas 3
19. K. Mace 2
20. G. Langston 1
250F (West) Heat 1 Results
1. Jake T Weimer Rupert, ID Honda CRF250R
2. Joshua M Grant Riverside, CA Honda CRF250R
3. Matthew J Lemoine Pilot Point, TX Yamaha YZ250F
4. Christophe Pourcel France, Kawasaki KX250F
5. Michael J Lapaglia Murrieta, CA Yamaha YZ250F
6. Christopher Gosselaar Victorville, CA Kawasaki KX250F
7. Justin F Keeney Lebanon, OR Kawasaki KX250F
8. Jason D Lawrence Carlsbad, CA Yamaha YZ250F
9. Dennis G Jonon Winchester, CA KTM 250SXF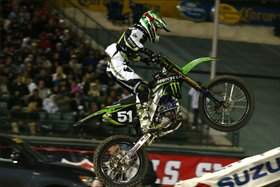 Villopoto was on the gas.
TFS photo


250F (West) Heat 2 Results
1. Ryan D Villopoto Poulsbo, WA Kawasaki KX250F
2. Joshua Hansen Lake Elsinore, CA KTM 250SXF
3. Troy K Adams Homosassa, FL Suzuki RM-Z250
4. Steve Boniface Corona, CA Kawasaki KX250F
5. Martin Davalos Cairo, GA KTM 250SXF
6. Kyle P Chisholm Seminole, FL Kawasaki KX250F
7. Kyle B Cunningham Springtown, TX Yamaha YZ250F
8. Adam B Chatfield Cherry Valley, CA Honda CRF250R
9. Richie Owens Menifee, CA Honda CRF250R
250F (West) LCQ
1. Joshua R Hill Yoncalla, OR Yamaha YZ250F
2. Cody Mackie Australia, Kawasaki KX250F
250F (West) Results
1. Ryan D Villopoto Poulsbo, WA Kawasaki KX250F
2. Christophe Pourcel France, Kawasaki KX250F
3. Jason D Lawrence Carlsbad, CA Yamaha YZ250F
4. Joshua Hansen Lake Elsinore, CA KTM 250SXF
5. Jake T Weimer Rupert, ID Honda CRF250R
6. Troy K Adams Homosassa, FL Suzuki RM-Z250
7. Matthew J Lemoine Pilot Point, TX Yamaha YZ250F
8. Christopher Gosselaar Victorville, CA Kawasaki KX250F
9. Kyle P Chisholm Seminole, FL Kawasaki KX250F
10. Justin F Keeney Lebanon, OR Kawasaki KX250F
11. Steve Boniface Corona, CA Kawasaki KX250F
12. Richie Owens Menifee, CA Honda CRF250R
13. Kyle B Cunningham Springtown, TX Yamaha YZ250F
14. Adam B Chatfield Cherry Valley, CA Honda CRF250R
15. Cody Mackie Australia, Kawasaki KX250F
16. Michael L Willard Thornville, OH KTM 250SXF
17. Dennis G Jonon Winchester, CA KTM 250SXF
18. Michael J Lapaglia Murrieta, CA Yamaha YZ250F
19. Joshua R Hill Yoncalla, OR Yamaha YZ250F
20. Martin Davalos Cairo, GA KTM 250SXF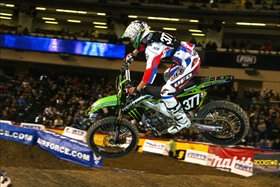 Pourcel is just here for three races to learn supercross, and he made the podium already!
TFS photo


250F (West) Event Points
1. Ryan D Villopoto Poulsbo, WA 25 Kawasaki KX250F
2. Christophe Pourcel France, 22 Kawasaki KX250F
3. Jason D Lawrence Carlsbad, CA 20 Yamaha YZ250F
4. Joshua Hansen Lake Elsinore, CA 18 KTM 250SXF
5. Jake T Weimer Rupert, ID 16 Honda CRF250R
6. Troy K Adams Homosassa, FL 15 Suzuki RM-Z250
7. Matthew J Lemoine Pilot Point, TX 14 Yamaha YZ250F
8. Christopher Gosselaar Victorville, CA 13 Kawasaki KX250F
9. Kyle P Chisholm Seminole, FL 12 Kawasaki KX250F
10. Justin F Keeney Lebanon, OR 11 Kawasaki KX250F
11. Steve Boniface Corona, CA 10 Kawasaki KX250F
12. Richie Owens Menifee, CA 9 Honda CRF250R
13. Kyle B Cunningham Springtown, TX 8 Yamaha YZ250F
14. Adam B Chatfield Cherry Valley, CA 7 Honda CRF250R
15. Cody Mackie Australia, 6 Kawasaki KX250F
16. Michael L Willard Thornville, OH 5 KTM 250SXF
17. Dennis G Jonon Winchester, CA 4 KTM 250SXF
18. Michael J Lapaglia Murrieta, CA 3 Yamaha YZ250F
19. Joshua R Hill Yoncalla, OR 2 Yamaha YZ250F
20. Martin Davalos Cairo, GA 1 KTM 250SXF
250F (West) Standings
1. R. Villopoto 25
2. C. Pourcel 22
3. J. Lawrence 20
4. J. Hansen 18
5. J. Weimer 16
6. T. Adams 15
7. M. Lemoine 14
8. C. Gosselaar 13
9. K. Chisholm 12
10. J. Keeney 11
11. S. Boniface 10
12. R. Owens 9
13. K. Cunningham 8
14. A. Chatfield 7
15. C. Mackie 6
16. M. Willard 5
17. D. Jonon 4
18. M. Lapaglia 3
19. J. Hill 2
20. M. Davalos 1
---
Dakar 2007
Stage 1
1. Ruben Faria, POR, Yamaha
2. Helder Rodrigues, POR, Yamaha
3. Isidre Estve Pujol, SPA
4. David Casteu, FRA, KTM
5.
6. Johan Street, USA
7. Chris Blais, USA
Stage 2
1. Helder Rodriques
2. Ruben Faria
3. Isidre Esteve Pujol
4. David Casteu
5. Marc Coma
6. Fabien Planet
7. Thierry Bethys
8. Jonah Street
---
New Zealand Supercross Championship
Round 1, Motueka
January 7, 2006
Senior 250cc Race One
1. Luke Burkhart, Suzuki, Masterton
2. Mason Phillips, Honda, Te Puke
3. Tim Curr, Yamaha, Blenhiem
Senior 250cc Race Two
1. Burkhart
2. Mason Phillips
3. Shaun Mc Fadden, Yamaha, Christchurch
Senior 250cc Race Three
1. Burkhart
2. Mason Phillips
3. Mc Fadden
Senior 250cc Points
1. Burkhart 75
2. Mason Phillips 66
3. Mc Fadden 58
Senior 125cc Race One
1. Josh Coppins, Yamaha, Motueka
2. Scott Columb, Suzuki, Queenstown
3. Justin McDonald, Honda, Christchurch
Senior 125cc Race Two
1. Coppins
2. Columb
3. McDonald
Senior 125cc Race Three
1. Columb
2. Coppins
3. McDonald
Senior 125cc Points
1. Coppins 72
2. Columb 69
3. McDonald 60
---
2006 FMX Award Nominations
Best International FMX Rider
Nate Adam (USA)
Adam Jones (USA)
Ailo Gaup (NOR)
Travis Pastrana (USA)
Mat Rebeaud (SUI)
Jeremy Stenberg (USA)
Best International FMX Rookie
Remi Bizouard (FRA)
Wiley Fillmer (USA)
Mike Mason (USA)
Libor Podmol (CZE)
Blake Williams (OUT)
Best European FMX Rider
Remi Bizouard (FRA)
Ailo Gaup (NOR)
Fredrik Johansson (SWE)
Libor Podmol (CZE)
Mat Rebeaud (SUI)
André Villa (NOR)
Best European FMX Rookie
Remi Bizouard (FRA)
Massimo Bianconcini (ITA)
Charly Pagès (FRA)
Thomas Pagès (FRA)
Freddy Peters (GER)
Best German FMX Rider
Fabian Bauersachs (GER)
Tobias Immler (GER)
Freddy Peters (GER)
Basty Radel (GER)
Lukas Weis (GER)
Busty Wolter (GER)
Libor Podmol (CZE)
Best German FMX Rookie
Hannes Ackermann (GER)
Stefan Bengs (GER)
Michael Lewe (GER)
Florian Menge (GER)
Best FMX Series/Event
Dew Actionsports Tour
FIM FMX Championships
Hardcore FMX
Night of the Jumps
Red Bull X-Fighters
X-Games
Best FMX Bike
Honda CR 250
Kawasaki KX 250
KTM 250 SX
Suzuki RM 250
Yamaha YZ 250
Best Trick Innovation
Cordova Backflip / Adam Jones
Double Backflip / Travis Pastrana
Lazyboy Backflip / Nate Adams
Cliffhanger Backflip / Blake Williams
Sidesattle Take-Off Backflip / Kenny Bartram
Superman Seatgrab Backflip / Jim McNeil
Barspin Backflip / Thomas & Charly Pagès
Best FMX Rider's Website
AndreVilla.com
ChrisDenison.com
FredrikJohansson.se
RonnieRenner.com
MilesRichmond.com
ManuTroux.com
For more info visit www.fmxawards.com.
For road racing results visit www.roadracerx.com.

If you are a race promoter and would like to see results from your event on Yamaha's Monday Wake-Up Call, please contact Gregg Lowley at [email protected].
Share this article:
Did you like this article?
Check out MOTO GIFT GUIDE
in our Latest issue of Racer X available now.

Our annual gift guide has something (or maybe even a few somethings) for everyone on your holiday list. Page 146.