by
Andy Bowyer
Number Cruncher: #1
Wednesday, December 20, 2006 | 12:29 PM
Tweet
Welcome to the Shift Number Cruncher. With it being the holidays, we decided to roll out a special number. This number used to be one of the most sought-after digits in the sport, and what it stands for still means something. The motorcycle manufacturers spend big-time money just to be able to obtain the services of a rider who is fast enough to earn #1. Not that they always wear it. In fact, beginning in 2000, with the arrival of Ricky Carmichael in the 250 class outdoors and his subsequent championships that would follow, a change in thinking about the #1 plate took place. After the AMA made a policy change on semi-permanent numbers, Carmichael decided to stick with #4 from there on out, choosing to market himself in NASCAR-like fashion. More of that in a minute.…

It was quite a change for some. Since the beginning of the sport, the #1 had more lore and distinction than any racing digit, and wearing it meant you were the man. When fans looked across the track and saw the #1 plates of Roger DeCoster, Bob Hannah, RJ, David Bailey, Jeff Stanton, Jeff Emig, Travis Pastrana, Jeremy McGrath, and more, they knew that was the mark of the champion.

After chasing perennial number one of Jeremy McGrath through the tumultuous 1999 and 2000 SX seasons, Carmichael finally climbed to the top of the mountain – only to claim the fourth-highest pedestal on the number scale. Why? When RC began his reign, he said he didn't need a number to prove his might. There wasn't any speculation as to who was the alpha male. When a rider looked over his shoulder and saw the big # 4 behind him, he knew he would soon be in the jaws of the beast. Other riders have joined him in this new world order.

Chad Reed could have worn #1 in 2005, but he stuck with his #22. James Stewart could have run the #1 up in Canada as the current Amp'd Mobile World Supercross Champion, but that isn't his number. He had some bad luck the one time he wore #1E as a pro ('03 Las Vegas SX), and he's stuck with #259 and, more recently, #7. Over in Europe, Stefan Everts could have been racing with the #1 for several years; instead he retired and made the #72 a number GP fans will never forget.

On the road racing side of things, Valentino Rossi has kept his preferred #46 through all of his world titles, although when the MotoGP warriors take to the track in 2007, Nicky Hayden plans to bring back the #1. And I kind of like that. It's been a long time since an American has won that title, and I think it will be sweet for the world to see the rider step off the #1 Repsol Honda and speak with a Southern accent. Heck, it's already on the cover of Road Racer X!
Before Nicky, several great riders made the # 1 special. Here are some of the best.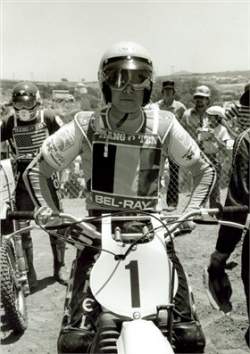 The Man - Roger DeCoster
photo: Dick Miller Archives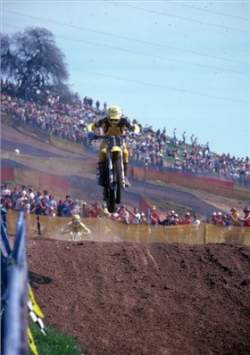 Six-time AMA National Champion, Broc Glover
photo: Dick Miller Archives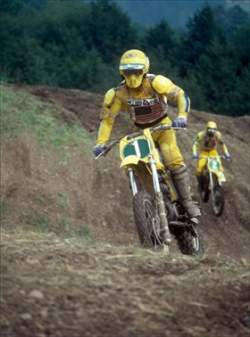 Three-time National Champion, Kent Howerton
photo: Dick Miller Archives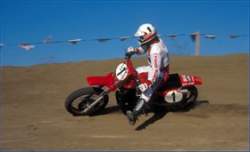 Steve Wise at the ABC Superbikers in 1982
photo: Dick Miller Archives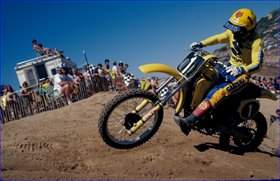 Three-time 125cc MX National champion, Mark Barnett
photo: Dick Miller Archives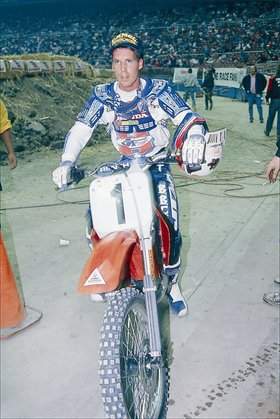 Five-time National MX Champion, Rick Johnson
photo: Courtesy of Moto Verte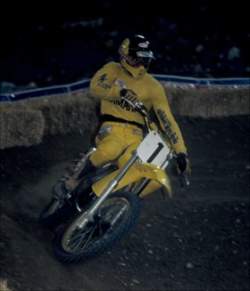 1980 250 SX Champion, Mike Bell
photo: Dick Miller Archives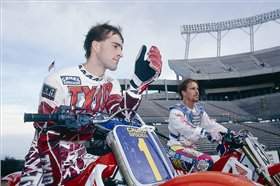 Three-time 250cc MX National Champion, Jeff Stanton
photo: Courtesy of Moto Verte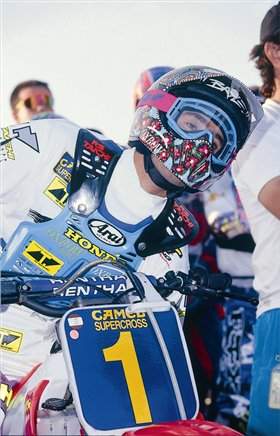 1991 250cc SX and MX Champion, Jean-Michel Bayle
photo: Courtesy of Moto Verte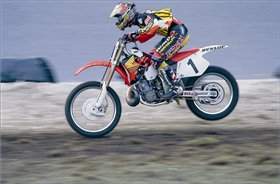 Seven-time 250cc SX Champion, Jeremy McGrath
photo: Courtesy of Moto Verte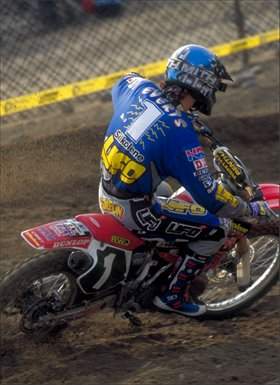 10-time World MX Champion, Stefan Everts
photo: Racer X Archives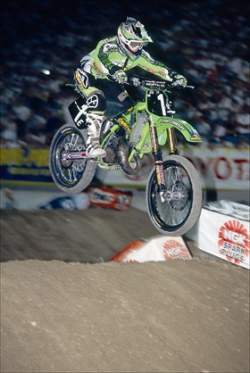 Ricky Carmichael running the '98 Eastern Regional 125cc SX #1 plate
photo: Courtesy of Moto Verte
Two-time Western Regional 125cc SX Champion, Kevin Windham
photo: Courtesy of Moto Verte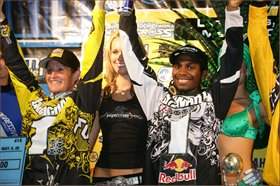 Ricky and James following the 2006 Las Vegas SX
photo: Simon Cudby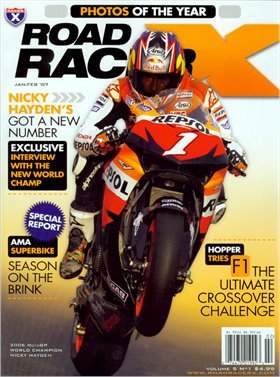 Nicky Hayden on the over of the new Road Racer X
Share this article:
Did you like this article?
Check out MY LIFE IN MOTORCYCLE RACING
in our Latest issue of Racer X available now.

Jean-Michel Bayle, the iconic superstar of yesteryear, raced motocross for the first time in twenty-one years at the Vets MXdN in England. Page 126.