by
Andy Bowyer
Number Cruncher Redux: #84
Friday, December 8, 2006 | 11:02 AM
Tweet
Thanks to our readers, here are some other famous #84s…
In 1994, the number 84 graced the plates of east coast rider Stevie Herman. He's pictured here at the Broome-Tioga national that year. I love your articles, keep up the great work!
Rob Harris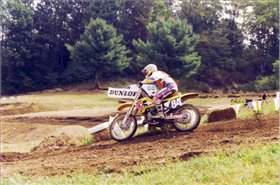 Steve Herman
photo: Rob Harris
Don't forget Billy Grossi wore #84 back in 1980 riding a Husqvarna.
George Tanita
CA
In 2003 Randy Valade, #84 Yamaha of Troy support rider for the AMA nationas than ventured north to win the 125 East Coast Canadian Champion.
Rick Kotecki
I remember Jason McCormick rippin' the local tracks with #84 when he was on KX80s.
Ryan Blodgett
I have rider you didn't mention, it's a friend of mine, Donald Upton. That was his national number in 1997. He had a few inspiring races to his credit, but he has since retired and became an EMT. Well, if you could mention his name I'm sure it would make his day.
Greg Fisher

You forgot to mention Wapakoneta, Ohio native Joe Oehlhof who wore national #84 in the 2000 season riding for the AM Leonard KTM racing team.
Brent Pierce
Lima, OH

I saw the Number Cruncher yesterday. I wanted to let you know that my friend Mike Andrews from Concord, NC, was # 84 in 1990.
Jeff Mushala
Share this article:
Did you like this article?
Check out MOTO GIFT GUIDE
in our Latest issue of Racer X available now.

Our annual gift guide has something (or maybe even a few somethings) for everyone on your holiday list. Page 146.