Race Report: 2006 Maxxis Endurocross
Monday, November 20, 2006 | 7:59 AM

Since 1968,

Thor

has maintained its position as a top motocross apparel brand. From trails, deserts, to the most famous racetracks in the world,

Thor

supports racing on the track and off with its sponsorship of race reports.

Tweet

John Dowd and Nathan Woods traded the lead, cut each other off, and nearly elbowed their way around the track to finish off the Maxxis Endurocross with crowd-pleasing drama.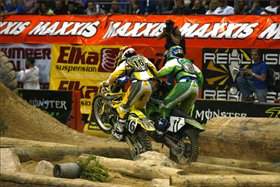 Last lap mayhem! Dowd and Woods are literally elbows locked going into the last turn, and Dowd is going to stay up and win the Maxxis Endurocross!
The anything-can-happen atmosphere of this event is part of the fun. Ask Nick Mantzoros, who does the announcing at Geoff Aaron's trials shows. He showed up with a Sherpa trials bike in the back of a car, qualified for Saturday, and won a semi. This was the first race he'd ever entered - and it ended with a standing ovation! He didn't even have goggles, and he put his chest protector on backwards, but he is now part of Endurocross history.
The Endurocross format changed in 2006 to have amateurs and qualifiers Friday, with room for top amateurs to transfer to Saturday. The pros were a strong mix of MX and GNCC/WORCS guys, and the heavyweight champion of all things off-road (besides U-Haul), David Knight. Ryan Hughes was back, and so was Geoff Aaron on a KTM. Plenty of GNCC stars were in the mix, along with Woods (from WORCS) and Destry Abbott. Kurt Nicoll from KTM was in the night show Saturday too.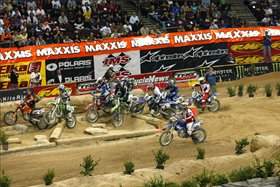 This is not the kind of track you spend an afternoon pounding laps on. The less, the better.
The Orleans was filled to capacity, just under 7,000 people. The show actually sold out a couple of weeks ago. Held during the same weekend as the AMA banquets in Vegas, this race is good for the visitors to check out. Jeremy McGrath was even spotted in the audience with his wife, Kim. MC was out of the neck brace he had after his Invitational spill and was greeting the fans who made their way to his seat to chat.
Endurocross is not a race that riders demand a lot of track time for. Laps are brutal, with rocks, a water crossing (with working waterfalls), big logs, and truck tires to climb over, little logs to throw off your steering, and sand whoops. This makes for a short day, with everyone getting just a sighting lap and a hot lap in the afternoon.
The heats and semis are all nonstop action. If it's not half the pack spinning wheels on logs and each other after a start, it's people flying off the track or tipping over in rocks. Ryno didn't make it through to the final due to crashes. The race that got the crowd going the most was a semi that Mantzoros won on a trials bike - the crowd gave him a standing ovation!
Dowd got the start in the main with Woods right behind him and Knight sneaking around the inside, but just after, Knight was on the ground in a pile and Dowd and Woods were gone.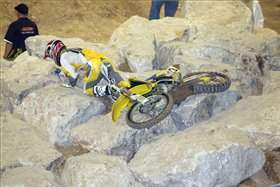 This is where Ryno's weekend went south
Dowd held the lead for most of the main, but Woods was always there to capitalize on a mistake, and the two traded the lead a few times. Right on the last lap, Dowd was holding off one charge after the other from Woods, protecting inside lines and sometimes literally shoving with Woods. It was nuts. Then, with one turn to go, they came together in an offset log section and Woods ended up tipping over and falling into the part of the track where the guy who finishes stops to wave. Dowd got away, made the last turn, and, fist in the air, stared at Woods, who had just gotten up. Knight still got third and Eric Rhoten finished fourth.
Mantzoros rolled across the finish line, slumped down in his trials-bike frame, and rolled past the announcer saying, "Finished!"
1.
John Dowd
2. Nathan Woods
3. David Knight
4. Eric Rhoten
5. Matt Karlsen
6. Homer Diaz
7. Geoff Aaron
8. Ryan Dudek
9. Nick Mantzoros
10. Nick Brozovich
Share this article:
Did you like this article?
Check out KING CAIROLI
in our Latest issue of Racer X available now.

Americans know very little about seven-time FIM World Champion Tony Cairoli, but in Europe he's treated like royalty. Page 102.