Where Are They Now: Steve Crowe
Friday, October 27, 2006 | 1:20 PM

THE BOYESEN LEGACY... For more than 40 years

Boyesen

has specialized in the design and manufacturer of high-performance parts for pros and amateur racers alike. From Boyesen's innovative, industry-leading 2-stroke performance intake systems, to the Race-Proven Supercooler performance water pump system, Boyesen continues to set the standard for motocross and off-road performance.

Tweet

Born and raised in the West Mifflin, PA, Steve Crowe got his first motorcycle when he was three years old. "I started riding because my dad raced, so I had a little Indian motorcycle that I started riding," remembers Crowe, who now resides in Charleroi, PA, and works for Fanala Plastering. "I didn't get a real bike until I was 13—and that was a KX80. My parents had a Kawasaki shop at the time—Kennywood Kawasaki—and one of the reps came in and said that I should go to a race. So, I went to the Lawrence County Fairgrounds and raced. I got fourth place, and from then on I was hooked!"



It was obvious that Steve possessed quite a bit of natural talent, as less than two years after he start racing he already had a very good support ride with Team Green Kawasaki.
"We got invited to High Point with two other riders—one from Maryland, and one from Ohio," recalls Crowe. "We went to High Point to test 80s and they liked my performance, so they offered me a ride." Steve then helped to develop the all-new KTM80. "It was a brand-new bike, so the frame and everything was a lot different. It wasn't as fast, but it handled great and the suspension was a lot better."

Although he raced the prototype KTM mini locally in District 5, he was unable to use it at major events like Ponca City or Loretta Lynn's because of the homologation rule, which requires that a minimum amount of motorcycles are available for consumers.
Speaking of Loretta Lynn's, Steve's best finish at that event was a third-place overall in the 85cc (14-15) class, but he also came very close to winning a championship in the 125 B class.
"He got third the first moto and won the second moto," remembers his mom, Pat, who you can still find working registration in District 5.
"He had the championship almost wrapped up in the third moto and a lapper center punched him right before the 10 Commandments and he couldn't finish. The poor kid was in tears as he watched his number-one plate slip away."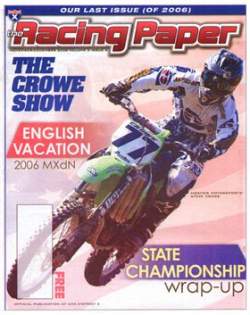 Crowe made the cover of the new The Racing Paper
Once moving to the bigger bikes, Crowe continued to excel at racing. His parents were getting out of the motorcycle business, and Steve picked up a Suzuki-support ride through Gibsonia Cycles. He ended up winning both the 125 and 250 B classes in the Action Sports Arenacross Series, and earned enough points to move to the expert class. "My first A-class race was an arenacross in Philadelphia," he recalls. "I think I got like third or fourth my first time."
Crowe's last three digits of his AMA card is 177, and that was a number he stuck with throughout his amateur career up until the pros, as #177 wasn't available, so he chose #277. This was the number he wore when he was featured on the mega-popular Hi Flyer trading cards in 1992.

"That was a bad year," says Steve. "I started doing really good and I got a 16th in a supercross, but when I was practicing one day I fell over and broke the navicular bone in my left wrist. You could actually see I have a cast on in that picture on the card. So, because I kept riding like that it never healed right and I ended up spending two years getting two surgeries to fix it. So, that kind of took me out and everyone quit looking at me then. I still raced pro for a couple years after that, but they don't really pay attention to you when you're that old." His mom added, "Breaking his wrist was a huge setback for Stevie."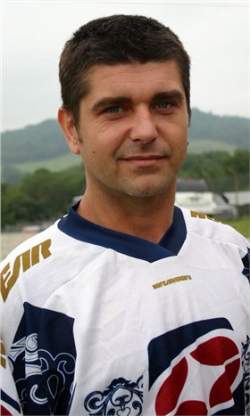 Steve Crowe today
photo: Billy Ursic
Prior to that dreadful '92 season, Crowe did a stint with KTM again, and he scored his best career outdoor national finish in 1991 when he finished 16th overall in the 125cc class.
Soon after returning from his wrist injury, Crowe suffered another setback – a broken back. "I actually didn't even fall," he says of the incident. "My leg got caught on a berm, and when it flung back my hip came out of place and it cracked a vertebra in my back. It was messed up. That was the hardest injury to come back from."
After coming back from two major injuries, Steve's professional career quickly fizzled out, but he still had the same competitiveness that he had always had. He continued to race major amateur events, such as Loretta Lynn's, and was a solid top-ten finisher in the age classes. But as time went on, motocross took a backseat to his personal life, and Steve Crowe hung up his racing gear.
But for 2006, Steve Crowe returned to motocross, and has shown that he hasn't lost his style. He returned this year to win the District 5 State Championships in both the Plus 25 and Plus 30 classes on his Mosites Motorsports-backed KX450F, and his hoping to return to his old self.
Do you have a suggestion for a "Where Are They Now?" Please send them to
[email protected]
.
Share this article:
Did you like this article?
Check out 10,000 MILES FROM HOME
in our Latest issue of Racer X available now.

Australian Dean Ferris hopes to follow in the footsteps of some of his legendary countrymen. Now contesting the FIM Grand Prix series, he made a huge impression at the Motocross of Nations. Page 138.