Where Are They Now: Steve Herman
Friday, October 13, 2006 | 12:53 PM

THE BOYESEN LEGACY... For more than 40 years

Boyesen

has specialized in the design and manufacturer of high-performance parts for pros and amateur racers alike. From Boyesen's innovative, industry-leading 2-stroke performance intake systems, to the Race-Proven Supercooler performance water pump system, Boyesen continues to set the standard for motocross and off-road performance.

Tweet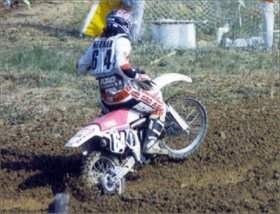 photo: Rob Harris
"What I miss about racing was seeing everyone from around the country in one spot every weekend," says former privateer Steve Herman, 35. "That's what I miss most—all of the good people that we came in contact with throughout the years."
Chances are, you've probably never have heard of Steve Herman, but back in the '90s this Pennsylvania-based rider was the epitome of a privateer. Traveling to the races in a box van primarily with his mother, Mavis, and older brother, Mike, Steve did everything he could to make ends meet racing motocross. It was his job. "In the nationals, man, those were rough," he recalls. "You were out there beating your brains in for an hour, getting paid next to nothing. There are a lot of guys out there that deserve a lot of respect and admiration for being out there."
Steve Herman's motocross career began in 1983. "My oldest brother actually got me started," says Steve. "He bought me a little MR50, and from there I got a 1980 CR80 and went over in '83 and tried racing at the Harrisburg Farm Show Arenacross. From then on, I was hooked."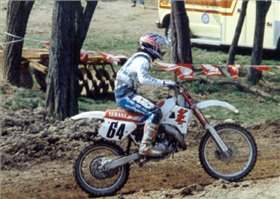 photo: Rob Harris
Steve then totally immersed himself in motocross racing and made quick progress. He soon became one of the top mini racers in his area, as well as the East Coast, and he soon attracted the attention of Kawasaki Team Green, who signed Herman for a few years in the mid-1980s.
"I raced Loretta Lynn's just about every year up until 1990," he recalls. "My best finish was a third in the Schoolboy class; I think Junior Jackson won it that year, but I'm not positive. That would've been in, like, '87."
Herman was nearing the end of his amateur career in the late '80s, and he switched brands prior to launching his professional career. "In '89 I switched from Kawasakis to Yamahas, and I just had Yamaha support through the dealer and Mike Guerra," he says. He would stay with Yamaha throughout the first few seasons of his professional career before switching to Suzuki.
Steve Herman's professional career lasted for a better part of the '90s, and he made a modest living racing his motorcycle. "As far as finishes go, my best supercross finish was a sixth in Charlotte, when they used to have the open-air stadium right there in town," he recalls. "It was actually the college football stadium before it went to the speedway. That was back when Vohland and Cliff Palmer and those guys were racing. My best finish outdoors was a 12th at
Steel City
in either '90 or '91." He also managed to earn a handful of national numbers along the way with #56 being his lowest.
But finally in'99, after a few years racing for Cernic's Suzuki, the sport started to take its toll on his body, and Herman decided to give up professional motocross for a career in construction. He still resides in Southeastern Pennsylvania, "between York and Harrisburg," with his wife, Karrie, and his two-year-old son, Tanner. When asked if he ever finds time to ride, Steve smiles and laughs, "I still have an old race bike from when I was racing in '99. It's a two-stroke Suzuki."
Although he doesn't race or even ride that much any more, Steve Herman still follows the sport, mainly through Racer X Online, he says. He also took a local privateer under his wing, trying to help him with training advice and motivation. "I help out young Willy Toth because I just want to try and give something back from what I learned over the years," says Steve.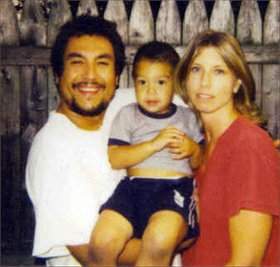 The Herman family
photo: Courtesy of Herman

When asked if he'll ever make it back to the race track, Steve pauses, and then says, "I don't know. A lot of my buddies still ride, and they're trying to get me back in to racing. And I'm friends with Kevin Walker, and although I haven't seen him in years, I see everybody is coming back to Loretta Lynn's to race with him. I told my wife that maybe we'd go to Loretta's next year for vacation to check it out, and then who knows..."
But if Steve Herman does return to racing, he'll have to do it without the support of his one of his biggest supporters throughout his career—his older brother, Mike, who tragically passed away last year in an automobile accident. "It was a week prior to Kevin Crine passing away," he says. "I was going to give you guys a call or shoot you an email, because my brother was friends with a lot of guys in the sport."
Share this article:
Did you like this article?
Check out KING CAIROLI
in our Latest issue of Racer X available now.

Americans know very little about seven-time FIM World Champion Tony Cairoli, but in Europe he's treated like royalty. Page 102.