Kawasaki/Racer X Race Report
Sunday, August 13, 2006 | 8:44 PM

Since 1968,

Thor

has maintained its position as a top motocross apparel brand. From trails, deserts, to the most famous racetracks in the world,

Thor

supports racing on the track and off with its sponsorship of race reports.

Tweet
In this article…
Riders
Races
Everything is coming together for the AMA/Toyota Motocross Championship presented by FMF. The rivalries, the battles, the points, it's all coming together, and the first set of motos at the Unbound Energy/Honda National at Millville only raised the drama to another level. After an exciting first set of motos, the fans braced themselves for a big showdown in the second half of the day. But then the skies opened and the track quickly turned into a quagmire.
And that ended that, because the mud motos turned the race into a one-sided Suzuki affair, with Ricky Carmichael destroying the 450 class and Broc Hepler making his way back to the front with a win in the 250F class.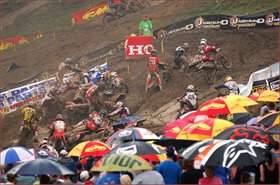 Mud was a pretty big factor in the second motos at Millville.

There is no doubt now of Carmichael and Hepler's superiority in the mud. Hepler won his moto by some 40 seconds, but for the record, he had passed his way to the lead before the rain came down. As for
Carmichael
, he completely destroyed the field in the muddy second moto. We mean DESTROYED. Ricky lapped EVERY SINGLE rider in the race. He lapped 39 riders! Looks like one more ridiculous notch in the very oversized belt Mr. Carmichael must wear to fit all of the notches in it.
But the first motos were so good! James Stewart looked very game at Millville. Coming off of his win at Washougal, he was putting in practice times a full two seconds faster than Carmichael on Sunday morning. Then he took the early lead from Racer X Holeshot Winner Justin Buckalew and took off while Carmichael dealt with another bad start. By the third lap Carmichael had moved to third behind Stewart and Chad Reed, but then he got a gift: Stewart crashed while leading, and then Reed lost the header pipe on his Yamaha. Carmichael took the lead from the fallen Stewart and ailing Reed and never looked back. Stewart worked his way back into second at the finish ahead of Reed. Could Carmichael have gotten Stewart straight-up? The second moto would tell the tale … but then it rained.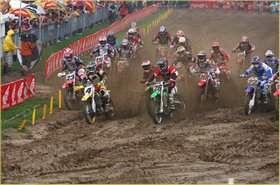 RC knew the start would be super-important for the muddy second 450 moto, so he went out and got one.


Carmichael knew the start was critical since the track was a complete mess for moto two. And so he nailed the Racer X Holeshot, but Stewart was soon into second. Before long there was carnage everywhere, especially in a gnarly off-camber corner that trapped Michael Byrne, and then a bunch of other riders who went looking for a line around him. Soon the section was nearly clogged, and Carmichael actually had to stop on the track a look for a line. Stewart tried to take advantage but fell. The next time around the section was really bad and Stewart found himself stuck even worse. The field was really shaken up by now as the track became nearly impassable. Carmichael rode away unchallenged, David Vuillemin moved to second and the third spot became a huge mix up between riders like Chris Whitcraft (yes!) and Josh Demuth (yup!) before finally Kevin Windham emerged with third.
Other favorites struggled big. Reed crashed on the first lap and lost his gloves and goggles, then got stuck on the off-camber twice. He finished 27th. Davi Millsaps finished fourth in moto one but was way back in moto two. It was a wild moto, which culminated when Carmichael passed Vuillemin just past the first turn late in the moto, putting the second-place rider a lap down. The Millville faithful cheered big.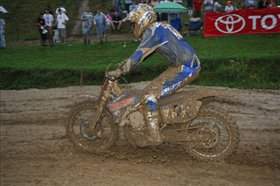 The old mud riding skills of David Vuillemin made a return at Millville, as he took second overall.

"It wasn't my goal to lap everybody," said
Carmichael
. "Everyone just had problems. I think this was good practice for Everts at the Motocross des Nations."
In the first 250F moto, Josh Grant grabbed the Racer X holeshot but Andrew Short went past him and picked up right where he left off at Washougal—with the lead. Grant, Ryan Villopoto, Hepler and Alessi were all swapping the next spots, with RV getting second and Hepler passing Alessi late to get to third. This put Villopoto into the 250F points lead by just one point.
Everything started as usual for moto two as Grant grabbed another Racer X holeshot. This time Hepler was on the gas early and he got around Villopoto and Grant early to take the lead. Short moved into second and was about to attempt a run at Hepler, but then the skies opened up and it started raining really, really hard. Everyone's lap times dropped quite a bit, but Hepler handled it with some ease.
"I grew up racing in
Pennsylvania
, but now that I spend my winters in
California
it seems like you lose your edge in the mud," said Hepler. "I knew once it started to rain I had it because of the vision. I'm just racing for pride now."
As the rain continued to fall, Short and Villopoto struggled and started moving backwards. Alessi got into second which allowed him to pick up huge points over Villopoto. Star Racing's Matt Goerke put in a great ride in the mud from out of the pack to finish third. But there was still plenty of controversy, as a protest regarding stuff like outside assistance in the mud hung over the final results. The AMA says everything will be official by Monday.
This much is already official: the racing is fun to watch in both classes. Maybe next time the rain will stay away and we'll pick up the same battles at Broome-Tioga next weekend.
Share this article:
Did you like this article?
Check out KING CAIROLI
in our Latest issue of Racer X available now.

Americans know very little about seven-time FIM World Champion Tony Cairoli, but in Europe he's treated like royalty. Page 102.