by
Bryan Stealey
Yamaha's Monday Wake-Up Call
Monday, August 7, 2006 | 6:18 AM
Tweet
MX1 FIM Motocross World Championship
GP of Belgium--Namur
August 5-6, 2006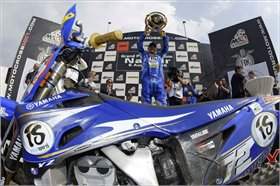 Stefan Everts clinched his third-consecutive MX1 Worl Championship after sweeping the races
at Namur.

Photo courtesy of Yamaha Racing


MX1 Race 1
1, Stefan Everts, Yamaha, BEL, 43'13.152
2, Joshua Coppins, Honda, NZL, 0'11.409
3, Steve Ramon, Suzuki, BEL, 0'14.665
4, Cedric Melotte, Yamaha, BEL, 0'16.980
5, Ken De Dycker, Honda, BEL, 0'19.086
6, Gordon Crockard, Honda, GBR, 0'34.115
7, Pascal Leuret, Honda, FRA, 0'54.119
8, Kevin Strijbos, Suzuki, BEL, 1'8.640
9, Javier Garcia Vico, Honda, ESP, 1'13.201
10, Wyatt Avis, KTM, RSA, 1'24.525
11, James Noble, Honda, GBR, 1'36.862
12, Danny Theybers, Suzuki, BEL, 1'46.520
13, Manuel Priem, Yamaha, BEL, 1'49.243
14, Clement Desalle , Suzuki, BEL, 1'52.460
15, Cyril Coulon, Suzuki, FRA, 1'54.428
16, Marko Kovalainen, Honda, FIN, 2'4.810
17, Antti Pyrhonen, TM, FIN, 2'7.248
18, Alex Salvini, Suzuki, ITA, 2'12.617
19, Marc Ristori, Honda, CHE, 2'14.930
20, Jaka Moze, Suzuki, SVN, 2'16.058

MX1 Race 2
1, Stefan Everts, Yamaha, BEL, 41'10.064
2, Joshua Coppins, Honda, NZL, 0'17.973
3, Steve Ramon, Suzuki, BEL, 0'28.484
4, Kevin Strijbos, Suzuki, BEL, 0'46.443
5, Cedric Melotte, Yamaha, BEL, 0'52.909
6, James Noble, Honda, GBR, 0'57.447
7, Pascal Leuret, Honda, FRA, 1'2.393
8, Manuel Priem, Yamaha, BEL, 1'14.458
9, Javier Garcia Vico, Honda, ESP, 1'23.714
10, Wyatt Avis, KTM, RSA, 1'27.292
11, Tanel Leok, Kawasaki, EST, 1'31.291
12, Danny Theybers, Suzuki, BEL, 1'39.857
13, Christian Beggi, Honda, ITA, 1'43.852
14, Bas Verhoeven, Kawasaki, NED, 2'4.429
15, Antti Pyrhonen, TM, FIN, 2'17.104
16, Gordon Crockard, Honda, GBR, 2'22.634
17, Scott Columb, Suzuki, NZL, -1 Laps
18, Lauris Freibergs, Suzuki, LVA, -1 Laps
19, Ken De Dycker, Honda, BEL, -1 Laps
20, Clement Desalle , Suzuki, BEL, -1 Laps

MX1 Standings
1, Stefan Everts, Yamaha, BEL, 592
2, Kevin Strijbos, Suzuki, BEL, 424
3, Steve Ramon, Suzuki, BEL, 408
4, Ken De Dycker, Honda, BEL, 371
5, Tanel Leok, Kawasaki, EST, 365
6, Jonathan Barragan, KTM, ESP, 273
7, Pascal Leuret, Honda, FRA, 230
8, Cedric Melotte, Yamaha, BEL, 224
9, Manuel Priem, Yamaha, BEL, 210
10, Joshua Coppins, Honda, NZL, 202
11, Javier Garcia Vico, Honda, ESP, 196
12, James Noble, Honda, GBR, 186
13, Julien Bill, Yamaha, GBR, 167
14, Antti Pyrhonen, TM, FIN, 138
15, Gordon Crockard, Honda, GBR, 137
16, Brian Jorgensen, Honda, DNK, 131
17, Marvin Van Daele, Honda, BEL, 127
18, Wyatt Avis, KTM, RSA, 106
19, Danny Theybers, Suzuki, BEL, 102
20, Sebastien Tortelli, KTM, FRA, 99

MX1 Manufacturer Standings
1, Yamaha, 592
2, Suzuki, 489
3, Honda, 447
4, Kawasaki, 369
5, KTM, 351
6, TM, 138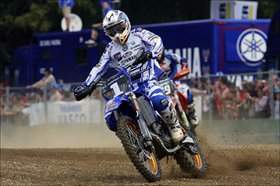 Antonio Cairoli capped off a perfect weekend for Yamaha, with a pair of first-place finishes.

Photo courtesy of Yamaha Racing


MX2 Race 1
1, Antonio Cairoli, Yamaha, ITA, 43'9.307
2, David Philippaerts, KTM, ITA, 0'2.531
3, Christophe Pourcel, Kawasaki, FRA, 0'29.378
4, Sébastien Pourcel, Kawasaki, FRA, 0'36.668
5, Marc De Reuver, KTM, NED, 0'37.729
6, Maximilian Nagl, KTM, GER, 0'38.835
7, Billy MacKenzie, Yamaha, GBR, 1'4.262
8, Rui Goncalves, KTM, POR, 1'4.687
9, Manuel Monni, KTM, ITA, 1'16.247
10, Matti Seistola, Honda, FIN, 1'18.581
11, Carl Nunn, KTM, GBR, 1'30.575
12, Patrick Caps, Honda, BEL, 1'35.528
13, Pierre-Alexandre Renet, Honda, FRA, 1'46.824
14, Aigar Leok, Yamaha, EST, 1'59.253
15, Shaun Simpson, Honda, GBR, 1'59.537
16, Anthony Boissière, Yamaha, FRA, 2'7.078
17, Tyla Rattray, KTM, RSA, 2'10.294
18, Kenneth Gundersen, Yamaha, SWE, 2'15.929
19, Jeremy Tarroux, Kawasaki, FRA, 2'16.646
20, Xavier Boog, Yamaha, FRA, 2'19.960

MX2 Race 2
1, Antonio Cairoli, Yamaha, ITA, 41'55.640
2, Christophe Pourcel, Kawasaki, FRA, 0'4.597
3, Carl Nunn, KTM, GBR, 0'6.644
4, Tyla Rattray, KTM, RSA, 0'18.363
5, Sébastien Pourcel, Kawasaki, FRA, 0'29.627
6, Gareth Swanepoel, Kawasaki, RSA, 0'39.360
7, Rui Goncalves, KTM, POR, 0'40.970
8, Aigar Leok, Yamaha, EST, 0'44.443
9, Manuel Monni, KTM, ITA, 0'45.639
10, Pierre-Alexandre Renet, Honda, FRA, 0'49.984
11, Carlos Campano, KTM, ESP, 0'55.966
12, Matti Seistola, Honda, FIN, 1'16.716
13, Marc De Reuver, KTM, NED, 1'22.385
14, Matteo Bonini, Yamaha, ITA, 1'26.360
15, Anthony Boissière, Yamaha, FRA, 1'27.561
16, Dennis Verbruggen, Yamaha, NED, 1'52.850
17, Billy MacKenzie, Yamaha, GBR, 1'59.849
18, Xavier Boog, Yamaha, FRA, 2'9.095
19, Matthias Walkner, KTM, AUT, 2'30.325
20, Jonas Wing, KTM, SWE, -1 Laps

MX2 Standings
1, Christophe Pourcel, Kawasaki, FRA, 458
2, Antonio Cairoli, Yamaha, ITA, 432
3, David Philippaerts, KTM, ITA, 393
4, Tyla Rattray, KTM, RSA, 352
5, Marc De Reuver, KTM, NED, 338
6, Carl Nunn, KTM, GBR, 307
7, Billy MacKenzie, Yamaha, GBR, 264
8, Sébastien Pourcel, Kawasaki, FRA, 259
9, Tommy Searle, Kawasaki, GBR, 254
10, Gareth Swanepoel, Kawasaki, RSA, 251
11, Rui Goncalves, KTM, POR, 236
12, Alessio Chiodi, Yamaha, ITA, 211
13, Kenneth Gundersen, Yamaha, SWE, 200
14, Manuel Monni, KTM, ITA, 167
15, Davide Guarneri, Yamaha, ITA, 153
16, Matti Seistola, Honda, FIN, 105
17, Anthony Boissière, Yamaha, FRA, 98
18, Aigar Leok, Yamaha, EST, 97
19, Luigi Seguy, Yamaha, FRA, 94
20, Pierre-Alexandre Renet, Honda, FRA, 80
37, Matteo Bonini, Yamaha, ITA, 7

Manufacturer Standings
1, KTM, 546
2, Yamaha, 526
3, Kawasaki, 483
4, Honda, 195
5, Suzuki, 22

CMRC Canadian Motocross Championships
Moncton, NB
August 6, 2006

MX1 Championship
1. Dusty Klatt (Hon) 1-1
2. Jean Sebastien Roy (Hon) 2-2
3. Blair Morgan (Hon) 7-3
4. Ryan Lockhart (Suz) 4-5
5. Mason Phillips (Hon) 8-4
6. Marco Dube (KTM) 6-7
7. Simon Homans (Yam) 5-9
8. Keith Johnson (Suz) 11-6
9. Jeff Northrop (Suz) 10-8
10. Chad Charbonneau (Hon) 9-10
11. Mitch Cooke (Hon) 3-DNF
12. Chuck Mesley (Hon) 12-11
13. Kyle Beaton (Yam) 14-13
14. Milo Christie (Suz) 13-14
15. Keith R. Johnson (Yam) 16-12

MX2 East Championship
1. Kyle Chisholm (Kaw) 2-1
2. Michael Willard (KTM) 1-4
3. Matt Barnes (KTM) 4-3
4. Nick Evennou (Yam) 6-2
5. Craig Dube (Kaw) 5-6
6. Tim Trembley (Yam) 7-5
7. Jay Burke (Yam) 9-7
8. Iain Hayden (KTM) 8-10
9. Pierce Chamberlain (Suz) 11-9
10. Mitch Cooke (Hon) 3-19
11. Trever Hall (Yam) 13-8
12. Ryan Gauld (Yam) 10-11
13. Marc-Antoine Genereux (Hon) 12-14
14. Paul Lamb (Yam) 15-12
15. Tyler Medaglia (Hon) 19-13
X Games 12
Los Angeles, CA

Moto X Best Trick (Run 1 Run 2)
1. Travis Pastrana 91.20 98.60
2. Mat Rebeaud 92.80 93.80
3. Blake Williams 91.80 89.20
4. Nate Adams 88.40 91.80
5. Jim McNeil 89.60 87.40
6. Adam Jones 89.40 88.40
7. Ailo Gaup 86.20 84.40
8. Brian Deegan 85.60 85.60
9. Robbie Maddison 84.00 82.80
10. Remi Bizouard 74.40
Moto X Freestyle (Run 1 Run 2 Final)
1. Travis Pastrana 94.20 ** 94.20
2. Adam Jones 91.40 78.80 91.40
3. Mike Mason 90.00 86.80 90.00
4. Jim McNeil 89.00 89.20 89.20
5. Mat Rebeaud 66.40 ** 66.40

Results: X Games 12 Supermoto Race
1. Jeff Ward, Newport Beach, Calif.
2. Mark Burkhart, Pickerington, Ohio
3. Doug Henry, Torrington, Conn.
4. Chad Reed, Dade City, Fla.
5. Ivan Lazzarini, Pesaro, Italy
6. Darryl Atkins, Tokoroa, New Zeland
7. Jeremy McGrath, Encinitas, Calif.
8. Benny Carlson, West Bend, Wisc.
9. Travis Pastrana, Annapolis, Md.
10. Cassidy Anderson, Provo, Utah
11. Chris Fillmore, Oxford, Mich.
12. Micky Dymond, Placentia, Calif
13. Juergen Kuenzel, Heidenheim, Germany
14. Carey Hart, Las Vegas, Nev.
15. Josh Chisum, Bakersfield, Calif.
16. Gary Trachy, Orange, Calif.
Moto X Step-up (Elimination Height)
1. Matt Buyten
2. Jeremy McGrath 23-0
2. Brian Deegan 23-0
5. Tommy Clowers 21-0
5. Myles Richmond 21-0

Share this article:
Did you like this article?
Check out MONSTERBALL
in our Latest issue of Racer X available now.

Playing soccer on 250cc motorcycles might sound like a strange form of riding, but in Russia they do it with great passion—and for very little reward. Page 112.