Where Are They Now: Jeff Yentzer
Thursday, April 20, 2006 | 7:46 AM

THE BOYESEN LEGACY... For more than 40 years

Boyesen

has specialized in the design and manufacturer of high-performance parts for pros and amateur racers alike. From Boyesen's innovative, industry-leading 2-stroke performance intake systems, to the Race-Proven Supercooler performance water pump system, Boyesen continues to set the standard for motocross and off-road performance.

Tweet

A couple weeks ago, I attended a Loretta Lynn's Area Qualifier at Doublin Gap Motocross Park in Shippensburg, PA. The track opened in 1981 and was named Hideway. In '97, it was taken over by the Yentzer family and the name was changed to Doublin Gap. The track has experienced tremendous growth and success since the Yentzers took it over, and that's partly due to their vast racing experience with their two sons, Rod and Jeff. But Jeff was the faster of the two, and during the 1990s he was one of the top East Coast privateers in the sport.

"My brother Rod raced before I did," says Jeff, now 33. "I was playing baseball and football, and I said I'd never race. And after going to the races with him, I decided I wanted to get a bike. I tried qualifying for Loretta Lynn's a few years and never made it. Then, when I turned about 18, I really got motivated to get better."

Yenzter was definitely a late bloomer, as he never qualified for the amateur nationals at Loretta Lynn's until he was in his early 20s. He raced the 125 A class that season and his Loretta Lynn's debut ended with a dislocated wrist. After healing up, he went straight to racing the professional circuit.

"I actually came back right before the

Steel City

National that year," Jeff says of the Labor Day Weekend race, which comes just four weeks after the last checkered flag at Loretta Lynn's Ranch. "I got a top-five holeshot and rode in the top ten for the first 20 minutes of the moto before I was totally exhausted. That was my first race back. From then on, I was really determined."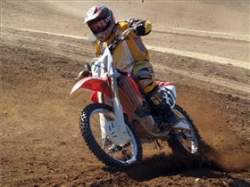 Jeff still finds time to race and may be racing arenacross full-time next year
His determination led him to score six consecutive national numbers, his lowest being #56, while maintaining a full-time job during the week. "When I got off work, it was training three nights a week and practicing the other two. That was basically all I did," he says.
Jeff says his biggest accomplishment came at final round of the motocross series in 1995. "I got top-ten at
Steel City
in the 250 class," he recalls. "That was probably my biggest and best accomplishment. I went 11-13 for 10th overall. Doug Dubach and I battled for the entire second moto. I remember that like it was yesterday!"
But the privateer lifestyle can take its toll. "The hardest part of racing was just the money," Jeff explains. "Just trying to find people to help me out and give me bikes and parts, but really just paying for my own way, was definitely hard. Rod and I talk all the time about the years we'd go to Florida in the winter for three months and we'd eat peanut-butter sandwiches every day."
In 1997, after his family purchased the motocross track, Jeff decided to quit racing full-time and focus on having a normal life: "After we bought the track, I just saw a better future in that then my racing. It was time to settle down and start a family and have some kids. I wanted to do that and enjoy life instead of being so involved in non-stop racing."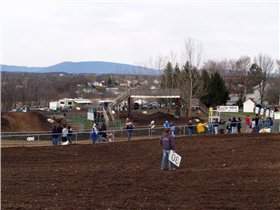 Jeff's family owns and operates Doublin Gap MX Park, located in Shippensburg, PA
Jeff is currently married to his wife, Bobbi, and has a five-year old son, Colton, and a 2-year-old daughter, Rachel.
So what's in Jeff's future? He recently quit his job driving a truck and is working full-time at the track. He also is a full-time trainer for upstart team PDL Racing riders Kevin Brodsky and Casey Clark. "They come up three days a week and we ride for four or five hours a day and train and do everything they need to do," Jeff says. "We just got the rig set up, and we're getting ready to go to California here in the next couple weeks."
Jeff is also focusing on holding a Loretta Lynn's training camp in mid-July. "I'm going to get seven guys, at the max, and I'm going to bring them in and ride with them every day and get them training like they need to go down there and do well," he explains. For more information on the training camp, visit
www.doublingap.com
or call them at 714-249-6036.
And as far as Yentzer's racing career goes, it isn't totally over. He still races occasionally, but he's also in negotiations with the PDL team owner about racing arenacross in 2006-'07. He has arenacross experience, as he raced AX for the top-shelf Blackfoot Honda team in Canada in 2003.
"I just want to help the kids and the guys who want to race seriously," Yentzer says. "And if I race arenacross this year, I'd like to do well in that, too"
Once a racer, always a racer.
Share this article:
Did you like this article?
Check out MY LIFE IN MOTORCYCLE RACING
in our Latest issue of Racer X available now.

Jean-Michel Bayle, the iconic superstar of yesteryear, raced motocross for the first time in twenty-one years at the Vets MXdN in England. Page 126.