Privateer Profile: Justin Brayton
Thursday, April 20, 2006 | 11:15 AM

SHOEI

combines state-of-the-art manufacturing technology and the most advanced materials known with over 50 years of experience to deliver the finest handcrafted motorcycle helmets available. Recognizing that the privateer is the heart and soul of motocross,

SHOEI

is proud to present to you the Privateer Profile.

Tweet

It's been a while since we've seen any of the Western Region 250F riders on the track, and we're all really anticipating the Dallas Supercross this Saturday night. Looking back, one privateer racer who finished the first part of the Western series well was arenacrosser-turned-supecrosser Justin Brayton, who races for the Motoworldracing.com Yamaha team. He is coming off a terrible 2005 season, where he suffered a broken leg, which forced him to miss almost the entire year. He's looking forward to posting some top-10 finishes in 2006. Be sure to show Justin and his sponsors some support by clicking on the links at the bottom of the page.

Racer X: Justin, your little vacation from racing is coming to a close this weekend as the Western Region 250F series resumes in Dallas. Are you ready?
Justin Brayton: Yeah, I'm ready, for sure. It's been a long break and I'm anxious to get back racing.

Before we talk about racing, tell us what you did during your time off.
After San Diego, I just did a lot of outdoor testing and outdoor riding. I didn't really take much of a break at all. I've been riding a lot of supercross. It rained a lot in California, so we had to take about a week off. That's pretty much it. I haven't had the results I wanted in supercross, so hopefully, these last three rounds will go a little bit better.

During the break, did you do any local racing?
Actually, I did an arenacross in Sacramento, a regional one. I won all four main events there, and then I did a local supercross race in Denver. Paul Lindsey, my team manager, flew me and my teammate Chad Johnson out there to do it. I won everything but one race – I crashed off the start and Chad won.

So you're feeling pretty strong going in to the final three races of the series?
Yeah, I feel really good. I feel a lot stronger now than I did before the West Coast started.

You grew up in Fort Dodge, Iowa, and now you stay in California. First of all, where do you live?
Murrieta.

Do you live there full-time now?
I' m pretty much full-time out there. I go back to Iowa for probably a month or two in the summer because it's so hot and dry out here. But I don't think I'm going back this summer. I'll probably just stick to the training program out there this summer.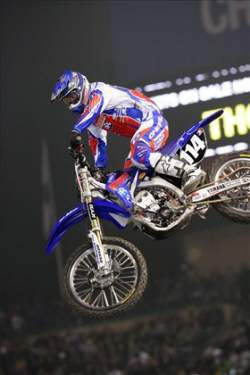 Brayton is currently 17th in Western Region points

In your last two races, you finished 11th and 12th. Were you happy to close out the first part of the supercross season like that, or are you striving for top-tens?
I wasn't really happy, because at Anaheim 3, I was fourth for probably five laps. I just had a brain fade and let a couple guys go by. I was then eighth with three laps to go, and I went off the track in the sand section. I think I should've been at least eighth or ninth. And then in San Diego, I was happy with the 12th because my lap times stayed consistent for all 15 laps. One guy got past me the last lap, but it wasn't too bad. It's definitely something to build on. It was good to start up front and run up there with those guys for a little bit. I'm definitely looking forward to getting a good start in Dallas and staying up there.

You've been with the Motoworldracing.com team for a couple years now. You started out with them on Suzukis racing arenacross, and you've transitioned over to supercross with them, and now you're on Yamahas. So first of all, tell us about the transition from AX to SX.
Well, I raced arenacross for two years before I signed with Motoworld. When I signed with them, I was looking forward to winning the championship, but that didn't go too far. At the first round, I broke my leg real bad. So all of last year, I was healing up from that. I then tried riding a couple nationals, but it didn't go so good. I qualified and everything, but my leg was just hurting too bad. I couldn't do 30 minutes, and every time I put my left foot in a rut, it would hurt. So I took a couple months off. I was then pumped to hear we were switching to Yamahas. I know Yamaha has always been a great bike, and from the first time I threw my leg over it, I loved it. It reminded me of my Hondas, and I always liked Hondas. But Yamaha is definitely my favorite bike now, and I'm pumped with the Yamahas.

Do you think arenacross racing is a good first step for riders looking to compete in supercross?
Yeah, I definitely think so. Everybody thinks you can jump into supercross and do well, but if you don't, your confidence is hurt. Or the whoop sections – I'm pretty good in the whoops, and that's because I rode arenacross for three years. Plus, the competition in arenacross is getting tougher and tougher with Chad and Brock Sellards and Northrop. I definitely think the young kids should consider racing arenacross first and then moving into supercross.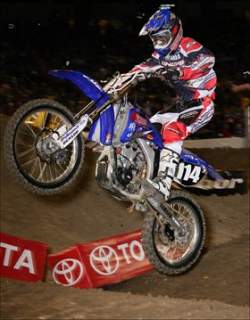 An 11th-place finish at Anaheim 3 is Justin's season-best thus far

Will we see you racing arenacross again down the road?
Well, my ultimate goal is to stay in supercross, and I think I belong there. I want to be top-ten in these next three rounds and next year, but looking ahead, I won't mind going back to arenacross. I mean, it's how I got to where I am today, so I wouldn't be disappointed if I had to ride it again later in my career.

Who's spinning wrenches for you over there this year? I know Keith Bowen used to be, but he's now Stephane Roncada's wrench.
My mechanic this year is Karl "Gunzy" Gunderson. He just started this year. It was weird how I met Gunzy, though: He came into the shop one day when I was getting ready to go to the Reno Arenacross, before the West Coast series started. He walked in for the first time and I said, "Let's go to Reno!" So we got to know each other pretty good after loading up in the box van and driving 10 hours. We have a pretty good connection. He knows what I like and where I should be on the track.

Are you and Gunzy looking forward to the AMA Motocross Nationals?
Yeah, we're both are really excited for the outdoors. I really never had a good opportunity with a good bike and to test for outdoors, so I'm really excited about that. I think I'll come home from Vegas, take a day off, and then focus on the outdoors. I may race the Prequel and then just hopefully get some good results this outdoor season.

And maybe earn some points to get a double-digit national number?
Yeah, but I think I'll actually keep #114. My step-dad's birthday is the first and mine is the 14th, so I've had it since I was on 80s. It means something to me, and I think I'll keep it for the rest of my career.

Realistically, where do you see yourself finishing in the outdoors?
I think a realistic goal is top 20 to begin with. Towards the end of the season, I'd like to be in the top 15 or top 10. I really never had a legitimate shot at racing the outdoors with a good bike. This year Yamaha is giving us a lot of support and the team is good, so I'm excited about it.

You have anyone you'd like to thank?
I want to thank my team manager, Paul Lindsey, for believing in me and everything after I broke my leg, Yamaha for giving us great bikes and support this year, my agent, Steve Aldaco – he's been with me since the beginning, and I'd like to thank him. And definitely my family and all of my sponsors.

Right on, Justin. Good luck in Dallas!
Thanks, Billy.

Justin Brayton's sponsors:

Ignite
CSI


Lightspeed
Share this article:
Did you like this article?
Check out THE MOTOCROSS OF 40 NATIONS
in our Latest issue of Racer X available now.

The 2013 FIM Motocross of Nations at Teutschenthal, Germany, hosted teams from a record forty countries. Here's how it played out for each of them. Page 90.