by
Andy Bowyer
Thursday Rev-up: Gatorback
Thursday, November 17, 2005 | 2:15 PM
Dragon
is a leading mx goggle manufacturer with innovative new styles like the NFX frameless goggle with patented lens technology. To win a  pair of these premium NFX goggles, go to Dragon's
Facebook
or
Instagram
page and pick this week's 450 AMA Supercross winner.
Tweet
In this article…
Riders
Companies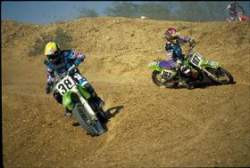 Young Ricky Carmichael chases Robbie Horton at the old Winter Os, circa 1993
photo: Racer X Archives
Hello, everyone, welcome to the Rev-Up. This weekend, thousands of amateur racing families will make the long trek down to historic Gatorback Cycle Park in Gainesville, Florida, for the 34th annual Winter Nationals. This trip comes after the grind of amateur motocross racing ceases fire for about 90 days. Sure, there are some big regional fall series that can keep racers heading to the track every weekend, and of course, the indoor arenacross scene is already in full swing. But there are about a half-dozen major events that make up the major amateur motocross schedule. We have the big spring races in Texas and Las Vegas, then the end of summer biggies at Ponca and Loretta Lynn's. Ah, but the first real race of the year—though it's still in the previous year on the calendar—is the Winter Olympics (or as it is called now, the Winter Nationals).
The Winter Nationals race can be pretty tricky for some riders. A lot of kids make their last ride on minicycles at Loretta Lynn's, then only have three months to prepare for the 250F and 450 B class at Florida, though they can ride 125cc Schoolboy, or a Schoolboy in the 125cc class—well, AMA Motocross Schoolboy Lites, if we really went by the book!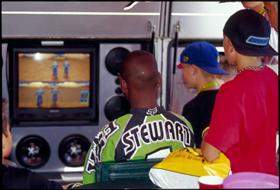 Thanksgiving week at Gatorback often meant playing video games between motos with friends
photo: Racer X Archives
The Winter Os are a special event for our sport. It serves as a symbol for a young racer that if he wants to be serious about this sport, he will have to learn to make some sacrifices that "normal" kids do not have to make. For instance, most people traditionally spend Thanksgiving at Grandma's house. You know, having Mom or Grandma bring out the turkey while the family sits around the dining-room table, wearing sweaters and slacks and watching another Thursday afternoon ass-kicking for the Detroit Lions. Then Dad cuts the turkey and tastes the first piece for inspection…..
Well, that's a scene that most of the top riders in America today never got to see. If you are an up-and-coming amateur motocross racer with dreams of making it to Angel Stadium someday, more than likely, you get your Thanksgiving Day turkey off of a gigantic buffet with about 3,000 other kids at Gatorback. From 1986-1995, this was how I spent Thanksgiving with my family. And it was awesome.
The Winter Olympics were one of my favorite races of the year. Back in the day they used to have four separate events to test the riders' overall motocross prowess. Day One was the TT event. This was always an extremely weird and unfamiliar type of racing. The promoters would set up an actual TT track that had long, fast straights, flat turns, and maybe a jump or two, which were only a foot high or so. There would always be a bunch of surprise winners in this event. If a guy grabbed the holeshot and could run down the straights like a top-fuel dragster, he could win (and to be honest, a lot of my trophies from the Winter Olympics came from the TT portion!). One year they had a switchback that had a huge tabletop in the middle of it. I remember standing at the fence, watching Damon Bradshaw ride practice. It was his first year in the A class, and back then, I mean, Bradshaw was just the shit. He was such a bad-ass: open-face helmet with a skull and crossbones on the top, long, blond hair streaming out the back, and the name BRADSHAW across the back of his spider-web
Fox Racing
gear, plastered with #68.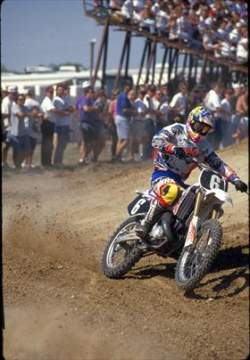 Jeff Emig, another Winter Os grad, at an early-nineties Gatorback National
photo: Racer X Archives
Anyway, I saw Bradshaw pull off to the side of the track and start looking at this switchback section. Suddenly he cut across the track and made a run at the face of the table and started grabbing gears. His YZ250 was 4th gear, full song, when he took off the face and shot 30 feet up and about 100 feet out. When he finally touched back to earth, he was on the straightaway after the switchback, grabbing more gears. That was just the kind of stuff Bradshaw used to do. He was a legend at 15 years of age.
The second event was the supercross event. Man, I can close my eyes right now and see some of the most horrific crashes of all time in this event. Each year we would come off a day of easygoing, high-speed TT action, and when practice would begin for the supercross event … boy howdy. The ambulance crews had to wear running shoes. I don't know if it was the peaked jumps or the track surface, which quickly lost its two-inch layer of topsoil and had us riding on pure lime rock; all I know is when you crashed, you went down very, very hard.
The third portion of the race was always my favorite. Gatorback was the first Pro National track I had ever raced on. For an 11-year-old kid, it's the equivalent of playing baseball at Wrigley Field. Gatorback used to be sandy. In fact, the entire top portion of the track where the starting line was consisted of a very deep, dark, sandy soil that developed huge kickers and braking bumps. I remember the first time I took that left-hander that leads you into the "Gator Pit." You take a mellow left-hander, then it looks like you're riding off the edge of the world. A 60-foot sheer cliff follows, and when you land, you grab three gears and rocket across the bottom of the Pit and take a 5th-gear-pinned sweeper back up the mountain. The sweeper snakes to the right, then to the left and leads you to the biggest jump you ever saw. It used to be at least 50 feet wide, and it appeared 20 feet tall. This used to be the Scott Double. In 1990, only about five 80 riders went for it: Jeff Dement and Ezra Lusk did it side by side! Then, in the second practice, a pint-sized
Ricky Carmichael
, on a KX80 with no seat foam, not only jumped it, but threw down the biggest whip you could imagine. Nowadays, this jump is a tabletop (and I'm not sure, but I think those little crazies on Cobras jump it now).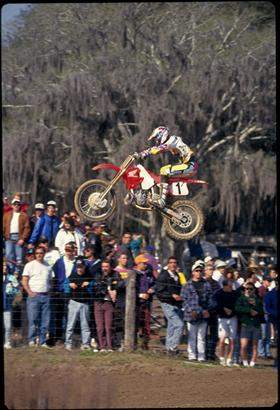 Before he started winning Pro Nationals at Gainseville (like this one from 1990), Jeff Stanton rode the Winter Os
photo: Racer X Archives
The final portion of the event was by far the wildest: the GP event. This race took the riders around the TT track, the supercross track, all the way around Gatorback, then into the Christmas tree forest. The trees, which now stand about 20 feet tall, used to be no more than handlebar-high. The course that ran between the trees was brutal. It was basically a 3-mile-long, 2-foot wide path in knee-deep sand that got so whooped out it was ridiculous. Lots of cheating went down in this race! If a guy was smart, he could cut a deal with the flagmen they had spread throughout (right, Eddie Ray?!). One year a kid came out two full minutes ahead of the pack. He was promptly stopped and parked by Tip Tipton, who used to referee.
Today the race is still going strong. As I said, the name was been changed to the "Winter Nationals" instead of the "Olympics," having dropped the TT and Grand Prix events. But the key ingredients of the race are still very much alive. It's a collaboration of most of the fastest kids in the country and their families enjoying Thanksgiving the motocross way. The new-school contingent will be flexing their muscles and trying to win the heavy metal. The Bronze Boot, Pro Circuit Platinum Pipe, Scott Golden Goggles, and Dunlop Silver Tire awards are some of the most sought-after trophies an amateur racer can have.
You can count on names like Nicco Izzi,
Austin Stroupe
, Kyle Cunningham, Zack Osborne, Mathew Lemoine, and others to be throwing it down in a quest to put their name on one of those trophies, just like Bradshaw, Windham, Carmichael, and Alessi did before them.
Thanks for reading. See you next week!
Share this article:
Did you like this article?
Check out MOTO GIFT GUIDE
in our Latest issue of Racer X available now.

Our annual gift guide has something (or maybe even a few somethings) for everyone on your holiday list. Page 146.