Russell Fends off Mullins for GNCC Title
Monday, October 28, 2013 | 9:25 AM Tweet

CRAWFORDSVILLE, Indiana - Heading into the final round of the 2013 AMSOIL Grand National Cross Country Series, only two points separated Factory FMF/KTM teammates Kailub Russell and Charlie Mullins in the National Championship standings. The 19th running of the AMSOIL Ironman GNCC set the stage for an epic finale as it was a winner-take-all affair at the AMSOIL Ironman GNCC finale and it was Russell who prevailed, clinching his first career XC1 Overall National Championship after three-hours of close racing competition.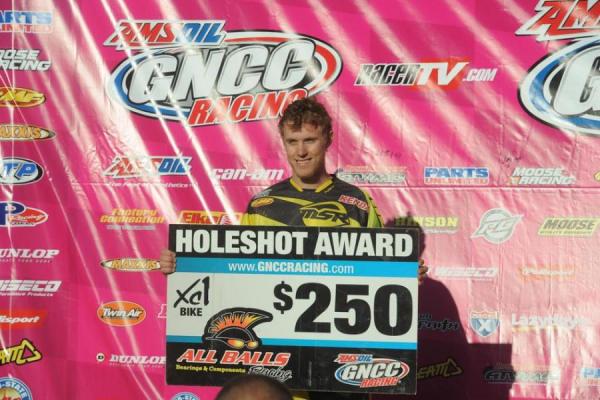 Jordan Ashburn claims his first $250 All Balls Racing XC1 Holeshot Award of the season.
Ken Hill photos
It wasn't without a fight from his teammate Mullins, who lead in the early portion of the race after battling with AmPro Yamaha teammates Paul Whibley and Jordan Ashburn on the opening lap. It was Ashburn who captured the $250 All Balls Racing XC1 Holeshot Award, as he led Whibley, Mullins, Russell and Rocky Mountain ATV/MC's Josh Strang into the woods.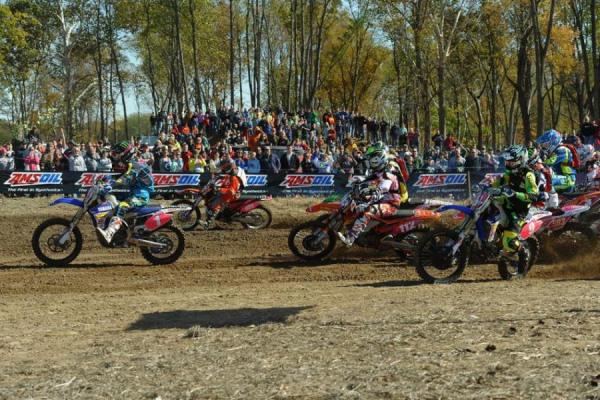 Whibley (1), Mullins (112) and Ashburn (9) got out to an early lead at the Ironman.
On the opening lap, GNCC officials were forced to hold Russell for 15 seconds due to an infraction on the starting line after he inadvertently started his bike prior to the green flag, indicating the start of the race.
"I usually rest my thumb on my starter before the ten seconds call but this time I put a little too much pressure on it. I made a mistake and they penalized me for it," Russell stated.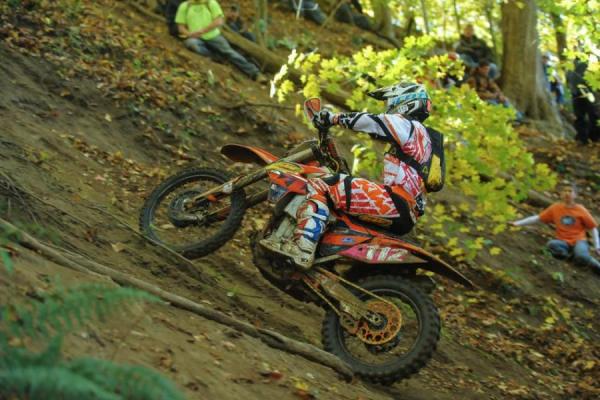 Charlie Mullins put forth a hard fought battle to finish second overall for the season.
That didn't stop a hungry Russell from making his way to the front of the field by the end of Lap 1, where Mullins tucked in behind his teammate for the second place spot. The duo flip-flopped the lead a few times from there and it was Whibley who fell into the third place position early on.
However, it didn't take long for DuVall and Strang to join Whibley for the battle. Midway through the race, DuVall and Strang made the pass on Whibley for the third place battle but just as quickly as they excelled, both riders fell victim to the rough Ironman terrain. Strang and DuVall both experienced crashes that kept them from finishing the season finale in Indiana.
The misfortune of DuVall and Strang led to a favorable opportunity for the reigning XC1 Champion Paul Whibley, as he was able to reclaim the third place position. FMF/RPM/KTM's Rory Mead turned it up in the second half of the race, jumping from eighth place all the way into the fourth place position. Ashburn dropped into the fifth place spot, where he then set his sights on Mead ahead.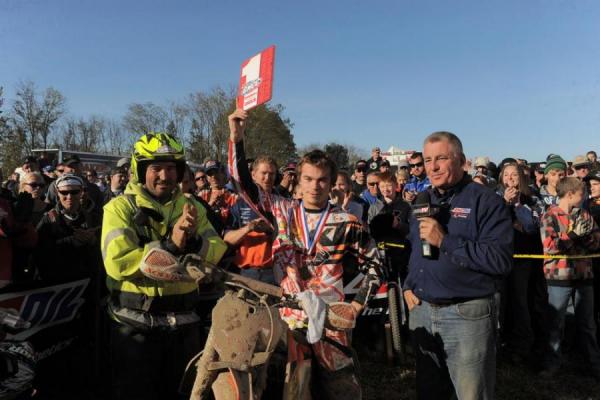 GNCC official Tim Cotter presents Kailub Russell with the National #1 plate.
Despite a valiant effort by Mullins, Russell was able to maintain his lead and finish 36 seconds ahead of his teammate to claim his first career XC1 Overall National Championship at the AMSOIL Ironman GNCC finale.
"It's been great season but it hasn't been without its struggles, that's for sure," Russell said. I was forced to dig myself out of a hole in the points earlier in the season and I gave myself another shot at the championship today and it's a great honor to be up here and battle with some of the best guys in the world."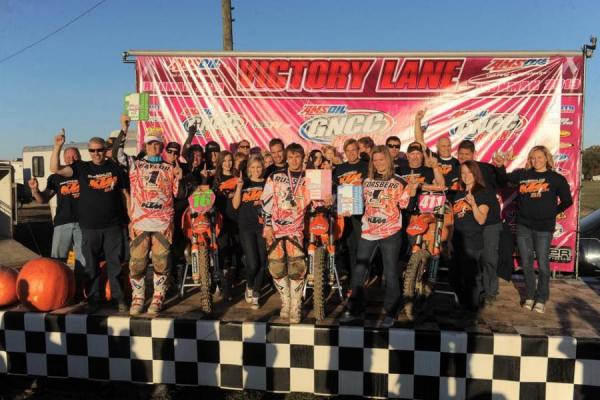 Congratulations to the Factory KTM team for a successful 2013 GNCC season.
Only seven points away from a second career championship, the 2011 Overall National Champion Mullins finished second overall for the day at the Ironman. Mullins ends the season with a total of five overall wins in 2013.
"It was a fun year. What can I say, Kailub rode well today and I gave it everything I had and came up a little short," Mullins said. "Somebody had to lose and I guess it was me this year but I can't be bummed about too much since I stayed healthy. It's good fuel for the fire next year and hopefully come back strong and go after the #1 plate in 2014."
Whibley rode on to capture his second consecutive podium finish after coming back from a mid-season injury. The two-time GNCC Champion and New Zealand native will round out the 2013 season with the fifth place overall position in the championship standings.
"This is the premier off-road racing series in the world, everyone dreams about coming to GNCC and for me to come over here and win championships and get podium finishes is awesome," Whibley said. "I'm just happy to be over here racing these guys and to come back and have two podiums at the end of the season is a good way to end it and I'm looking forward to the 2014 season."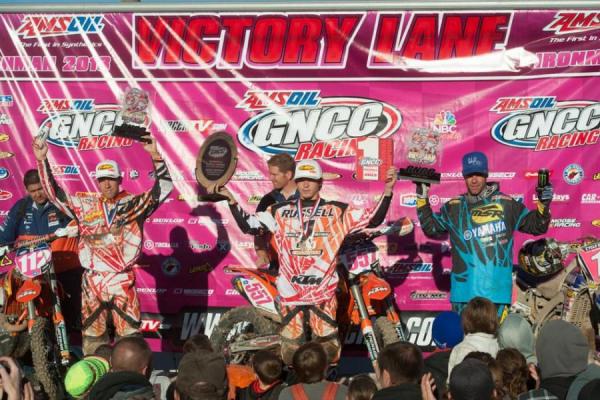 XC1 podium: (left) Charlie Mullins (left), Kailub Russell, Paul Whibley.
Mead was able to hold off Ashburn to capture the fourth place position, while Ashburn finished just ahead of his teammate Ricky Russell in the sixth place spot. Litz Racing/Honda's Takeshi Koikeda finished seventh, followed by Adam Bonneur in eighth and Justin Bonita and Chris Bach rounded out the top ten in the XC1 Class.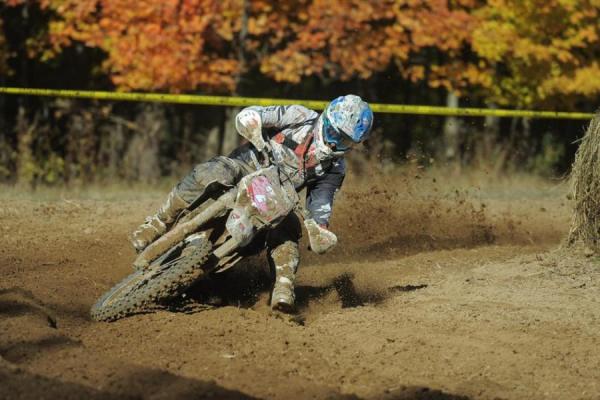 Andrew Delong bids farewell to the XC2 Pro Lites Class with the final win of 2013.
In the XC2 Class, it was F.A.R Husky's Andrew DeLong who once again topped the XC2 Pro Lites division, followed by Ohio's Scott Grills in the second place position. Pennsylvania's Shane Hufford Jr. maintained a sold position all afternoon, securing his third podium finish of the season in the XC2 Class. Indiana's very own Zach Love captured the $100 DigitalOffroad.com Holeshot Award.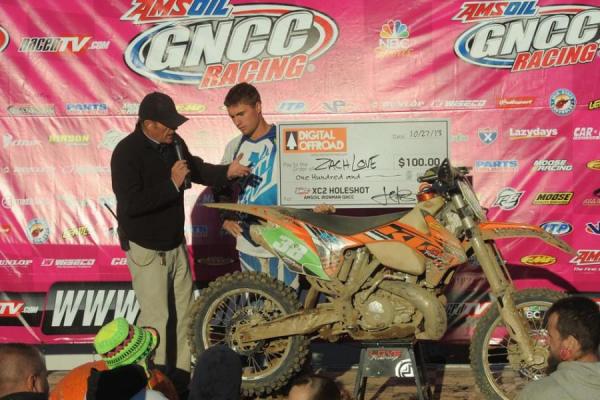 Indiana's Zach Love captured his first DigitalOffroad.com XC2 Holeshot Award.
The XC2 Pro Lites Championship came down to the final round between KTM Support Rider Grant Baylor and DirtWise Schools/KTM-Parts.com/Maxxis rider Jason Thomas. The Ironman finale presented a rough and tumble course to the competitors as reigning XC2 Champion Jason Thomas rounded out his day with a fourth place finish in the class. Baylor knew what he had to do in order to clinch the championship so the 16-year-old played it safe as he cruised in for a sixth place finish in the class, just behind the fifth place rider of Morgantown Powersports-backed Layne Michael, aboard his all-new CRF-250.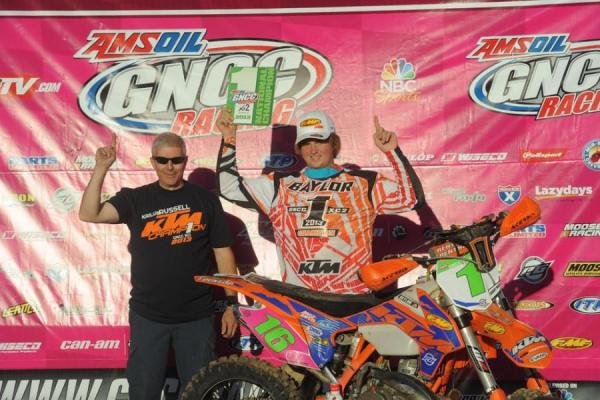 Grant Baylor clinced the XC2 Pro Lites Championship at the young age of 16.
Baylor's sixth place finish was enough to capture his first career XC2 Pro Lites Championship in his rookie season in the class.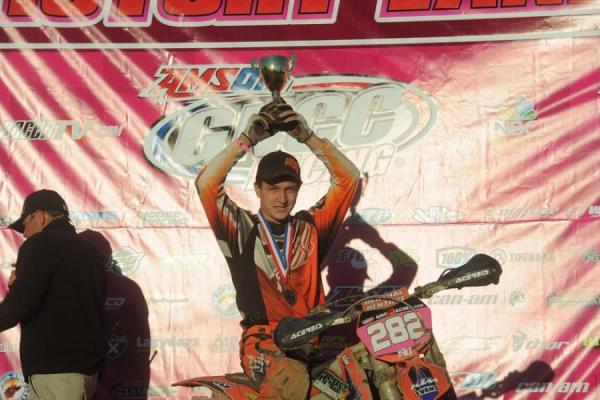 Indiana's own Mike Witkowski claimed the Top Amateur Honors with 17th Overall.
Indiana's Mike Witkowski claimed the Top Amateur Award in front of his home state friends and family at the Ironman season finale, claiming 17
th
overall for the day and the 250 A Class victory.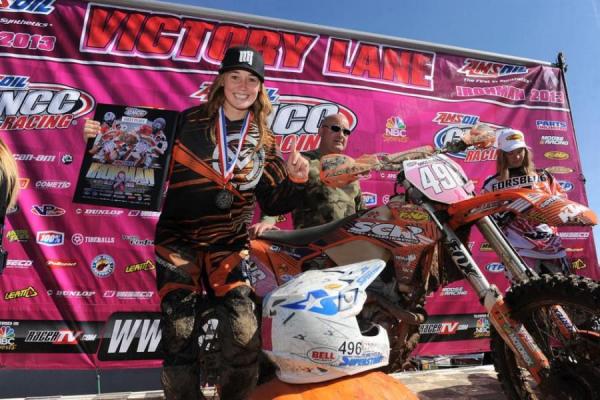 Kacy Martinez captured her second Morning Overall at the season finale.
RPM/KTM's Kacy Martinez earned her second Morning Overall of the season at Ironman, besting her toughest competition of the season Maria Forsberg. While she didn't get the final overall win of the season, Factory FMF/KTM's Forsberg clinched the 2013 Women's Class Championship as she announced her retirement from full-time off-road racing.
North Carolina's Braxton McGee topped the Youth Overall podium once again, claiming his sixth overall victory of the season. Braxton was followed closely on the overall podium by the second place finisher in the Super Mini (14-15) Class, South Carolina's Cole Mattison. In his GNCC Racing debut, amateur motocross star Chase Sexton topped the Super Mini (12-13) Class, claiming the third and final position on the overall Youth podium.
That concludes the 2013 AMSOIL Grand National Cross Country Series. The top 10 in each National Championship Class will be recognized at the Season Celebration in Morgantown, W. Va., on November 22 and 23. For more information on the series, please visit www.gnccracing.com.
Stay up-to-date with exclusive content from the 2013 AMSOIL GNCC Series by following the series Facebook, Twitter and Instagram.
AMSOIL Ironman GNCC
Crawfordsville, Indiana
Round 13 of 13
Sunday, October 27
XC1 Overall
1. Kailub Russell KTM
2. Charlie Mullins KTM
3. Paul Whibley Yam
4. Rory Mead Yam
5. Jordan Ashburn KTM
6. Ricky Russell Yam
7. Takeshi Koikeda Hon
8. Adam Bonneur Kaw
9. Justin Bonita KTM
10. Chris Bach OTH
11. Tim Weigand Hon
12. Thad DuVall Hon
13. Robert Kvarnstrom BET
14. Steward Baylor KTM
15. Jedediah Haines Yam
16. Josh Strang Kaw
Overall National Championship Standings
1. Kailub Russell 335pts KTM
2. Charlie Mullins 328pts KTM
3. Chris Bach 192pts KTM
4. Josh Strang 176pts Kaw
5. Paul Whibley 169pts Yam
6. Thad DuVall 161pts Hon
7. Jordan Ashburn 156pts Yam
8. Grant Baylor 143pts KTM
9. Jason Thomas 139pts KTM
10. Andrew DeLong 121pts HSQ
XC2 Overall
1. Andrew Delong HSQ
2. Scott Grills Kaw
3. Shane Hufford KTM
4. Jason Thomas KTM
5. Layne Michael Hon
6. Grant Baylor KTM
7. Ian Blythe KTM
8. Travis Coy KTM
9. Ryan Lojak Yam
10. Derrik Allen Yam
11. Goncalo Reis KTM
12. Samuel Evans KTM
13. Zach Love KTM
14. Chris Douglas KTM
15. Michael McGinnis Suz
XC2 Series Standings
1. Grant Baylor 272pts KTM
2. Jason Thomas 254pts KTM
3. Andrew Delong 241pts HSQ
4. Shane Hufford 195pts KTM
5. Scott Grills 161pts Kaw
6. Layne Michael 136pts Hon
7. Samuel Evans 126pts KTM
8. Chris Douglas 123pts KTM
9. Travis Coy 119pts KTM
10. Michael McGinnis 115pts Suz
Women Overall
1. Kacy Martinez KTM
2. Maria Forsberg KTM
3. Jessica Patterson Yam
4. Becca Sheets Yam
5. Karylnn Beam KTM
Women Point Standings
1. Maria Forsberg 179pts KTM
2. Kacy Martinez 173pts KTM
3. Becca Sheets 158pts Yam
4. Jessica Patterson 147pts Yam
5. Hannah Otto 142pts KTM
Share this article:
Did you like this article?
Check out KING CAIROLI
in our Latest issue of Racer X available now.

Americans know very little about seven-time FIM World Champion Tony Cairoli, but in Europe he's treated like royalty. Page 102.
Look for the verified symbol
The Conversation