by
Chase Stallo
250 Words: Ryan and Ryan Deflect
Saturday, October 19, 2013 | 2:00 AM
GYTR (Genuine Yamaha Technology Racing)
is Yamaha's performance and racing accessory brand. GYTR products are developed and tested to the highest standards by Yamaha's in-house factory engineers. Used extensively by the Yamaha Race Teams, these factory parts are readily available to every Yamaha rider.
Tweet
"That's what MTV's for," joked Ryan Villopoto during the Monster Energy Cup pre-race press conference when asked why he and Ryan Dungey's rivalry lacked "fire". Dungey, sitting directly beside his main competitor over the last four years couldn't hold back … as he cracked a grin, and laughed right alongside his "rival".
The biggest rivalry in the sport today is based more on respect than anything. "I think racing against Ryan … you know, he's clean, and we race each other smart and there's respect," said Dungey.
Lost in the wind of the heated rivalries of old—think Hannah and Howerton, Bradshaw and Matiasevich, Stewart and Reed—the Ryans have always deflected questions surrounding their battle for supremacy. Controversy is not in their demeanor. On the track, they want to beat but not kill each other, and off the track, there is nothing but respect.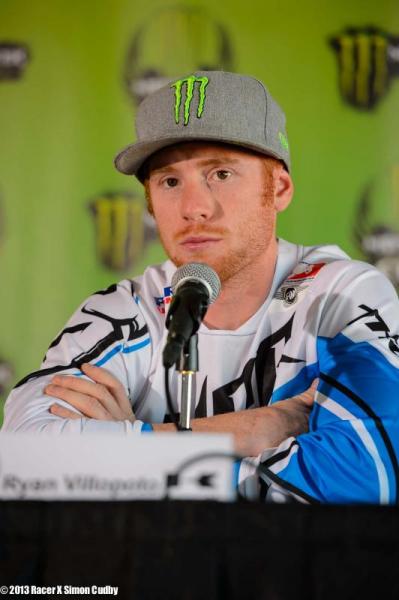 The Ryans have a respect for one other on, and off, the track.
Simon Cudby photo
Humanity loves drama, and that's why reality TV is so darned popular. Takes you right back to RV's "That's what MTV's for" comment. It's in our DNA. Other professional sports feed off this back and forth banter. SportsCenter runs continuous loops of off-handed comments against another player, or team, or coach, or trainer for that matter. They hammer the point home, and people eat it up.
But maybe we have something better here. The Ryans have a deep respect for each other because they have both chosen the right way to do things. All they're doing is both giving it their all. So maybe the rivalry isn't heated, maybe there aren't one-liners and trash talk to crash the message boards. But when the gate drops and the two of them are on it, you can't say they don't produce some darned good entertainment.
Share this article:
Did you like this article?
Check out THE MOTOCROSS OF 40 NATIONS
in our Latest issue of Racer X available now.

The 2013 FIM Motocross of Nations at Teutschenthal, Germany, hosted teams from a record forty countries. Here's how it played out for each of them. Page 90.
Look for the verified symbol
The Conversation