by
Steve Matthes
Insight: de Dycker and van Horebeek
Monday, September 30, 2013 | 11:30 AM
Since 1990, the driving force for
Allsport Dynamic's
products has come from the physically demanding sport of motocross.  From the entire Allsport team, comes a true commitment to helping others and a dedication to make the best products possible in both design and function.
Tweet
The motocross-loving nation of Belgium has the Chamberlain Trophy back, courtesy of Clement Desalle, Ken de Dycker and Jeremy van Horebeek. Desalle ended the day happy to win, but also with a dislocated shoulder from a first-turn crash in the final moto. Our Steve Matthes did find de Dycker and van Horebeek to chat about their historic victory.
Racer X: Congratulations, first of all. First moto, not so good, but second moto, quite a ride.
Ken de Dycker: Yes, thanks. This year I have been always doing better in the second motos, I'm happy the second moto ended up like this, because otherwise I would have had a shitty winter thinking about it. I would have been thinking about this all winter! Second moto, second place, behind this small teammate of mine [fellow KTM rider, Cairoli]. He's a good teammate of mine and we have lots of fun.
When did you know you won?
Three laps from the end, they just said I needed to take over Max [Nagl] for us to take the win. So I pushed a little bit harder, I made a few mistakes, then he made a few mistakes, so I could catch up as pass him. So that was good.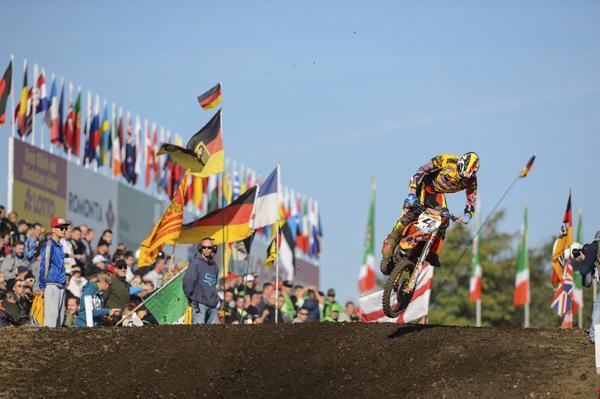 Ken de Dycker's second in the final race secured the title for Team Belgium.
Simon Cudby photo
First moto, not the result you wanted?
No, I struggled, no good lines. I think I was only 18th after the start. I couldn't find the pace, I was starting to get arm pump and things like that. First motos this year have been really not so good.
Track was a lot different than GPs here in the past.
Yeah I've never seen the place like this. Normally it's very fast and there is not much overtaking. The bumps and the ruts, it's much different. During our season, they make the track flat on Saturday night, but here they didn't do anything. You have to adjust to it.
Career highlight for you?
Oh yeah, it's very good, but I think having won two GPs, I think that's still better.
"Every year we have something, and this year with Clement, he hurt his shoulder, and we were like, "This is it. It's over again." But we put ourselves together and it worked good." - Jeremy van Horebeek
Jeremy van Horebeek
Racer X: You dropped down to MX2. How was it?
Jeremy van Horebeek: It was tough because I only had two weeks to prepare from the MX1 bike to MX2. But I felt good, the first moto I was a little bit nervous. I was seventh, it was okay. Second moto I felt better, but I went down with some other rider, and I had to work my ass off from 34th to seventh again. I rode some awesome lap times second moto. For me on an MX2 bike, I'm happy with my riding.
How was the bike? You didn't have much testing time, obviously.
The bike was from Bud Racing Kawasaki, the GP team, and it was really good. I really need to thank those guys.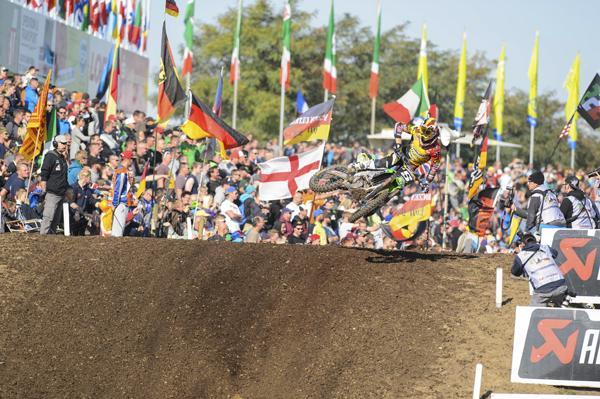 Jeremy van Horebeek dropped down to MX2 for the Belgians.
Simon Cudby photo
How long into the race did you know you won?
I was down there in the pit lane, and we were [staying] on top of it the whole time. It was close, America was coming back, and also Tony [Cairoli, Team Italy] was in first so the lead was getting less and less and less. I was getting really nervous, and the last two laps, I couldn't watch anymore! You know as a kid, you dream about winning the 'Nations, and last year we were so close but I broke the bike. Every year we have something, and this year with Clement, he hurt his shoulder, and we were like, "This is it. It's over again." But we put ourselves together and it worked good.
Ken had a so-so first moto but he really rode well in the second moto.
Yeah he worked really hard and I'm proud of him, he did awesome.
Share this article:
Did you like this article?
Check out KING CAIROLI
in our Latest issue of Racer X available now.

Americans know very little about seven-time FIM World Champion Tony Cairoli, but in Europe he's treated like royalty. Page 102.
Look for the verified symbol
The Conversation