by
Chase Stallo
Racer X Race Report: Southwick
Saturday, June 29, 2013 | 10:55 PM
Since 1968,
Thor
has maintained its position as a top motocross apparel brand. From trails, deserts, to the most famous racetracks in the world,
Thor
supports racing on the track and off with its sponsorship of race reports.
Tweet
The legendary Pierre Karsmakers won the first ever national held at Moto-X 338 in Southwick, Massachusetts, back in 1976. More than 30 years later, the historic sand track nestled in the middle of the city of Southwick held what will be the last national at the "sand pit." The legendary track offered one more picturesque day of racing to a rabid New England fan base.
Red Bull KTM's Ryan Dungey entered with momentum on his side following his second overall win of the season one week ago at the Red Bull Budds Creek National. This time, at the ChaplanKawasaki.com Moto-X 338 National, Dungey was able to wrangle away the overall for the second straight race after a come-from-behind win in moto 1 and a solid second in moto 2 behind Monster Energy Kawasaki's Ryan Villopoto. In the 250 Class Eli Tomac used a dominant moto 1 win and a gaudy charge to second in the second moto to claim his second overall on the season, just edging Red Bull KTM's Ken Roczen's 3-1 scores.
In the Women's Motocross Class, the 2013 Triple Crown finished with some drama, as N-Fab TiLUBE Yamaha's Jessica Patterson completed an impressive come-from-behind charge in points to claim the overall win with 1-1 scores, and with it overtake Honda Muscle Milk's Sayaka Kaneshiro in the standings to claim the Triple Crown.
The first 450 moto of the day could have changed the course of the series. Yoshimura Suzuki's James Stewart nailed down the Motorcycle-Superstore.com holeshot, but what happened behind stole the headlines. A first turn pileup collected the likes of Brayton, Rattray, and the two hottest riders in the series—Dungey and Villopoto. Dungey got going mid pack, but Villopoto came out on the short end, as he was held deeper in the pile. He compounded matters moments last as he tangled with Ryan Sipes and Evgeny Mikhaylov—going down for the second time.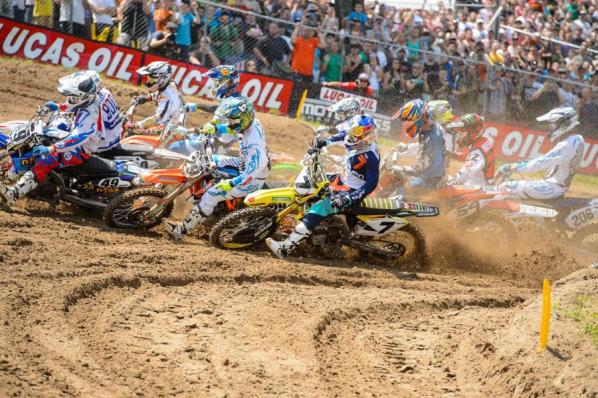 James Stewart took the early lead in moto 1, but was derailed by a crash.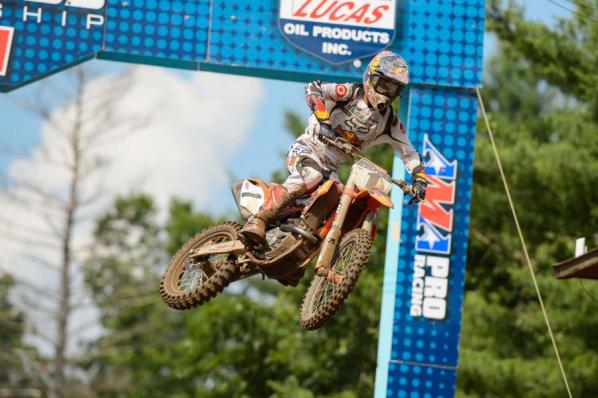 Ryan Dungey won the first moto and his second consecutive overall at Southwick.
Simon Cudby photos
Up front Stewart was joined by Andrew Short, Phil Nicoletti, Chad Reed and the returning Brett Metcalfe. With both Dungey and Villopoto buried in the pack, Stewart had clear sailing up front. With a sizeable lead and his first moto win of the season within his grasp, Stewart swapped on the face of an extremely rutted jump, ejecting hard off the bike. The same jump claimed Trey Canard, who moments earlier had a hard crash while running inside the top five. Both riders were unable to finish the race, but would return for moto two.
With Stewart out, Andrew Short inherited the lead for the first time in 2013, with Metcalfe and a hard charging Dungey on his heels. Dungey moved his way around Metcalfe, setting his sights on Short for the lead.
Although he looked dead in the water moments earlier, Villopoto was actually in the midst of a historic charge through the pack. In the span of a little more than 25 minutes, VIllopoto had maneuvered his way into fifth and was looking to gain more ground as Metcalfe and Justin Barcia were not far off in the distance.
With RV making short work of the field, Dungey knew he needed to press the issue up front. With three to go Dungey was on the rear wheel of Short for the lead as RV was pushing past Metcalfe and onto Barcia. Dungey struck, taking the lead away from Short, which left a three way battle between Barcia, Villopto and Metcalfe for the podium. Villopoto tried to make a late move on Barcia, but the young rookie held the veteran at bay to hold on for third. Metcalfe, Phil Nicoletti, Chad Reed, Mike Alessi, Jake Weimer and Tyla Rattray would round out the top ten.
The second moto played more along the lines of what the season has looked like up to this point: RV and Dungey out front, the rest battling for a podium. It was VIllopoto snagging the Motorcycle-Superstore.com holeshot with big name players Dungey, Barcia and Stewart all within striking distance.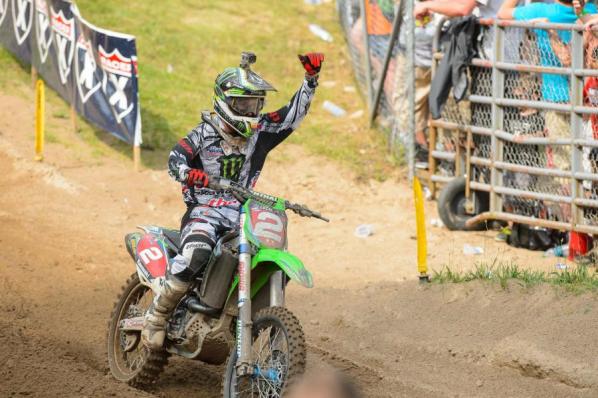 Ryan Villopoto won the second moto in dominant fashion, but a fourth in moto one held him to second overall.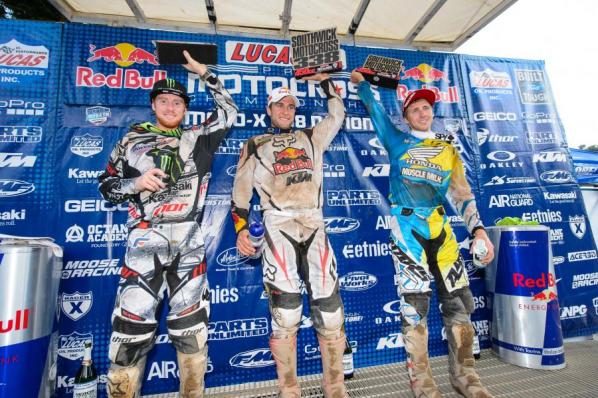 Villopoto, Dungey and Barcia on the 450 podium.
Dungey was clicking off solid laps early, taking tenths of seconds off RV's lead, even cutting it to within a second at one point. But as the moto wore on, Villopoto was too strong for Dungey and the field as he pulled away to the moto win. Stewart would challenge Barcia for brief moments for third, but in the end Barcia got away. Trey Canard, Brett Metcalfe, Justin Brayton, Tyla Rattray, Malcolm Stewart and Broc Tickle would round out the moto top ten.
Dungey 1-2 scores were good enough to secure his second consecutive overall. Villopoto (4-1) and Barcia (3-3) joined him on the podium.
The 250 Class has featured four different overall winners—Eli Tomac, Ken Roczen, Marvin Musquin and Blake Baggett—through five rounds, leaving many questions on the table for round six.
GEICO Honda's Wil Hahn extended his Motorcycle-Superstore.com holeshot streak to three as he muscled his way around the first corner ahead of teammate Eli Tomac. But it was Massachusetts native Jimmy Decotis that had the crowd in an uproar as he snuck around the outside to settle into third in his first race back after a brief stint racing the GPs in Europe. A blown motor on the last lap would tailor the hype of his return, as he was running in 11th but he ended up finishing the moto 29th. Early leader Wil Hahn also had bike problems while running in fifth leading to a DNF.
Starts have killed Eli Tomac's momentum this season, but Southwick told a much different story. Tomac used a terrific start in the first moto to knife his way into the lead early. The second moto winner from a week ago dominated the field en route to his second consecutive moto win.
While Tomac was pulling away, points leader Ken Roczen was left trying to carve his way through the deep field from outside the top ten. Worse, his teammate Marvin Musquin was down in the first turn. While Roczen was able to pick his way past the likes of Osborne and Jason Anderson, amongst others, Musquin was only able to muster a tenth place finish.
Baggett, known for his late drive in the late motos was never able to challenge Tomac, but did hang on for second. Roczen caught him at one point and challenged him for second, but then he went down. He would hold on for third. Bogle, Osborne, Anderson, Cooper Webb, Cole Seely, Adam Cianciarulo and Musquin would round out the top ten.
Bike problems for Wil Hahn continued before the gate dropped in the second moto, as he was left pushing his bike back after it stalled on the parade lap. The team was unable to fix the problem, leading to a bizarre DNS for Hahn.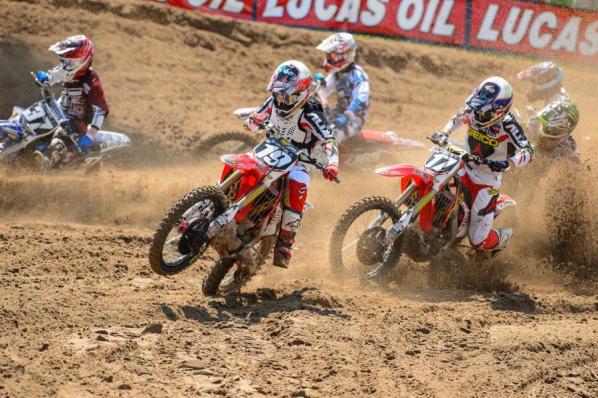 Wil Hahn grabbed the holeshot in moto 1.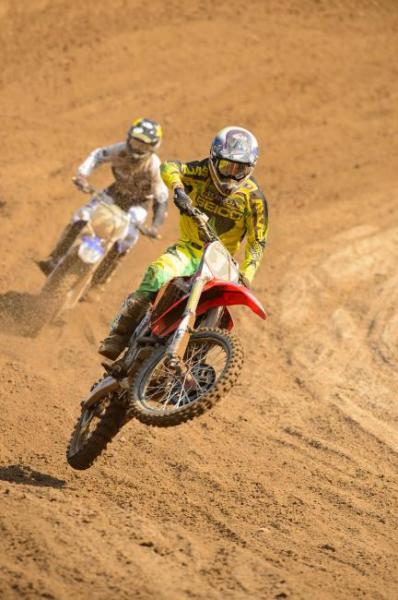 Eli Tomac won the first moto and the overall in the 250 Class.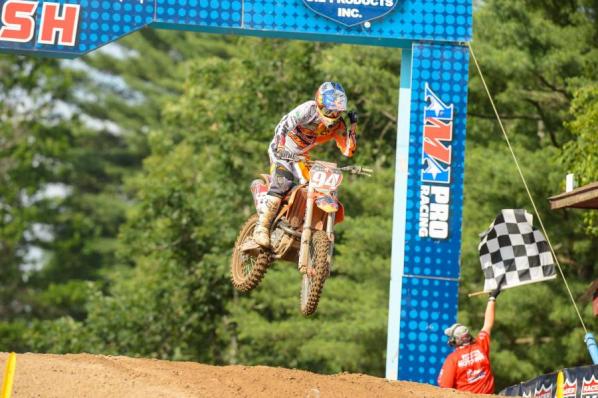 Ken Roczen would come back and win the second moto.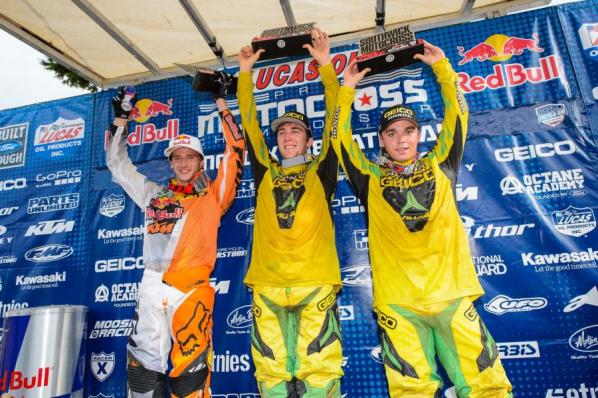 Zach Osborne (right) joined Roczen and Tomac on the 250 podium.
The vibrant New England fan base were brought to their feet again in the second moto, as local product Jimmy Decotis battled with Roczen and Musquin for the Motorcycle-Superstore.com holeshot. Roczen was able to nudge by his teammate and Decotis to take the early lead, and all looked well for the Red Bull KTM duo.
Especially with Moto 1 winner Eli Tomac buried outside the top ten off the start. But like a week ago at Budds Creek he was near the front in a flash. He quickly worked his way up to the group of Osborne, Anderson and Musquin, breaking the sinking Musquin first. He then moved on to Anderson. The Rockstar Energy Racing rider provided more resistance as he and Tomac went bar to bar for a few turns, before Tomac was able to pressure Anderson into a small mistake that allowed him to secure second. Tomac then went to work on his teammate, again receiving some resistance. Ultimately, though, the pressure would get to Osborne, and Tomac made the pass.
Eli Tomac's 1-2 scores were good enough for his second overall on the season. Roczen (3-1) and Osborne (5-3) would round out the overall podium.
Six-time WMX Champion Jessica Patterson entered the final round of the WMX Triple Crown facing a fourteen-point deficit to Sayaka Kaneshiro—who was looking for her first title. Patterson was dealt a gift in the first moto when Kaneshiro went down while running in second and was only managed a seventh place finish. Patterson would cruise to the win followed by Mackenzie Tricker and Jacqueline Strong.
That meant that just three points separated the two for the last moto of the season. In a fitting finale for the Southwick National, which has seen its share of bad weather through the years, the skies opened and the rain began to come down, Patterson was in a fight with Tricker for the moto win, with Kaneshiro not far behind. But the veteran was able to dig deep and secure the moto win ahead of Tricker and Kaneshiro. Patterson, who is moving to GNCC Racing full-time in 2014, will walk off into the sunset with the Triple Crown.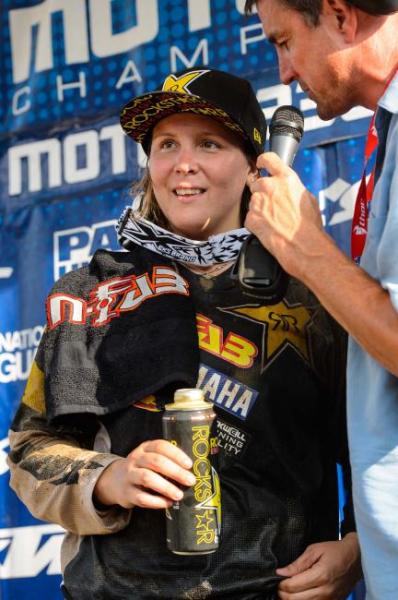 Jessica Patterson completed a nearly impossible title comeback at Southwick.
450MX Overall
1. Ryan Dungey 1-2 KTM
2. Ryan Villopoto 4-1 Kaw
3. Justin Barcia 3-3 Hon
4. Brett Metcalfe 5-6 Kaw
5. Andrew Short 2-16 KTM
6. Tyla Rattray 10-8 Kaw
7. Phil Nicoletti 6-13 Yam
8. Mike Alessi 8-12 Suz
9 Broc Tickle 11-10 Suz
10. Josh Grant 13-11 Yam
11. James Stewart 34-4 Suz
12. Chad Reed 7-18 Hon
13. Les Smith 12-14 KTM
14. Jake Weimer 9-17 Kaw
15. Trey Canard 35-5 Hon
16. Justin Brayton 32-7 Yam
17. Malcolm Stewart 20-9 Hon
18. Michael Byrne 15-15 KTM
19. Derek Anderson 14-26 Kaw
20. Robby Marshall 16-20 KTM

450 Point Standings
1. Ryan Villopoto 283
2. Ryan Dungey 271
3. Justin Barcia 219
4. Trey Canard 169
5. Mike Alessi 158
6. James Stewart 140
7. Tyla Rattray 119
8. Broc Tickle 115
9. Andrew Short 110
10. Jake Weimer 109
11. Phil Nicoletti 105
12. Malcolm Stewart 100
13. Ryan Sipes 95
14. Josh Grant 95
15. Justin Brayton 79
16. Chad Reed 74
17. Clement Desalle 58
18. Kevin Strijbos 45
19. Weston Peick 36
20. Dean Wilson 33
250MX Overall
1. Eli Tomac 1-2 Hon
2. Ken Roczen 3-1 KTM
3. Zach Osborne 5-3 Hon
4. Blake Baggett 2-8 Kaw
5. Jason Anderson 6-4 Suz
6. Cole Seely 8-7 Hon
7. Kyle Cunningham 13-5 Yam
8. Marvin Musquin 10-9 KTM
9. Adam Cianciarulo 9-12 Kaw
10. Alex Martin 12-11 Yam
11. Justin Hill 14-10 Kaw
12. Justin Bogle 4-33 Hon
13. Darryn Durham 11-14 Kaw
14. Jeremy Martin 35-6 Yam
15. Cooper Webb 7-34 Yam
16. Jackson Richardson 16-16 Hon
17. Brady Kiesel 15-17 Yam
18. Jimmy Decotis 29-13 Hon
19. Jess Wentland 17-18 KTM
20. Blake Wharton 39-15 Suz

250 Point Standings
1. Ken Roczen 265
2. Eli Tomac 258
3. Blake Baggett 223
4. Marvin Musquin 222 KTM
5. Zach Osborne 185
6. Jason Anderson 161
7. Kyle Cunningham 131
8. Jeremy Martin 124
9. Justin Bogle 122
10. Cooper Webb 113
11. Justin Hill 109
12. Cole Seely 104
13. Joey Savatgy 89
14. Blake Wharton 85
15. Darryn Durham 84
16. Martin Davalos 73
17. Alex Martin 48
18. Dillan Epstein 37
19. Adam Cianciarulo 32
20. Wil Hahn 31
WMX Overall
1. Jessica Patterson 1-1 Yam
2. Mackenzie Tricker 2-2 Yam
3. Sara Pettersson 4-4 KTM
4. Sayaka Kaneshiro 7-3 Hon
5. Lindsey Palmer 8-5 Kaw
6. Taylor Higgins 6-8 Hon
7. Marissa Markelon 5-12 Yam
8. Sade Allender 12-7 Hon
9. Brianna DeGray 10-9 Hon
10. Amanda Brown 14-6 Hon

WMX Point Standings
1.  Jessica Patterson 122 *2013 WMX Champion
2. Sayaka Kaneshiro 120
3. Taylor Higgins 100
4. Mackenzie Tricker 99
5. Sara Pettersson 94
6. Jacqueline Strong 81
7. Lindsey Palmer 71
8. Amanda Brown 66
9. Sade Allender 64
10. Marissa Markelon 55
Share this article:
Did you like this article?
Check out MOTO GIFT GUIDE
in our Latest issue of Racer X available now.

Our annual gift guide has something (or maybe even a few somethings) for everyone on your holiday list. Page 146.
Look for the verified symbol
The Conversation