Yamaha Wake-Up Call
Monday, May 21, 2012 | 6:00 AM Tweet

Lucas Oil Pro Motocross Championship
Hangtown - Sacramento, CA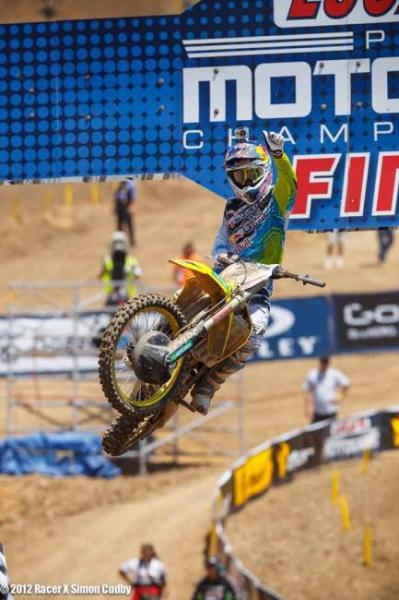 James Stewart went 1-1 in his return to the Lucas Oil Motocross Championship to claim the overall.
Simon Cudby photo
450 Moto 1 Overall

Robby Kiniry
Sean Collier
Ben LaMay
Derek Anderson
Dusty Pipes
Preston Mull
Dalton Carlson
Michael Giese
Dakota Kessler
Josh Greco
Blake Ballard
Kevin Rookstool
Ryan Hughes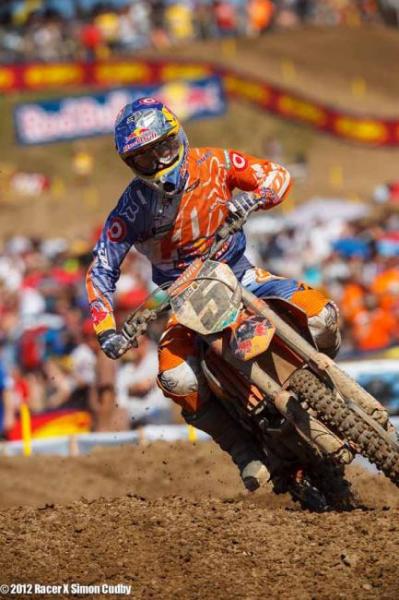 Ryan Dungey finished second overall behind James Stewart.
Simon Cudby photo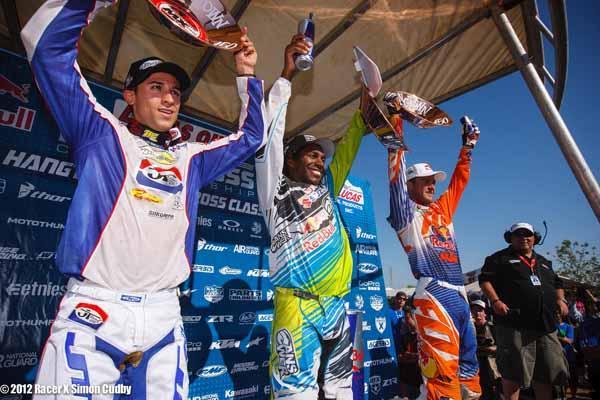 Mike Alessi (left) would round out the 450 podium.
Simon Cudby photo
250 Overall
1. Blake Baggett Kaw 1-1
2. Justin Barcia Hon 3-2
3. Ken Roczen KTM 2-3
4. Ivan Tedesco Kaw 6-5
5. Eli Tomac Hon 4-10
6. Martin Davalos Suz 14-4
7. Kyle Cunningham Yam 9-8
8. Jason Anderson Suz 8-9
9. Marvin Musquin KTM 5-14
10. Wil Hahn Hon 7-13
11. Jake Canada Hon 10-11
12. Blake Wharton Suz 16-6
13. Travis Baker Hon 15-12
14. Gareth Swanepoel Yam 12-15
15. Justin Bogle Hon 21-7
16. Jessy Nelson Hon 13-17
17. Kyle Peters Yam 11-30
18. Hunter Hewitt Suz 17-16
19. AJ Catanzaro KTM 18-18
20. Shane Sewell KTM 19-19
21. Alex Martin Hon 23-20
22. Killy Rusk Hon 20-37
23. Dakota Tedder Kaw 24-25
24. Scott Champion Hon 34-22
25. Tevin Tapia KTM 39-21
26. Malcolm Stewart KTM 25-39
27. Topher Ingall Hon 35-31
28. Joey Peters Yam 22-28
29. Zack Freeberg KTM 26-35
30. Brad Nauditt Hon 29-26
31. Travis Bell Hon 30-32
32. Robert Noftz Hon 28-34
33. Landen Powell Hon 31-29
34. Steve Roman Yam 32-33
35. Chris Plouffe Hon 33-36
36. Dean Wilson Kaw 36-40
37. Phil Nicoletti Hon 40-38
38. Johnny Jelderda Hon 27-27
39. Preston Tilford Hon 38-23
40. Jason Potter Hon 37-34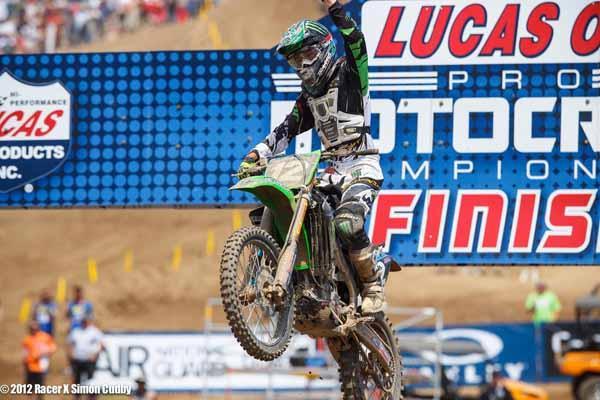 Blake Baggett went 1-1 for the overall in the 250 class.
Simon Cudby photo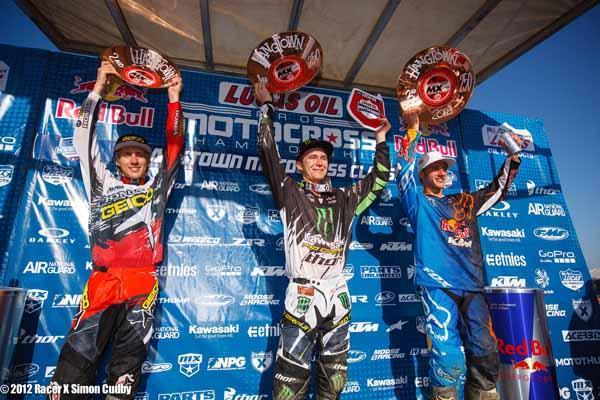 Justin Barcia (left) and Ken Rozen (right) would join Baggett (middle) on the 250 podium.
Simon Cudby photo
250 Points Standings
Blake Baggett 50pts. Kaw
Justin Barcia 42pts. Hon
Ken Roczen 42pts. KTM
Ivan Tedesco 31pts. Kaw
Eli Tomac 29pts. Hon
Martin Davalos 25pts. Suz
Kyle Cunningham 25pts. Yam
Jason Anderson 25pts. Suz
Marvin Musquin 23pts. KTM
Wil Hahn 22pts. Hon
Jake Canada 21pts. Hon
Blake Wharton 20pts. Suz
Travis Baker 15pts. Hon
Gareth Swanepoel 15pts. Yam
Justin Bogle 14pts. Hon
Jessy Nelson 12pts. Hon
Kyle Peters 10pts. Yam
Hunter Hewitt 9pts. Suz
AJ Catanzaro 6pts. KTM
Shane Sewell 4pts. KTM
WMX Moto 1 Overall
1. A. Fiolek
2. J. Patterson
3. T. Gieger
4. S. Price
5. S. Kaneshiro
6. K. Creson
7. M. Balbi
8. M. Rutledge
9. H. Larson
10. L. Palmer
11. S. Petterson
12. S. Whitmore
13. A. Brown
14. J. Strong
15. J. Ives
16. S. Allender
17. T. Miller
18. S. Dickson
19. A. Pearson
20. A. Zastrow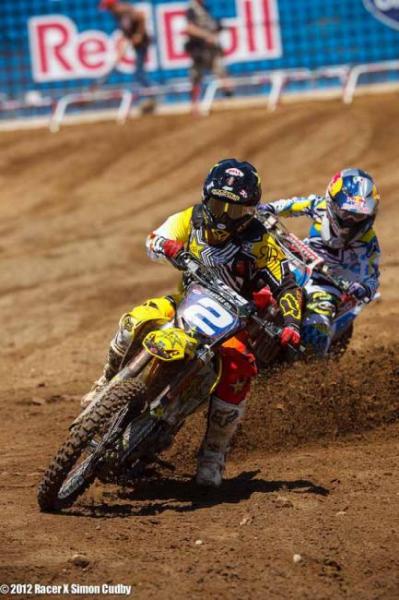 Jessica Patterson used 2-2 moto scores to take the overall at Hangtown.
Simon Cudby photo
WMX Moto 2 Overall
M. Rutledge
J. Patterson
T. Gieger
S. Kaneshiro
A. Fiolek
K. Creson
A. Maheu
M. Balbi
S. Pettersson
J. Strong
L. Palmer
A. Pearson
H. Larson
B. Marcotte
S. Allender
T. Miller
B. DeGray
A. Brown
M. McClain
A. Brown
WMX Points Standings
Jessica Patterson 44pts. Suz
Ashley Fiolek 41pts. Hon
Tarah Gieger 40pts. Hon
Meghan Rutledge 38pts. Kaw
Sayaka Kaneshiro 34pts. Hon
Kasie Creson 30pts. Hon
Mariana Balbi 27pts. Hon
Sara Pettersson 22pts. KTM
Lindsey Palmer 21pts. Kaw
Hailey Larson 20pts. Hon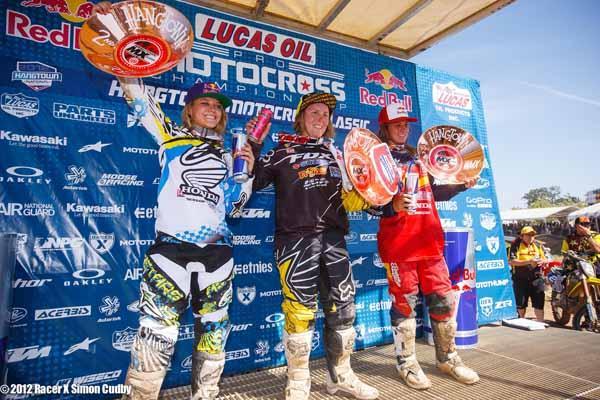 Fiolek (left) and Gieger (right) finished behind Patterson (center) at Hangtown.
Simon Cudby photo
FIM World Motocross Championship
Grand Prix of Brazil

MX1 Overall
1. Christophe Pourcel Kaw 1-4
2. David Philippaerts Yam 2-6
3. Kevin Strijbos KTM 5-3

4. Gautier Paulin Kaw 3-5
5. Rui Goncalves Hon 4-8
6. Xavier Boog Kaw 16-1
7. Clement Desalle Suz 13-2
8. Antonio Cairoli KTM 8-9
9. Evgeny Bobryshev Hon 9-10
10. Shaun Simpson Yam 7-12
11. Ken de Dycker KTM 6-13
12. Jonathan Barragan Hon 12-11
13. Matiss Karro KTM 10-14
14. Tanel Leok Suz 20-7
15. Davide Guarneri KTM 14-15
16. Dean Ferris Kaw 11-22
17. Alfie Smith Yam 15-18
18. Santtu Tiainen Kaw 17-19
19. Antonio Balbi Kaw 21-16
20. Herjan Brakke Yam 24-17


MX2 Overall
1. Tommy Searle Kaw 1-1
2. Christophe Charlier Yam 2-5
3. Jose Butron KTM 8-2
4. Jeremy van Horebeek KTM 3-6
5. Joel Roelants Kaw 5-4
6. Max Anstie Hon 4-7
7. Jeffery Herlings KTM 12-3
8. Jake Nicholls KTM 7-10
9. Alessandro Lupino Husq 11-8
10. Harri Kullas Suz 10-9
11. Jordi Tixier KTM 9-12
12. Glenn Coldenhoff KTM 6-15
13. Dylan Ferrandis Kaw 15-11
14. Petar Petrov Suz 14-14
15. Valentin Guillod KTM 13-16
16. Michael Leib Yam 24-13
17. Julien Lieber KTM 17-18
18. Marcal Muller KTM 16-20
19. Nikolaj Larsen Suz 23-17
20. Endrews Armstrong Hon 20-19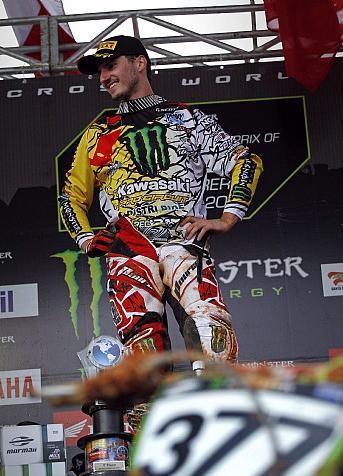 Christophe Pourcel used a moto 1 win to take the overall in Brazil.
Kawasaki photo

MX1 Points Standings

Antonio Cairoli 203pts. KTM

Clement Desalle 179pts. Suz
Christophe Pourcel 172pts. Kaw
Gautier Paulin 170pts. Kaw
Ken de Dycker 154pts. KTM
David Phillippaerts 142pts. Yam
Kevin Strijbos 139pts. KTM
Xavier Boog 129pts. Kaw

Rui Goncalves 110pts. Hon
Tanel Leok 107pts. Suz
Evgeny Bobryshev 92pts. Hon

Shaun Simpson 81pts. Yam
Jonathan Barragan 78pts. Hon

Mattis Karro 71pts. KTM
Davide Guarneri 59pts. KTM
MX2 Points Standings

Jeffery Herlings 223pts. KTM
Tommy Searle 203pts. Kaw
Jeremy van Horebeek 189pts. KTM
Joel Roelants 152pts. Kaw
Max Anstie 137pts. Hon
Jordi Tixier 128pts. KTM
Jake Nicholls 120pts. KTM
Dylan Ferrandis 107pts. Kaw

Alessandro Lupino 103pts. Husq
Harri Kullas 99pts. Suz

Jose Burton 95pts. KTM

Christopher Charlier 93pts. Yam
Petar Petrov 71pts. Suz

Michael Leib 69pts Yam
Glenn Coldenhoof
62pts KTM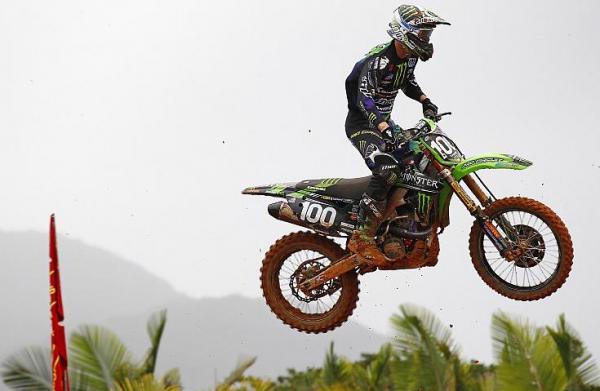 Tommy Searle cut into Jeffery Herlings points lead with a 1-1 in Brazil.
Kawasaki photo

Can-Am GNCC Championship

XC1 Points Standings
Kailub Russell 147pts KTM
Paul Whibley 147pts Yam
Charlie Mullins 121pts KTM
Rory Mead 105pts KTM
Thad DuVall 97pts Hon
Jordan Ashburn 89pts Yam
Chris Batch 79pts BET
Garrett Edmisten 78pts Kaw
Cory Buttrick 77pts KTM
Nathan Kanney 65pts Hon
Paul Whibley is now tied with Kailub Russell in the XC1 class.
Ken Hill//GNCCRacing.com photo
XC2 Points Standings
Steward Baylor 161pts KTM
Jason Thomas 118pts HUSQ
Jesse Robinson 111pts HUSA
Jedediah Haines 101pts YAM
Brad Bakken 97pts YAM
Andrew Delong 93pts. HSQ

Cody Gragg 65pts. Yam
Scott Grills 64pts. Hon
AJ Stewart 63pts. Yam
Michael McGinnis 52pts. KTM
Zach Nolan 46pts. KTM
Monster Energy MX Nationals Austrailan Nationals
Round 5 - Murray Bridge, AUS

Pro Open MX1 Overall
1. Todd Waters Suz
2.
Brad Anderson Hon
3.
Tye Simmonds Hon
4.
Lawson Bopping Yam
5. Cody Copper Suz
6.
Josh Coppins Yam
7.
Dan Reardon
KTM
8.
Daniel McCoy Suz
9. Dean Porter Suz Mike Philips Hon
10.
Jay Marmont Kaw
11.
Gordon Crockard Kaw
12. Tim Vare
13. Thomas Alexander
14. Calle Aspegren Hon
15. Beau Ralston
Pro Lites MX2 Overall
1. Josh Cachia KTM
2. Cheyne Boyd Hon
3. Ford Dale Hon
4. Justin McDonald Hon
5. Luke Styke Yam
6. Scott Columb Suz
7. Lewis Woods Suz
8. Kade Mosig Kaw
9. Errol Willis Suz
10. Nick Murray Suz
11. Kirk Gibbs Yam
12. Brock Winston KTM
13. Luke Arbon Yam
14. Adam Monea Suz
15. Corey Lucas
Todd Waters took the overall in the MX1 class.
Simon Makker/MotoOnline.com.au photo
Pro Open MX1 Points Standings

Josh Coppins 301pts. Yam
Todd Waters 280pts. Suz
Brad Anderson 274pts. Hon
Lawson Bopping 255pts. Yam
Tye Simmonds 234pts. Hon
Cody Cooper 232pts. Suz
Jay Marmont 207pts. Kaw
Jake Moss 171pts. Hon

Daniel McCoy 164pts. Suz
Pro Lites MX2 Points Standings
Luke Styke 306pts. Yam
Ford Dale 274pts. Hon
Cheyne Boyd 258pts. Hon
Josh Cahcia 258pts. KTM
Kade Mosig 233pts. Kaw
Kirk Gibbs 229pts. Yam
Adam Monea 215pts. Suz
Justin McDonald 192pts. Hon
Lewis Woods 173pts. Suz
Errol Willis 168pts. Suz
Dade City Motocross
Dade City, FL
Vortex Lites Overall
1. RJ Hampshire
2. DJ MacFarlane
3. Justin Grant
Share this article:
Did you like this article?
Check out THE MOTOCROSS OF 40 NATIONS
in our Latest issue of Racer X available now.

The 2013 FIM Motocross of Nations at Teutschenthal, Germany, hosted teams from a record forty countries. Here's how it played out for each of them. Page 90.
Look for the verified symbol
The Conversation