by
Jason Weigandt
Insight: Ryan Sipes
Monday, April 23, 2012 | 1:55 PM
Since 1990, the driving force for
Allsport Dynamic's
products has come from the physically demanding sport of motocross.  From the entire Allsport team, comes a true commitment to helping others and a dedication to make the best products possible in both design and function.
Tweet
For Kentucky native Ryan Sipes 2011 was considered a break through year. He picked up his first career win in Indianpolis, won the Dave Coombs Sr. East/West Shootout in Vegas and finished third in the East Region Championship. Big things were expected from the Rockstar Star/Valli rider in 2012. But although he was considered a legitimate title contender entering the 2012 West Region Series Sipes struggled early and often. Then Sipes' season got even worse when he broke his hand and separated a shoulder testing. Sipes returned in Seattle with little expectations, but rode a brilliant race to capture his first win of 2012.
Jason Weigandt caught up with an elated Sipes after the race to talk about his big night.
Racer X: Where you sure you would be able to race this race when you were first injured?
Ryan Sipes:No. That was the plan the whole time, but the last couple of weeks, I wouldn't say we were worried, but it was getting to be a tight deadline. I've been riding in a lot of pain and going to therapy every day, and just working my butt off. I worked so hard for this, it feels almost as good to win this one as Indy last year.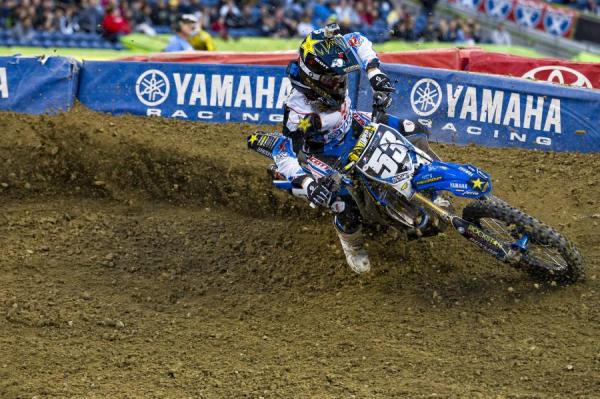 After a rough start to the 2012 season, Sipes rebounded with a win in Seattle.
Garth Milan photo
Really?
Yeah! So much work went into getting ready for this. And even today in practice, I felt like a C rider. I didn't feel good, so to win the main was special.
What did you break?
I broke my hand, and you can see it still looks pretty bad. And I separated my shoulder, it was a grade four, which is bad. Surgery on both. It's been a lot of work to get back to where I needed to be.
So you weren't thinking win?
No. My main goal was to get a good start and just ride at the front. Wherever I finished is where I would finish, as long as I rode good I'd be happy. The heat race I didn't get a great start, because I wheelied. And I was bummed out, because I've been doing so many starts at the practice track, and I've been perfect on every one. So in the main I just focused on keeping it down a little bit. I didn't even know who was in second the whole time! I just kept my head down, and raced the track.
Is that hard to do?
Oh yeah. That's why I feel like I rode a solid race, because I was just in the zone. I didn't push, I just rode my own race and my own pace. It was pretty cool.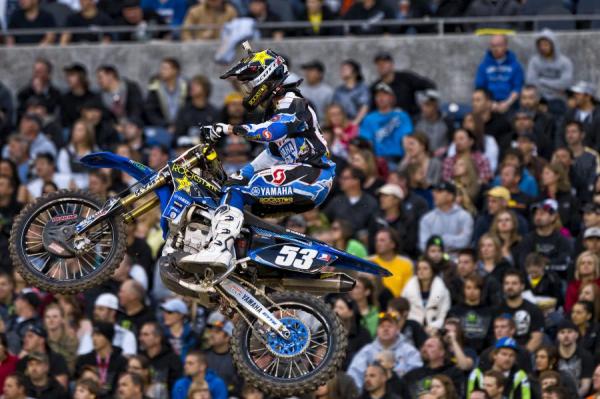 Sipes will make the move to the 450 for the upcoming Lucas Oil Motocross Championship.
Garth Milan photo
What does this do now?
I guess it shows if you get out front and ride a good race, you can do it, because like I said, I didn't even push. I just tried to be precise. Because the track was pretty gnarly. Yeah, I mean, it doesn't make me feel like I'm going to win out or anything, but it doesn't give me some confidence. Because I was pretty far down before this, just with the way the beginning of the year went for me, and then the injuries. My confidence wasn't there, but I just kept telling myself all day "I can do it, I can do it."
I hear you're racing a 450 outdoors.
Yeah, and I'm really excited about that. They gave me a choice of which class to ride, and I wanted to do that.
Share this article:
Did you like this article?
Check out 10,000 MILES FROM HOME
in our Latest issue of Racer X available now.

Australian Dean Ferris hopes to follow in the footsteps of some of his legendary countrymen. Now contesting the FIM Grand Prix series, he made a huge impression at the Motocross of Nations. Page 138.
Look for the verified symbol
The Conversation