Trainer Talk with... James Stewart
Thursday, January 1, 2009 | 12:09 PM Tweet

Tim Crytser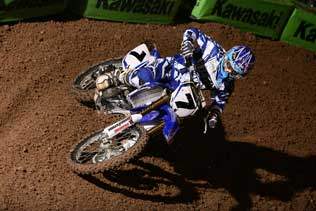 The week before Christmas, I got an early present in the form of a trip to Florida. James Stewart's trainer Aldon Baker, who has been a regular contributor to Virtual Trainer since I started the website, has been promising me a trip to Haines City to meet James and tour his facility for quite a while now. True to his word, Aldon put it all together and the next thing I knew I was headed to my old stomping grounds of Central Florida. While I was there I got to watch James and fellow Yamaha teammate Kyle Chisholm ride, picked oranges with Aldon, received an up-close and personal tour of James's facility, and even got to participate in practice by operating the stop watch! On the second day, James agreed to sit down with me and do a training interview that I have been looking forward to for a long time. When we got done, I asked James if he minded if I post the entire interview online for everyone to enjoy and he agreed. So here it is, Virtual Trainer's first ever podcast!........Read More

Also new this week on Virtual Trainer: Fuel Clothing has sent in a few pics that are sure to Fuel Your Inspiration.
HAPPY NEW YEAR!. Remember...Training Amplifies Talent!

Next Week: My trip to Florida and in-depth interview with James Stewart. Complete Podcast version (a full 1 hour) and abbreviated typed version.

Related Articles
Rehabbing James Stewart's ACL
Tough Times....What Will You Do?
Go Ahead...Eat the Whole Pie, it's Thanksgiving!
Beer and Fitness...Can it Be?
Surfing and Motocross: The Indo Board Balance Trainer
Worst Breakfast Foods
Trainer Talk with....JGR's Cody Cooper and trainer Tim Gearhart
Trainer Talk with .... Tim Ferry
Product Review: The TRX Suspension Trainer

Share this article:
Did you like this article?
Check out KING CAIROLI
in our Latest issue of Racer X available now.

Americans know very little about seven-time FIM World Champion Tony Cairoli, but in Europe he's treated like royalty. Page 102.