Damon Bradshaw's Monster Weekend
Monday, December 4, 2006 | 11:29 AM Tweet

The following was posted on Mototalk by Fly Racing's Allen Picard:

"Damon's debut was this weekend for racing the U.S. Air Force Monster Truck and WOW did things go well. After getting settled into our hotels we headed down to the stadium on Friday morning. Damon's crew is all from Live Nation. He has, at this time, at least three guys helping him all weekend. We found that all the guys from all teams work together. We had guys from Grave Digger and other trucks helping out. It's like a big family. They all made Damon feel real at home. The drivers just welcomed DB with open arms as he was getting advice from some of the best drivers in the word. Paul Cohen, last years Air Force driver, is now Damon's crew chief. Damon would also like to thank all the drivers that were filling him in with information. The staff of Live Nation, especially Mike Wales and T.D., was also a huge help.
Damon did well in his first race. Most importantly, he did not crash. He took it very easy and in a smart, conservative race he won the qualifier. His second race he raced Monster Mutt and lost due to a penalty dropping a tire off the cars. His freestyle race was great; he got to really open up the truck. He looked good and very confident. Damon would like to thank all his sponsors for all their support; we could not do this without you."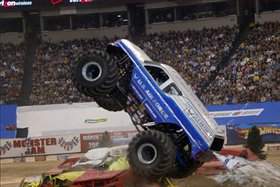 Damon Launching the U.S. Air Force Beast...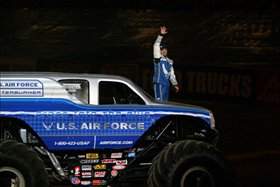 Bradshaw's intro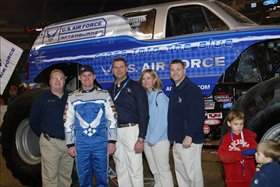 Damon and the U.S. Air Force Crew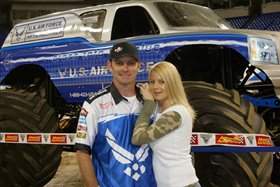 As always, Damon's biggest fan is his supporting wife Angela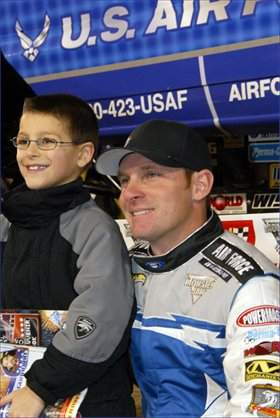 The kids love Damon
Share this article:
Did you like this article?
Check out MONSTERBALL
in our Latest issue of Racer X available now.

Playing soccer on 250cc motorcycles might sound like a strange form of riding, but in Russia they do it with great passion—and for very little reward. Page 112.