5 Minutes with ... Josh Grant
Monday, March 27, 2006 | 12:39 PM Tweet
In this article…
Riders
Races
SoBe/Samsung Mobile's Josh Grant is having a career-high year on the East Coast. He has three wins this year, and if it were not for a fall in the whoops that resulted in a DNF at St Louis, he might have Davi Millsaps sweating the points going into next weekend's East Region finale in Houston.
This interview actually spans two races: First we start at the post-race press conference at Orlando, then right after he won in Detroit.

Orlando

Racer X: Tonight's winner, Josh Grant! Who are you, anyway?
Josh Grant: [Laughs] I'm Josh Grant, supercross racer.

You have really emerged as a solid front-runner. You're training with Ryan Hughes and riding with Kevin Windham, stuff like that. What's different than before?
Confidence. That was the key last year. I wasn't really confident going into last year. That's why I made mistakes. This year, I feel really strong. With my confidence and riding with these guys, I feel I'm supposed to be up there. I have a few race wins now to gauge myself, and I think that this is the way to go.

This Orlando track was really loose, but aren't you from the West, where tracks are hard-surfaced?
Yeah, this was like a Daytona track. It was really rutty with a lot of kickers, a lot of ruts. The track didn't hold up real well. The whoops had a lot of ruts in them. It wasn't a California track, that's for sure. I'm really good at ruts, and I like outdoors, so this more of that style.

You were joking in the press conference that when you were racing Davi in the whoops, you just closed you eyes and pinned it!
[Laughs] I was joking. I saw him in front of me, and he is the best through the whoops. I just figured, Hey, I'll give it everything I have to pass him. So I did it.

Those Lites-class press conferences can get pretty lively. Do you like them?
Yeah, but I would rather do this [an interview] every week.

So you spent some time riding at Windham's?
It was good. We rode twice this week. Just hanging out with him, I've learned a lot. The only thing to do in Mississippi is just ride and train. I need to be focused on that kind of stuff when I go back home [to California]. I know a lot of people have a tendency to do that.

Yeah, the Southern California distraction thing. Where do you live?
I live in Murrietta. The center of everything!

So is it really like that?
Yeah. It's like, Hey, lets go hang out, its 2:00 in the morning! I let that stuff go. This is more important to me. I put my foot down this year and told all my friends, "This is what I have to do." You can party after.

You said you train with Ryno. What does that mean? Does he call you and say get out there and run, or what?
I go to his house three days a week. We work out together sometimes. He watches me. We pretty much go from there.

Is he going to win that WORCS series?
He is going to kill it. That dude is gnarly. He can ride a sand track we go to for an hour and run out of gas and not get tired. It worked out with him really good.

How are you going to do this summer?
Working with him? Very good. I can feel how strong I am, conditioning-wise. It's going to be a lot different outdoors, too.

What does the future hold for you? Will you be on the same team next year?
I don't know yet. My contract isn't up until after the outdoors, so I'm not really worried about it.

Detroit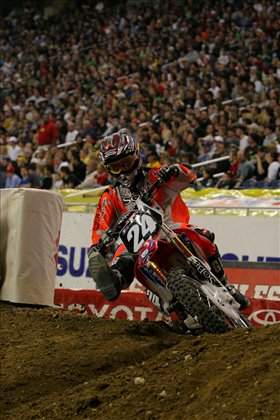 Grant says that Millsaps is the man in the whoops, so he tries to make up for that by attacking the corners.

What did you do between last week's win and this one?
I did nothing! I had food poisoning on Tuesday when I got back home. I slept all day Tuesday and all day Wednesday. I didn't feel good at all. I rode at Glen Helen for about an hour on the 450. I was hoping to come into this weekend strong. I felt really good in practice, so I wasn't really worried about tonight.

What kind of track was this?
It was loose. It was rocky. It was loose, but the whoops weren't real bad. They were chunky but I found a good line. I kind of just put my head down and raced from there.

Has that been your goal to work on whoops? Hasn't Davi Millsaps been "the whoops guy?"
He is the whoops guy! If I get my whoops, I know I'm quicker in the corners and stuff like that—that's my strong point.

What's the deal on riding that 450 the other day?
Our team gives us each one, so I just had one to practice on. My bike is still at Kevin Windham's house. I didn't have a 250F to ride, so I just rode my 450.

Are you going to win the Dave Coombs East-West Shootout?
I hope so. I need it.

Big bonus?
Yeah!

Okay, thanks for the time—both times!
Thanks, Steve, no problem.

Share this article:
Did you like this article?
Check out 10,000 MILES FROM HOME
in our Latest issue of Racer X available now.

Australian Dean Ferris hopes to follow in the footsteps of some of his legendary countrymen. Now contesting the FIM Grand Prix series, he made a huge impression at the Motocross of Nations. Page 138.