5 Minutes with ... Steve Whitelock
Monday, February 27, 2006 | 9:10 AM Tweet
In this article…
Riders
Races
As you can well imagine, Saturday afternoon was a wild one in the AMA supercross pits at the Georgia Dome. Defending series champion Ricky Carmichael had been hit with a 25-point penalty for having fuel that was out of compliance with the AMA's unleaded-fuel standards, which allows for .005 grams of lead per liter. Carmichael's fuel samples from San Diego came back from the test at between .018 and .02, which is nearly three times the limit. Needless to say, the penalty sent shock waves through the pits and made AMA Pro Racing's Steve Whitelock the man on the hot seat. But the precedent had been set in previous violations and penalties for five other riders in the last two years, including Chad Reed and James Stewart, and as Steve has said before, "We have to live and die by the rulebook."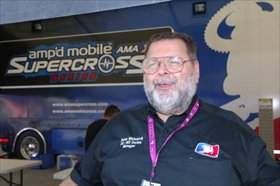 AMA Pro Racing's Steve Whitelock
Saturday afternoon, Whitelock held an impromptu press conference in the AMA rig with
Dirt Rider
's Steve Cox, European correspondent and
Racer X
contributor Mario Marini, and myself. He answered all of our questions, and, contrary to what some folks may think, Whitelock took no pleasure in making the ruling. He also explained how it all went down.…
"We do one on the West [Coast] and one on the East," Whitelock began, discussing his procedure. "We took eight bikes in, and one fuel came out wrong. I was in Ohio [at AMA headquarters] for a meeting when I got the test results, and I said, 'That's impossible. Sorry, I don't agree.' So we packed up our emergency spare sample and sent it off. It came back with exactly the same results—the fuel was out of compliance. I tried to be sure in the most absolute way.
"Of course I didn't want to do this," Whitelock offered. "I don't ever want to penalize a rider. Everybody thinks I'm a sadistical bastard, but I'm really a softy, and I don't like to penalize riders. It's one of my worst days when I have to do it. I'm the guardian of the rulebook, but on the other side, I am still a fair-minded person, and I'm trying to understand what could possibly cause these troubles, and now, after the pattern, I think we have another kind of a problem.…"
When asked how the limits were set in the first place, Whitelock answered, "The limits are the limits that are used worldwide for racing fuel. That is the FIM unleaded-fuel rule, and the reason we have it—a little bit of history—is because of Clear Channel, the AMA, and Jam Sports. It was part of the final negotiation, in order for the series to continue, that we had to accept unleaded fuel. We didn't think it was going to be a big problem, and obviously, for seven of the bikes at the event, it wasn't a problem; it just so happens that for one of them, there was a problem with the fuel.
"The only thing I can tell you is that all three happened to be VP Fuels at different times, and so far, six riders have had this problem," Whitelock added, discussing the history of fuel problems that affected Yamaha factory riders
Chad Reed
and David Vuillemin, plus privateer Tyson Hadsell, in 2004, and then Kawasaki factory riders
James Stewart
and
Michael Byrne
last summer at
Budds Creek
. "Strangely enough, the quantity is always about the same, and it's always been tried to explained away by some contamination by an outside source.…"
When asked if it's maybe time to reconsider the penalty aspect of it, in which 25 points are deducted regardless of the amount of contamination or the rider's finish, Whitelock said, "There's another way to look it. If he would have won the race and then we disqualified him, it would have been 25 points. If we would have simply disqualified him [RC finished second], it would have been 22 points, so it's basically the same penalty.
"The performance-enhancing part? There probably isn't any there. But we don't say, 'It's an estimate, this number [.005%]. We say, 'The maximum lead content is…' this number. And when you're three and a half times over that number, you're definitely over that number. It's like saying the 250 class—it's okay to be 251? I don't think so. Most of the bikes are 249, just to be sure that when the piston wears and you measure and calculate it exactly, it doesn't come out to be more than 250cc, because that's the class size."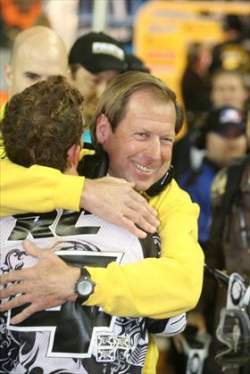 Team Makita Suzuki's Roger DeCoster
When asked why the penalty wasn't, say, six points, Whitelock answered: "MotoGP has the exact same lead content as ours does. In 2000 was the last time they had a problem with any lead content. Since then, the teams, the fuel manufacturers, and the FIM have worked together to assure that nobody ever makes a stupid mistake, and the teams go to extreme measures—the fuel manufacturers go to extreme measures—to make sure the fuels meet the requirement. Also, they test far more regularly than we do. In fact, they test after every event. They test the podium, plus one at random. So they take four samples, and they haven't had any problems since 2000. They have a fuel regulation, and all of the manufacturers adhere to that regulation, even though their blending is different. It's something that needs to be done here.
"Everyone should have paid attention when we got
Chad Reed
, but everybody let it get explained away, that they put the fuel into a can that had had lead in it in the past or something. It's not that; it's a problem. I guarantee you, if I go over to DeCoster's truck and get the fuel from two weeks ago, it's still wrong. It's not the gas tank, it's not anything; straight out of the barrel, it's wrong."
When asked what can be done to make sure this doesn't happen again, Whitelock offered this: "I think that what has to happen is that at the next [AMA] advisory board meeting, we have to address the problem and we need to come up with a solution, and I think the only solution is that we request the company [AMA] to accept the idea of having a fuel supplier and everyone agrees to use this fuel, and this fuel supplier agrees to be the official fuel supplier for the AMA Motocross and Supercross championship. They deliver the fuel to the racetrack, they hand the fuel out, the teams use the fuel, but after the races they still do fuel testing. It would all be part of the contract. Because number one, the fuel company would want to prove to themselves that the teams are using the fuel, and I would want to be sure that the teams are using the fuel, because that fuel has been guaranteed to meet the fuel specification."
It was mentioned to Whitelock that Roger DeCoster, the Makita Suzuki team manager, had gone out of his way to make sure everyone knew that
Ricky Carmichael
was no cheater. Whitelock responded, "I fully understand that, and I fully agree with that, and any inkling in the back of my mind that Yamaha and
Chad Reed
and David Vuillemin and Tyson Hadsell were cheaters has totally and absolutely been erased, and any inkling that in the back of my mind about
Michael Byrne
and Kawasaki and
James Stewart
has been totally erased. I feel the fault belongs somewhere else."
Share this article:
Did you like this article?
Check out MONSTERBALL
in our Latest issue of Racer X available now.

Playing soccer on 250cc motorcycles might sound like a strange form of riding, but in Russia they do it with great passion—and for very little reward. Page 112.